LOCAL HEROES
Sussex Life
|
September 2020
Seven generations of Rottingdean's Copper Family have kept the spirit of traditional English folk alive. Here young musician Andrew Millham examines their legacy
For centuries, the Copper Family, from Rottingdean in East Sussex, have kept alive a tradition of unaccompanied English folk singing, passing down songs orally for generations.
Local parish records show that the family have been in the village since 1593, when the marriage of Edward Coper was recorded. In Bob Copper's first book, A Song for Every Season, he jokes that in 400 years the family have, "if little else", acquired another 'p' in their name. The family have been singing a set of 'Copper songs' since at least the 18th century, many of which have unknown origins.
In 1898, James Copper (1845– 1924), nicknamed 'Brasser', and Thomas 'Tommy' Copper (c1847– c1936) came to the attention of Kate Lee, a founding member of the Folk Song Society, later to become the English Folk Dance and Song Society (EFDSS). Kate knew that these Rottingdean songs were special and she noted down the words and music to more than 20 of their extensive repertoire of songs.
In his old age Brasser wrote down the words of many of his songs for the local farmer's wife, and this document is lovingly preserved by the family.
His sons, John (c1879–1952) and Jim (1882–1954), both farming lads, also fell in love with these songs and in 1936, Jim wrote down more of the family songs to preserve them in The Copper Family Songbook. Jim wrote the following introduction to the songbook: "Let the seasons come and go and let it rain or let it snow, we'll shun all care and damn the weather and we'll sing these songs when we're together."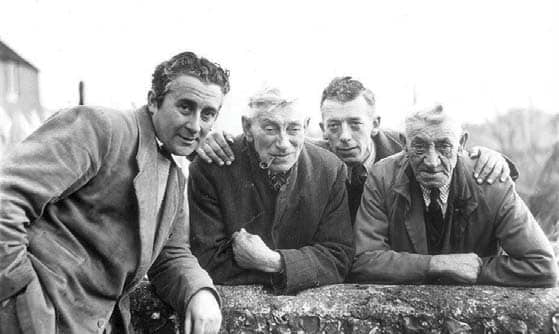 Jim's son is Bob Copper MBE (1915-2004) who, together with other members of the family, went on to record songs for the BBC. John, Jim, Bob, and John's son Ron were invited to sing at the Royal Albert Hall in 1952, which held far higher stakes than singing in the local pub, The Black Horse. As Bob notes, they did their best to "bridge the gap between the tap room and the concert platform".
You can read up to 3 premium stories before you subscribe to Magzter GOLD
Log in, if you are already a subscriber
Get unlimited access to thousands of curated premium stories, newspapers and 5,000+ magazines
READ THE ENTIRE ISSUE
September 2020