Creatures of the night
Somerset Life
|
November 2020
Have you ever had something swoop past your ear, almost unseen? You may have had a brief encounter with a bat, says BERNARD BALE
Not many of us are bat experts, but there are those in this county who really do study and befriend them. The Somerset Bat Group has been working hard to help the county's bats for 35 years and it is thanks in part to its members that we have such an incredible miscellany of these great little creatures to observe locally.
There are a number of myths about bats. They do not deliberately get tangled in your hair – the bat would 'freak out' as much as you might if this happened. They are not all blind, they are not after your blood, they are not rodents (despite Die Fledermaus), they do not all carry rabies and they are not termites – some people have the idea that they will eat away at your infrastructure if they lodge in your attic.
Bats are our friends – they really are. Most of them are only interested in a diet of bugs and insects – just like spiders who also get a totally undeserved bad press – and they actually help to keep the numbers down of mini-creatures that could otherwise be both a health hazard and a nuisance.
It is worth remembering that bats are indeed mammals and mums are very maternal until the youngster is ready to branch out on its own. Mums are pretty clever too as they often commune together and organise a kind of nursery so that the young bats will be protected while mum is out shopping for her own diet of bugs.
Don't underestimate the intelligence of bats either – it took us thousands of years to learn about radar – bats have had it and have perfected it since the year dot.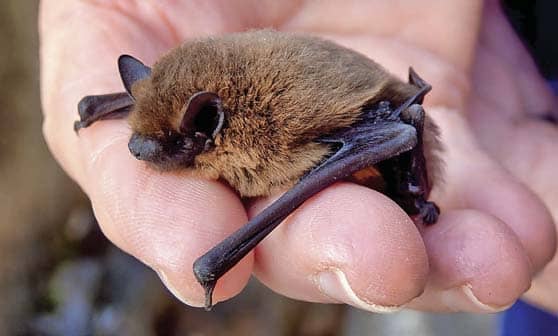 Somerset is actually rich in bats with both common and uncommon species flitting through the air after sundown in town and country.
You can read up to 3 premium stories before you subscribe to Magzter GOLD
Log in, if you are already a subscriber
Get unlimited access to thousands of curated premium stories, newspapers and 5,000+ magazines
READ THE ENTIRE ISSUE
November 2020