"Painting Jesus Isn't Dangerous"
Russian Life|July/August 2020
Orthodox Street Art in Contemporary Russia
"The police usually react with: 'What are you drawing there? Jesus? Okay, then, finish up and move on.'" So says Arseny Bochkov, who over the past couple of years has been blanketing Moscow with images of Christ. His works, which are sometimes quite simple, leave a striking impression. They evoke an informal Orthodoxy that is full of life.
This is not the first time Moscow has seen religious symbolism crop up in unexpected places. For example, in 1999 a group of artists shrouded the dome of the Moscow Planetarium with red cloth displaying the golden letters ХВ for "Xpnctoc BOCKPEC" – "Christ is risen," a phrase commonly used as an Easter greeting. These letters are traditionally painted on Easter eggs in the Orthodox world. That year, Easter fell on the day before Cosmonautics Day, and the decoration of the giant egg-shaped dome was supposed to symbolize a reconciliation between scientific and religious worldviews, which had come into conflict in post-Soviet space. Today, getting the city's permission for an installation like that would be difficult. Anyone playing fast and loose with religious symbols in contemporary Russia risks being charged with "offending the feelings of believers," a violation that, postPussy Riot, in 2013 was elevated from an administrative to a criminal offense.
Nevertheless, around Easter each year, religiously themed street art continues to appear. In 2015, when Easter fell on Cosmonautics Day, the artist Alexander Zhunev glued an image of a crucified Gagarin onto the side of a building in Perm, his home town. The work was destroyed the next day but still managed to generate a lot of controversy. Zhunev got by with no more than a "legal review," but locally the Church harshly condemned this work of art.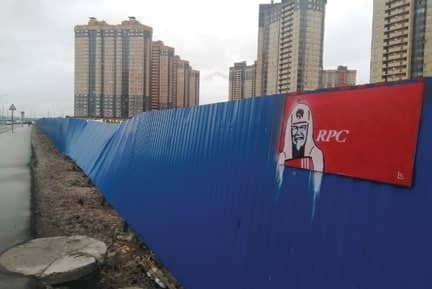 This year, the street artist Loketski painted a giant hunk of concrete to look like a traditional Slavic Easter cake. Loketski is famous for his protest art, such as his markup of a tombstone-like series of crumbling tiles embedded in a wall of earth with quotes from Russia's constitution. A number of his works target the endless building of churches in Russia since about 2011. The artist is eager to explain his work while still maintaining his anonymity. Nobody knows his real name, and he always wears a mask when he meets with journalists, since the author of works like his cannot risk being identified.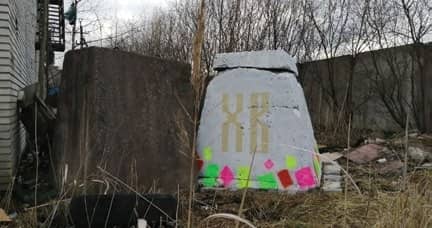 In Loketski's words, his attitude toward the church is summed up in a work titled "Chain" which depicts Patriarch Kirill as a smiling Colonel Sanders in the KFC logo, with the letters KFC replaced by RPC (the Russian acronym for "Russian Orthodox Church" in Latin letters). This image appeared on the fence surrounding the construction site of a new residential complex where, as the artist explained, zoning adjustments had been made to replace some of the residential complex with a new church. In Loketski's words:
All this was done behind the scenes, without public discussion or consulting the apartment buyers, so, on the sly, what really happened in these buildings was that people came together and agreed that a church would be built there. It seems to me that, at the time, those who wanted to attend a church there and were able to arrange for it did that, and the church's desire to be on every street corner is dictated exclusively by the desire of the ROC to grow as a corporation.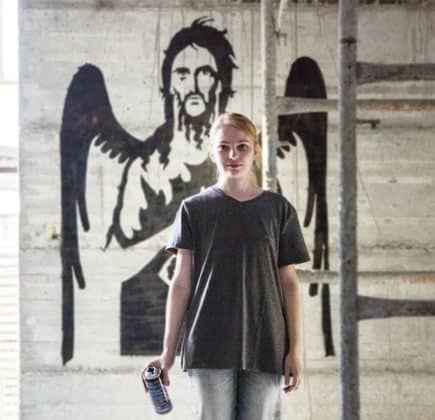 Even his concrete paskha Easter cake came with a commentary criticizing the church. On his Instagram page, in addition to sending Easter wishes to the faithful, Loketski expressed indignation at priests who call on their parishioners to attend church despite the coronavirus epidemic.
Another Instagramer, After the Icon (on Instagram as after_icon), held the opposite view, bemoaning the fact that parishioners were forbidden from attending church for Easter, since a true Christian should always be ready for death, a view supported by several comments on this thread.
The ideologue behind the After the Icon project, Anton Belikov, explained that all of his contributors are Orthodox Christians who are guided exclusively by canon. The project includes religiously themed street art, and Belikov also organizes exhibitions of Orthodox art. Bringing art onto the street was motivated by a desire to take icons out of the confines of churches to where more people would see them.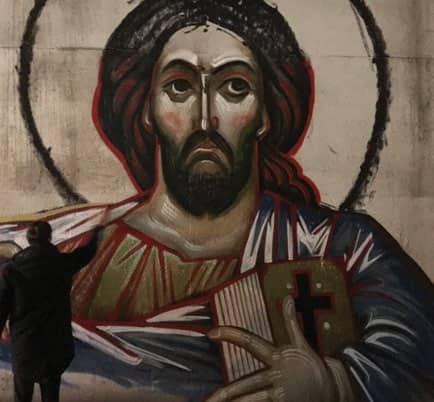 "We are not seeking any truth; for us, it is contained in Scripture, and we don't need anything beyond that. I just feel it's important to bring Christianity to places where people are suffering," says Belikov, who used to teach art history at the Surikov Art Institute. His teaching career came to an abrupt end when he sprayed paint onto photographs about the war in Ukraine that were part of an exhibition at Moscow's Sakharov Center. "I defaced the photo exhibit about Ukrainian Nazis. For that, I was fired from my job. I became bored and decided that I should go to Donbass. I brought an icon to one of the churches and also did some drawing there. In the Gorlovka area, I did a cycle about the Passion in a bombed-out building, and so began the project."
Alexander Tsypkov, another contributor to the After the Icon project, offers a different version of how the idea arose: "Anton and I were in Yaroslavl Oblast looking at the ruins of churches and wondered why they were so neglected. Who was supposed to be taking care of them? And we started to draw there, without asking anyone's permission – canonical icons right where they were supposed to be, even though the church didn't have a roof."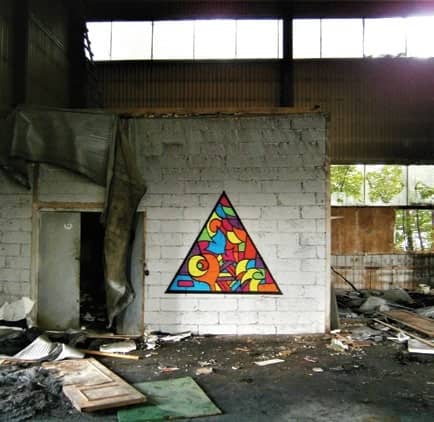 You can read up to 3 premium stories before you subscribe to Magzter GOLD
Log in, if you are already a subscriber
Get unlimited access to thousands of curated premium stories and 5,000+ magazines
READ THE ENTIRE ISSUE
July/August 2020