A bewitching WALK
Lancashire Life
|
August 2020
The route, which starts and finishes in Barrowford, takes in witches, a canal and some breathtaking views
Barrowford was once heavily dependant on textiles and in particular cotton and there were quite a lot of mills in the village. In recent years, the village has had a renaissance and is now a tourist attraction with upmarket shops, a beautiful park and a very interesting visitor centre with a lovely café. It is also close to the Leeds-Liverpool Canal and I designed this circular walk that starts and finishes close to the canal and encompasses part of the canal towpath in it.
1. Leave the car park by walking towards the canal bridge then, as the bridge is reached, turn right and follow the canal towpath past a series of locks and keep on the towpath. Eventually, the towpath passes Wanless Bridge and in the next section of the canal, this rises uphill away from the canal while a path carries on left and keeps on following the canal.
NOTE: There are seven locks at Barrowford. Barrowford Reservoir is on the right at this point and this and other reservoirs - Foulridge and Slipper Hill further on from Foulridge Tunnel - were built to keep water in the tunnel section or pound of the canal. The tunnel section is 487 feet/148 metres above sea level and is the highest section of the canal and cannot be kept full of water without the use of the reservoirs. The tunnel is also known as the Mile Tunnel and before the use of powered boats, the boats were legged through the tunnel; this involved lying on your back on the boat and propelling it by pushing it along with your legs against the tunnel walls. The small building on the left of the tunnel entrance is where the leggers used to wait for the boats.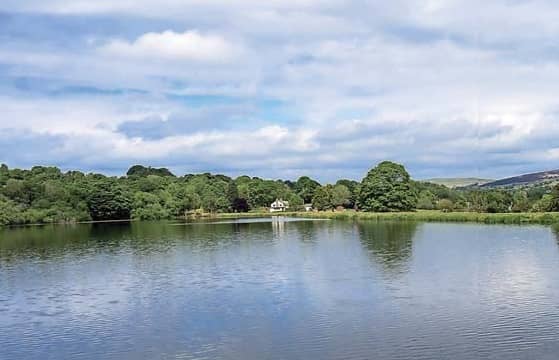 2. The path reaches the entrance to Foulridge Tunnel and bears up to a track. Reach the track, turn left and follow this as it crosses the top of the tunnel entrance then turns right over a small bridge. Then cross a stile by a metal gate and carry on to a T junction at a road. Turn left and follow the road as it goes steeply uphill. Keep following the road until it reaches Barnoldswick Road then turn left and follow the road then, as the road bends left there is a small stone building on the right.
NOTE: The distance signs from Leeds and Liverpool tell you the distance you have come from as you approach them and you have to look behind to see how far you have to go.
You can read up to 3 premium stories before you subscribe to Magzter GOLD
Log in, if you are already a subscriber
Get unlimited access to thousands of curated premium stories, newspapers and 5,000+ magazines
READ THE ENTIRE ISSUE
August 2020