The Family Feud That Almost Killed Mardi Gras
For decades, New Orleans's legendary Blaine Kern ran the company that makes the grandest Mardi Gras floats. Then it came time for the next generation to take over.
Paul Keegan, photographs by Brian Finke
BLAINE KERN SR., 88 years old, sporting a sharp black-and white tracksuit and chunky Ralph Lauren eyeglasses, bounces into a suburban New Orleans restaurant at lunchtime flashing his megawatt smile. "Hi,everybody!" he says, and is immediately besieged by waiters, managers, and customers eager to greet the local legend who calls himself Mr. Mardi Gras. In a city famous for larger than-life characters, Kern occupies a unique place in the pantheon. Not for his physical stature—he's small and wiry—but for his outsize ambition, which for nearly seven decades made him the biggest parade float impresario in New Orleans and a P.T. Barnum of the bayou.
"I did a carnival for Fidel Castro after Batista was out!" Kern says after settling in at his table, reeling off tale after tale seemingly straight out of Twain, but all true— founding a company that strung a gondola across the Mississippi River, acquiring a decommissioned aircraft carrier to convert to a tourist attraction, catching Walt Disney's eye with a huge King Kong that crashed a Mardi Gras ball—and often digressing into bawdy asides about his many romantic conquests ("My nicknames were Pretty Boy and Honey Boy!"), which have led to four wives and five children.
Most of all, Kern wants to talk Mardi Gras, the event that still defines New Orleans, where parties are a sacrament and Kern a high priest. "Michelangelo and da Vinci, all of them were float builders, so I'm in pretty good company," he says, with characteristic humility. Listening to the monologue is Barry Kern, Blaine's 52-year-old son, who does not share his dad's propensity for self revelation. Asked about some outrageous antic of his father's, Barry usually shrugs and says, "That's just Blaine being Blaine."
But Barry wasn't so sanguine in 2010, when he started slapping his father with lawsuits in a spat that nearly destroyed their venerable company and threatened to derail New Orleans's most beloved—and lucrative—tradition. All family businesses face succession issues, of course, though most don't involve floats with naked female mannequins, packed courtrooms, a weeping wannabe-rapper wife, and press conferences aired on local TV newscasts. The Kern family wasn't supposed to have these problems. Barry was always Blaine's choice to take over the family firm, Blaine Kern Artists. Not Blaine's oldest namesake, Blaine Jr., or his youngest, daughter Blainey. Not his daughter Thais or son Brian, who both somehow escaped being branded with variations of their father's name. "Barry really wanted to do it and had the leadership ability," Blaine Sr. says. During Barry's childhood, the two were inseparable—traveling abroad, fishing, dreaming up floats, even showing up at parties wearing coordinated costumes.
Today, father and son have less in common. Their legacies are vastly different. The elder Kern built his first float in 1947 and has since helped make Mardi Gras in New Orleans a world-renowned event through his artistry, luck, and relentless self-promotion. Barry quietly turned what is now called Kern Studios into a more professional operation after he became its president in 1994, quadrupling revenue to $40 million and expanding the business with theme park attractions in Las Vegas, Europe, and Asia. ("I'm the dreamer. My son's a bean counter," Blaine says later, twisting the knife.) Every day, somewhere on the planet, people celebrate life with a Kern parade.
But Barry does a hilarious impersonation of Blaine, and loves telling his father's favorite stories, right down to the same punch lines. ("My dad grew up reading Jules Verne and H.G. Wells, so he was going to the moon way before Sputnik.") When Blaine dreams up some outlandish new project, Barry doesn't roll his eyes but immediately starts analyzing how to get it done. It's a powerful father-and-son team, with complementary talents and shared vision, one that even navigated those difficult conversations about succession: The two signed an agreement in 1993 that would allow Barry to buy Blaine's shares upon his father's death.
"I always thought everything was perfect," says Barry. "I thought we had a plan."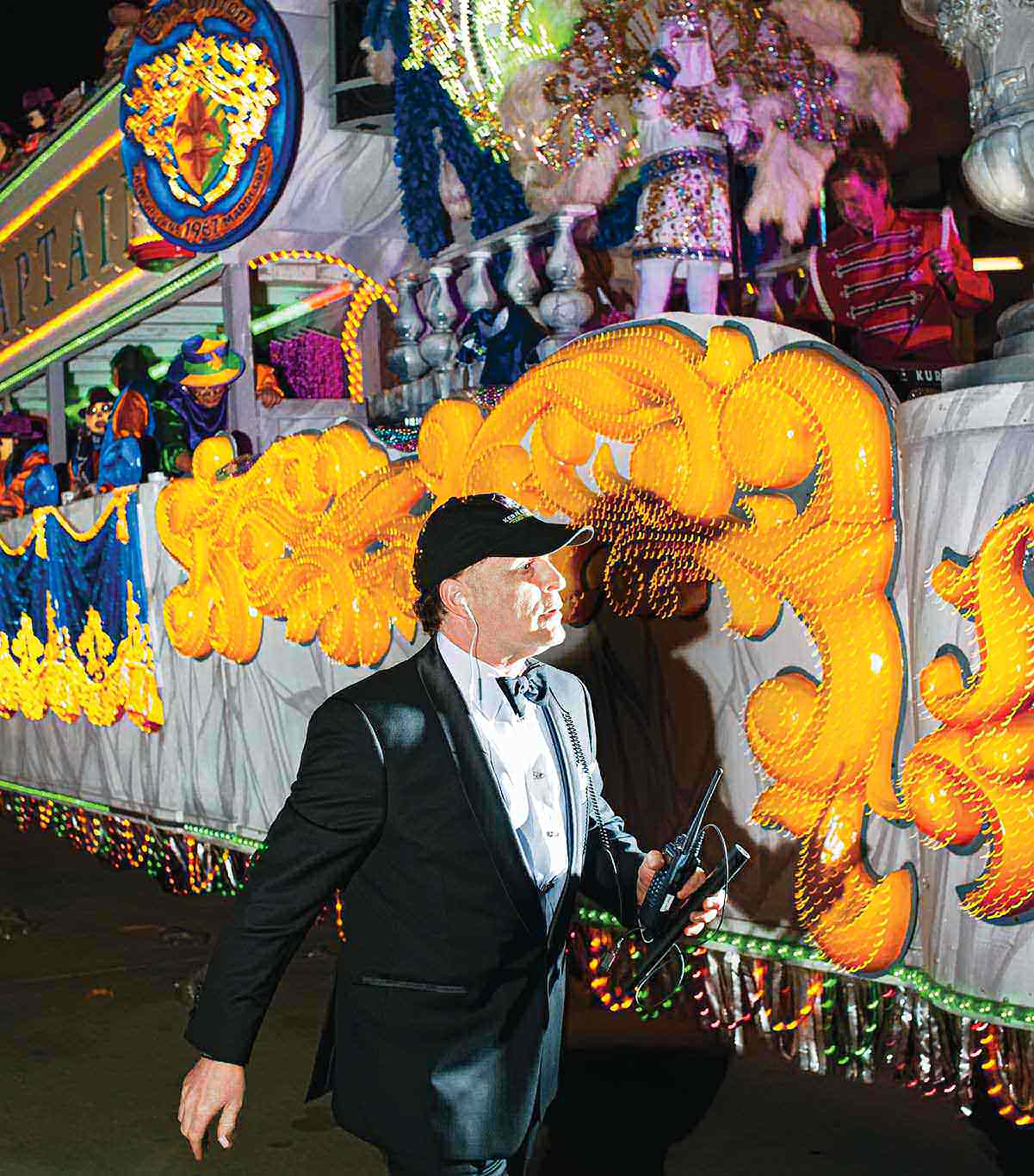 A DECADE AFTER Katrina, New Orleans's tourism economy is once again booming—in 2013, a near-record 9.3 million visitors spent $6.5 billion there. Like Las Vegas, New Orleans provides a place to behave as you never would back home. On an average weeknight in the French Quarter, you'll see a stout barmaid in a packed tavern grab a man by the hair, slam his face into breasts bursting from her low-cut top, and pour shots down his throat. Gangs of drunken conference-goers roam cobble stone streets clutching plastic "go-cups" of beer and booze, whooping and hollering, as an astonishing variety of live music blasts from clubs' open doors and windows—hard rock, blues, soul, Dixieland, zydeco, country. It all culminates in Mardi Gras: 12 days of parades and revelry before Lent, climaxing on Fat Tuesday (Mardi Gras in French), which each year deliver a $500 million economic jolt to the city.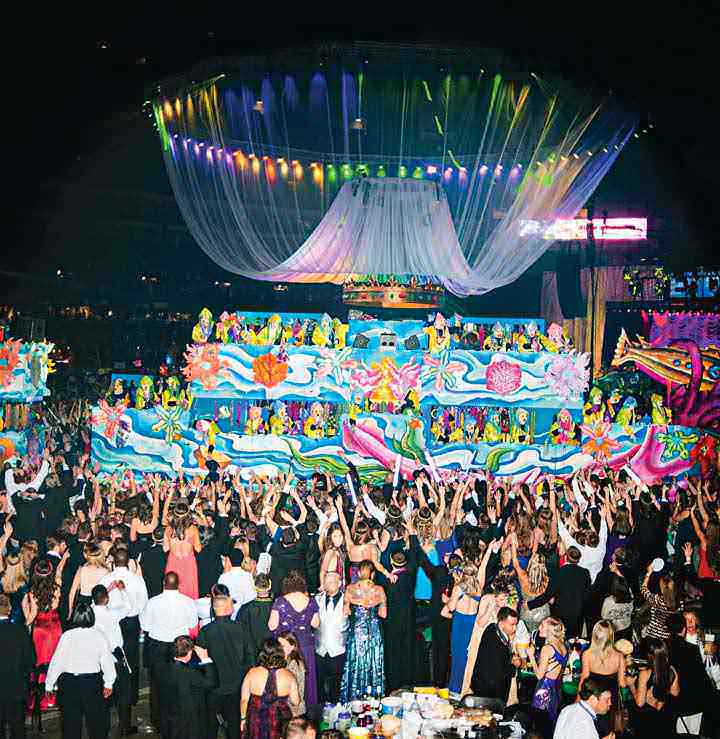 In 1932, 5-year-old Blaine Kern watched his impoverished painter father, Roy, build his first Mardi Gras float on a garbage wagon. Later, a local surgeon, impressed by a mural the teenage Blaine painted on the walls of a local hospital (to pay for an operation his mom needed), asked him to create floats for his social club, or krewe, called Alla. Then, Blaine says, his work caught the eye of Darwin Fenner, the scion of a wealthy banking family, who sent him off to Europe to learn the best artistic techniques to build better floats for Fenner's krewe, the blue-blood Rex.
Krewes are the lifeblood of Mardi Gras—and the Kerns' business—because these private clubs organize the parades and buy the floats. (The term, coined in 1857, is a derivation of crew.) In 2015, Kern Studios made floats for 23 of the area's 60 krewes—the most of any builder—including the three biggest: Endymion, Bacchus, and Orpheus.
A few hours before that story-filled lunch, in late January, Barry had driven his black SUV to an open house for Endymion,where members got their first peek at this year's floats while being serenaded by a deafening high school marching band. In three buildings the size of airplane hangars, several thousand people munched hot dogs and traditional king cake and gawked at the gigantic floats festooned with flowers and massive, cartoony sculptures—an Aladdin, a Tyrannosaurus rex, a Trojan horse. "They're like ocean liners," Barry said, pointing to a huge float crowned by an enormous griffin. "That will carry 300 people, more than the entire parade when my dad started."
You can read up to 3 premium stories before you subscribe to Magzter GOLD
Log in, if you are already a subscriber
Get unlimited access to thousands of curated premium stories, newspapers and 5,000+ magazines
READ THE ENTIRE ISSUE
July/August 2015