The scent of SUMMER
Hampshire Life
|
August 2020
Essential oil, herbal remedy or baking ingredient, lavender is one of the most versatile plants around, which is good news for Hampshire's growers and artisan producers
Let's be honest, lavender used to be a bit old hat. A bag of dusty flower heads would be squirreled away at the bottom of the clothes drawer to ward-off hungry moths. Whilst lavender-blue rinses adorned freshly permed barnets across the land. This despite the oil reputedly being used by Cleopatra to seduce Mark Anthony, and lavender jam being served to Queen Elizabeth I.
Yet today, alongside the renewed appreciation for natural products, a willingness to push the gastronomic boundaries and our passion for plants carrying a hint of nostalgia, lavender has undergone something of a renaissance.
Introduced to England by the Romans – its name comes from the Latin 'lavare' meaning to wash. Hampshire may have to concede bragging rights to south London's Wandle Valley as the birthplace of commercial lavender production here in the UK, yet the reputation of local growers and the myriad of products created is cause for celebration; particularly as we've now a National Collection on our doorstep.
A FAMILY AFFAIR
Lavender Fields, Alton
As fourth generation farmers, Nick Butler and his wife Lyndsay know, even in a normal year, turning a profit on the eight varieties of lavender they grow can be unpredictable.
"All the English lavenders here are relatively hardy, it's usually the wet weather they don't like. A lot of flower buds got knocked off this May, so yields come the next harvest will be down," observes Nick.
He swapped a desk job in 2018 to take over Hartley Park Farm from his parents, and whilst hand weeding the five-acre crop is labour-intensive, he enjoys being "the master of my own destiny," and plans to grow more lavender in the future.
"Normally lavender plants take three to four years to reach maturity, and the quality of the oil produced does vary according to the variety. We've recently introduced a new one called 'Phenomenal', which is such a great name.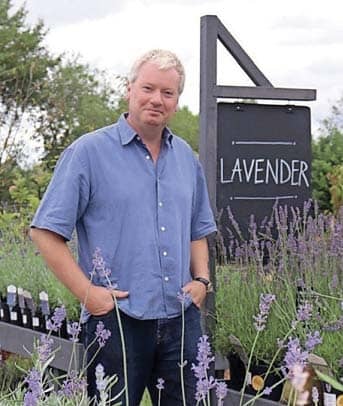 "During lockdown our retail shop was shut, but we pressed-on with online orders for lavender products and launched a lavender hand sanitiser, which does smell really nice. Our plant sales also surged, with people being at home more."
You can read up to 3 premium stories before you subscribe to Magzter GOLD
Log in, if you are already a subscriber
Get unlimited access to thousands of curated premium stories, newspapers and 5,000+ magazines
READ THE ENTIRE ISSUE
August 2020