The Shadow Factories
Hampshire Life
|
September 2020
From laundries and bus depots to garages and hotels, Southampton's secret network of manufacturing facilities helped the RAF win the Battle of Britain
Classically British and distinct in design, the Spitfire symbolises peace through conflict.
Even today, 80 years on since the Battle of Britain, eyes still search the skies when the characteristic growl of a Rolls-Royce Merlin engine is heard among the clouds. The Spitfire is well known; not so well known are the shadow factories, the secret facilities that ensured Spitfire manufacture could continue despite the threat of German bombing missions.
The Spitfire was a revolutionary concept that came out of the Supermarine Aviation Works in Woolston, Southampton, after the Air Ministry requested designs for a mono-wing interceptor in response to the growing threat of war. By 1936, chief designer, Reginald J Mitchell had designed, created and built the first Spitfire prototype, making its first flight at Eastleigh Aerodrome on March 5, 1936. The Air Ministry was so impressed that it ordered 310 planes costing an estimated £2m.
This was an exceptional contract for Supermarine, an order so big that they had to expand their Woolston factory and build a second factory at Itchen. Despite initial difficulties in manufacture due to Mitchell's design being radically different from previous fighter planes, the first Spitfire eventually left the factory in August 1938.
Subsequent manufacture at the Woolston and Itchen factories continued in earnest as Britain entered war with Germany in the autumn of 1939, and Germany's Air Force, the Luftwaffe, set its sights on defeating Britain from the skies.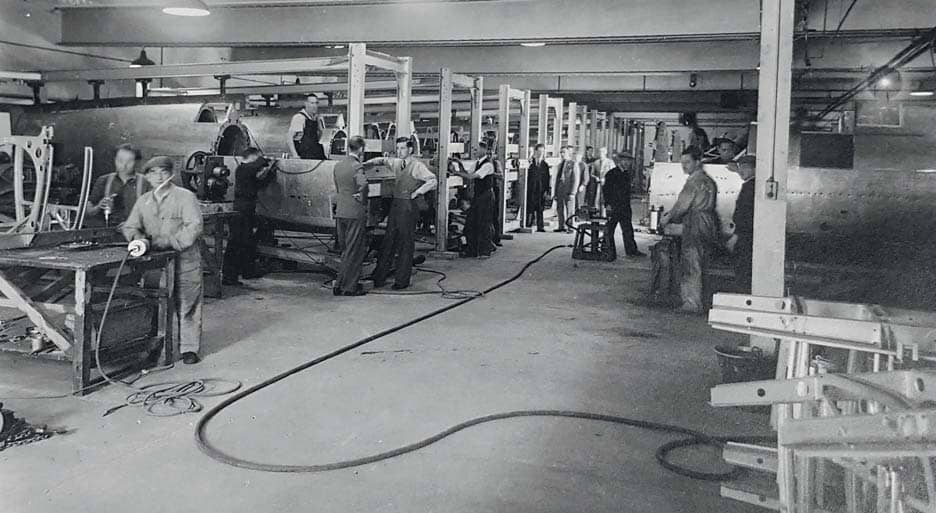 By the summer of 1940, what Churchill coined as the Battle of Britain had begun. As Spitfires and Hurricanes duelled with Messerschmitts over the south coast, an army of skilled and unskilled workers gallantly worked in the Supermarine factories assembling fighter planes to enable RAF Command to confront Britain's foe.
You can read up to 3 premium stories before you subscribe to Magzter GOLD
Log in, if you are already a subscriber
Get unlimited access to thousands of curated premium stories, newspapers and 5,000+ magazines
READ THE ENTIRE ISSUE
September 2020