Small is beautiful
Hampshire Life|March 2020
From witchcraft and German occupation to tasting island-produced goodies – we take a whistlestop weekend around Guernsey
The first thing you learn not to mention on arriving in Guernsey is 'the other island'.And you can see their point because whilst they are all lumped together with Jersey as the Channel Islands, there is something splendidly and determinedly different about this little place.
It starts when you arrive at Southampton Airport where you are welcomed on board the Aurigny plane and, delightfully, almost everyone on it seems to know the cabin crew personally. And the captain! It continues less than an hour after you've glided through customs to your taxi and start noticing that all the postboxes are dark blue, the places have French names and that they have the prettiest cattle you've ever seen.
Guernsey is just different. Part of the Balliwick of Alderney, Sark and Herm – islands which seem far nearer than the maps suggest – it lies to the north west of Jersey, just off France's Cotentin Peninsula.
Guernsey feels British but is not run by Britain; it seems small but takes a good hour to travel round and it is packed with beautiful things to see and fascinating stories to discover.
It is also a foodies' paradise, as we discovered, arriving during the annual Food Festival in October. Untypical blowy weather had driven some of it inside but that couldn't take away the pleasure of feasting on Guernsey oysters at popular Balthazar on the quay at St Peter Port, the island's capital town.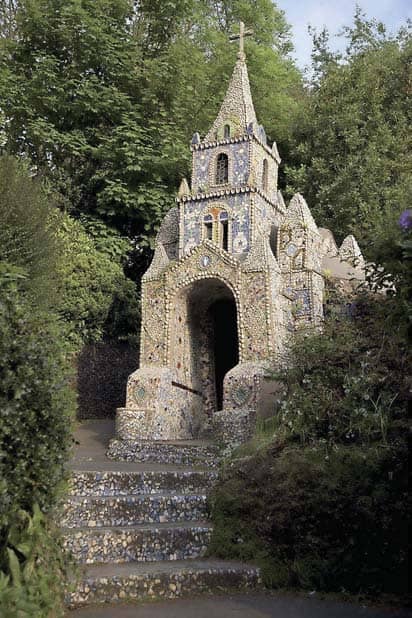 You can actually see where these oysters, produced in the giant tidal range on Herm come from, because it's just across the water from the bar. The company's high production values are reflected in the taste, enhanced even more by the delicious way Balthazar can prep them for you; in Hendricks tonic, with lime and cucumber garnish, or with lemon juice, pickled ginger and caviar.
Wherever possible it seems that Guernsey's eateries like to use local produce; milk and cream from their enchanting Guernsey cattle, milk from the rare breed Golden Goats (you can see them at the Goat Farm near Les Sages) to make cheese; vegetables which are produced on the patchwork of tiny fields, and loads and loads of fresh fish caught in their crystal waters. They also pack a mean island gin…
St Peter Port itself is rammed with stylish restaurants and bars and when you can tear yourself away from them there are plenty of independent boutiques to mosey round, although be prepared to walk up some hills.
You can read up to 3 premium stories before you subscribe to Magzter GOLD
Log in, if you are already a subscriber
Get unlimited access to thousands of curated premium stories and 5,000+ magazines
READ THE ENTIRE ISSUE
March 2020