Smooth Crusing
For a really special way to explore Burgundy, a luxury barge cruise through the tranquil countryside is hard to beat, writes
The 12 guests and six crew collectively held our breath as Pierre, our skipper, edged the huge barge into the current. Despite his many years' experience, we all knew this was a tricky manoeuvre. The well-behaved canal we had been trundling along was being traversed by a faster flowing river, which would have been enough of a challenge without the narrow lock awaiting us on the other side. It would be an extremely snug fit, so our boat had to enter it perfectly straight, but the current had other ideas about that...
Minutes later we all expelled a huge sigh of relief. With inches to spare, we had cruised into the lock without a single bump. In fact, smooth was the word that summed up the whole week, from the impeccable navigation to the seamless service from our friendly crew. It was as if they could read our minds. No sooner had you thought 'I fancy a cup of tea' than one appeared. Sometimes it even felt as if they were a miniscule step ahead of you, as a gin and tonic, ice clinking and condensation dripping in the intense heat, materialised like a mirage.
Even a large barge like the Luciole can feel a little intimate when there are 18 people on board, especially when you've never met them before. But within hours of making acquaintance with our fellow guests in a Paris hotel before our transfer to Burgundy, it was as if we'd been friends for ever. If we'd felt at all reticent about sharing our week with holidaying Americans – we were the only Brits aboard this particular cruise – we shouldn't have worried. They were all fascinating companions who kept us enthralled with tales of their travel through France, Europe and beyond – and when it came to sense of humour we just seemed to click.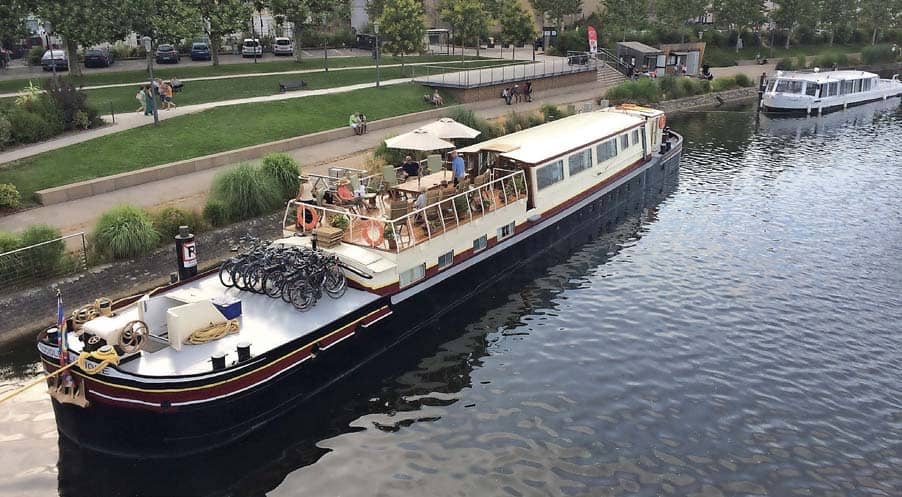 Burgundy bienvenue
Our journey along the Nivernais Canal started in Auxerre, capital of the Yonne département. After our transfer from Paris, we were welcomed on board with champagne and canapés – the perfect start to our week.
The Barge Luciole is well known on the waterways of Burgundy, having operated as a hotel barge there since 1976. All those years of experience looking after guests and introducing them to this beautiful region have forged an unforgettable experience – and memories I will treasure for years to come.
The barge accommodates 12 passengers in eight en-suite cabins, and communal areas include a relaxing saloon and lovely sundeck. The cruise includes all your meals, accompanied by local wines. The food was one of the many highlights of the week, from the buffet lunches you just couldn't stop helping yourself to, to the gourmet evening meals. A lovely touch was the presentation of the wines and cheeses by the crew members, and we all became obsessed by the chef's out-of-this-world sauces!
Our itinerary for the week combined cruising with daily excursions, including wine tastings and visits to villages, châteaux and markets, accompanied by Luciole's owner Penny or one of her knowledgable tour guides. When not out and about, we relaxed on deck and walked or cycled along the towpaths – with the barge's slow cruising speed, it was easy to keep up, jumping off at one lock and back on at the next. France was in the midst of a searing 'canicule' so daily dips in the rivers, which a lot of the time run parallel to the canal, were another highlight.
Monday marvels
You can read up to 3 premium stories before you subscribe to Magzter GOLD
Log in, if you are already a subscriber
Get unlimited access to thousands of curated premium stories, newspapers and 5,000+ magazines
READ THE ENTIRE ISSUE
October 2020