Saddle Sure
Following in the footsteps and cycle tracks of his hero T. E. Lawrence, Todd Mauer travels from Dordogne to Haute-Vienne stopping off at landmarks along the way
Nothing is written!" In David Lean's 1962 cinematic masterpiece Lawrence of Arabia, T.E. Lawrence utters this iconic line to Omar Sharif's Sherif Ali before venturing into the searing Nefud desert to rescue a lost Bedouin soldier under his command. Somehow, more than 50 years after the film was released, I find myself chanting the same line over and over as a motivational mantra while laboring up a steep hill – my own private 'Nefud desert' – on a signposted 400-kilometer cycle route called 'Dans La Roue de Lawrence d'Arabie' (In The Wheel of Lawrence of Arabia) in the Dordogne.
Lawrence, of course, rescued his soldier, and I'm delighted to say I made it to the top of my hill.
I'm not certain if both acts qualify as equal demonstrations of the human capacity to overcome adversity, but as I crested my hill I was as chuffed as I was huffed.
If most people should ever happen to associate T.E. Lawrence with the bicycle, it's unlikely to be a happy association. Lawrence's 1935 death in a motorcycle accident while swerving to avoid two schoolboys riding bikes on a
Dorset road was etched into the collective cinematic conscious during the opening scene in Lean's film. But for most of Lawrence's life, his relationship with bicycles was passionate, even joyful.
As a teenager, he embarked on multiple cycle tours in both Britain and France, culminating in 1908 in an incredible 3,200-kilometre tour of France, visiting castles for his Oxford thesis on medieval architecture.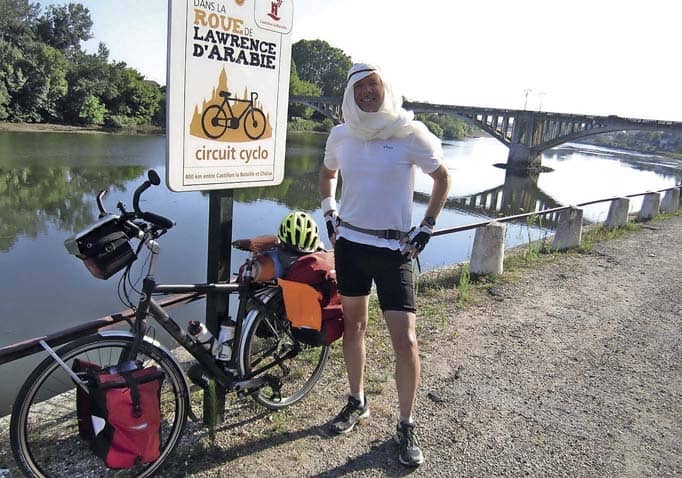 On your bike
It's now possible to ride an official route covering part of the trail of the young T.E. Lawrence, or 'Ned', as he was more humbly known to friends and family. The route begins in Castillon-la-Bataille, not far from the wine mecca of SaintÉmilion, and weaves primarily through rural lanes of undulating countryside to the town of Châlus in Limousin's HauteVienne département.
Enthusiasts of medieval history will find this portion of Ned's epic 1908 journey of particular interest. Not only does it take in several sites related to the Hundred Years War, but for this stage of his trip Lawrence was himself following in the footsteps of one of his martial heroes, Richard the Lionheart, who died laying siege to the castle of Châlus.
Although historians don't know the exact route Lawrence took on his ride, the almost daily letters he wrote to his mother and a school friend have survived, offering concrete details about the towns Lawrence passed through and his impressions of the places he visited.
A panel on the quay of the Dordogne river in Castillonla-Bataille marks the official beginning of Dans La Roue de Lawrence d'Arabie. It was time to don my homemade keffiyeh headdress in Lawrence's honour, and begin my adventure on the trail of one of history's great adventurers.
After leaving the placid, sparkling Dordogne behind, I pedalled just a few miles down the road to the home of one of Lawrence's intellectual heroes: Michel de Montaigne, the Renaissance philosopher. In his letters, Lawrence refers to Montaigne as 'the greatest one', and describes his visit to the site as 'a great privilege'.
The 19th-century Château de Montaigne – a surprisingly successful blend of neo-renaissance and medieval architecture, with the philosopher's motto 'Que sais-je?' (What do I know?) emblazoned over the main entrance – isn't open to visitors, but the fortified 16th-century circular tower that contained Montaigne's library and formed his main living quarters as he wrote his hugely influential Essays can be visited.
As I mounted the narrow stone staircase to Montaigne's library, I felt a thrill as I realised I was literally walking in the footsteps of not one but two of my heroes. The tower contains everything the extremely moderate philosopher needed: his own private chapel, his bedroom, and his vast library containing adages from his favourite Greek and Roman philosophers, such as Socrates and Plutarch, inscribed on the painted wooden ceiling beams.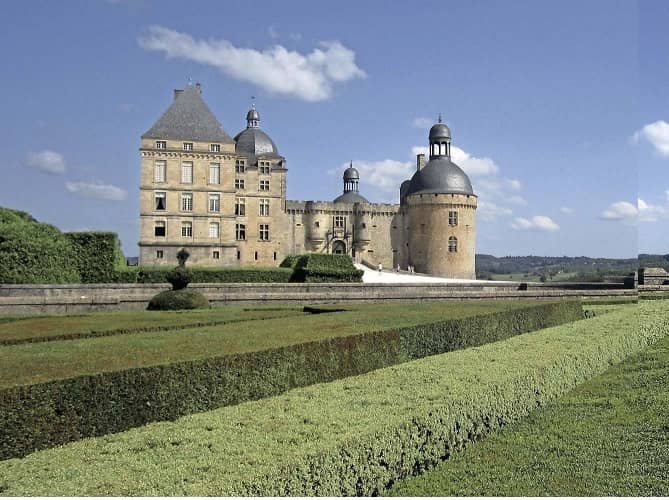 You can read up to 3 premium stories before you subscribe to Magzter GOLD
Log in, if you are already a subscriber
Get unlimited access to thousands of curated premium stories, newspapers and 5,000+ magazines
READ THE ENTIRE ISSUE
September 2020