PROVENCAL PLENTY
France|July 2020
A tastebud-tantalising trip to Vaucluse – Karen Tait sets out on a voyage of discovery of Provence's abundant produce
The row of dried-out thistle heads spinning furiously was strangely hypnotic, especially when combined with the hum of the vast machine. I must admit that when I saw a visit to a blanket factory on my Provence itinerary, I expected to be a little bored. Yet here I was, fascinated by the process used to create these luxurious woollen blankets. In case you were wondering, the thistles lift the pile, giving them their unique fluffy appearance.
Close by, another machine whirred, carrying out the same process but using metallic versions of the natural thistles. Their design is so fiercely protected, we weren't allowed to take photos! Tradition and innovation sat side by side – a theme I was to discover again and again on my trip.
The designer of the newfangled thistles was the grandfather of Jean-Louis Brun, who was showing us around the factory in L'Isle sur la Sorgue, a family business stretching back eight generations (brundeviantiran. com). He worked in the wine industry for a while but making blankets is not so different, he told me: "The blending is the same process." He was referring to the materials they use – almost exclusively wool but from camels, llamas and goats as well as sheep, and from five continents, from France to Mongolia to Australia.
As we discovered when faced with the wools in their natural state, some are springier while others are softer (the softest being from baby camels), hence they're blended. The company has projects all over the world, with the emphasis on sustainability; camels in the Gobi Desert, or closer to home, a 30-year exclusive partnership producing merino wool from a flock of 25,000 sheep in Arles.
All Brun de Vian-Tiran's products are made in Provence though. The process includes washing, adding back oils removed by the washing, felting – which shrinks and strengthens the blankets, making them last for 50 years – and of course 'thistling' (not a technical term!) before hand-checking them for any imperfections. Occasionally an extra ingredient is added; linen for summer blankets, silk for extra fine cashmere scarfs, but the most popular product is the mohair throw. You can buy their products online or from outlets across France including Galeries Lafayette in Paris.
Jean-Louis' evident passion for the "noble fibres" has led to a new project, sensorial museum La Filaventure, where you can follow the wool's transformation from fibre to fabric – I particularly liked the little figures balanced on woollen threads suspended across the high ceilings! You can also buy the finished products in the stylish boutique.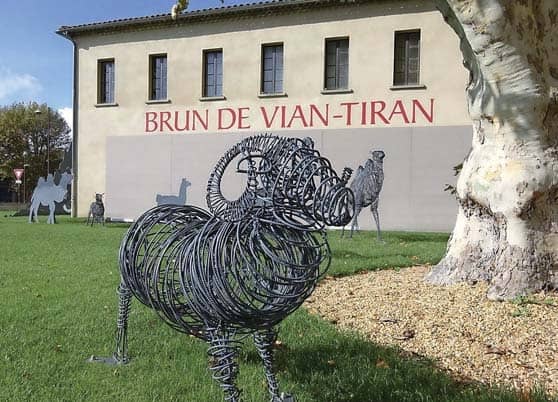 Tactile textiles
L'Isle sur la Sorgue is the perfect place for a new tourist attraction. The pretty Provencal town is known the world over for its antiques shops and markets. Criss-crossed by La Sorgue and its tributaries, it's nicknamed 'petite Venise'; the presence of water fostered local industry in the 18th and 19th centuries including silk, dyeing, weaving, paper manufacture and mills.
Local crafts are still clearly appreciated. We continued the tactile textiles theme calling in on Magali Beaumont in her embroidery workshop, Brodeuse d'Art, watching her work on intricate designs using silk, gold thread and pearl strings. Just one company in Paris sells these, so Magali uses the same fine materials as haute couture brands like Chanel – as she says: "When you spend so much time on embroidery, you must use quality materials." No high-tech here either, as she still uses a traditional 'crochet de Lunéville' hook, invented in the early 1800s. Magali trained at the École Lesage in Paris and now offers craft embroidery classes as well as handmade items from furniture to fashion (magalibeaumont.fr).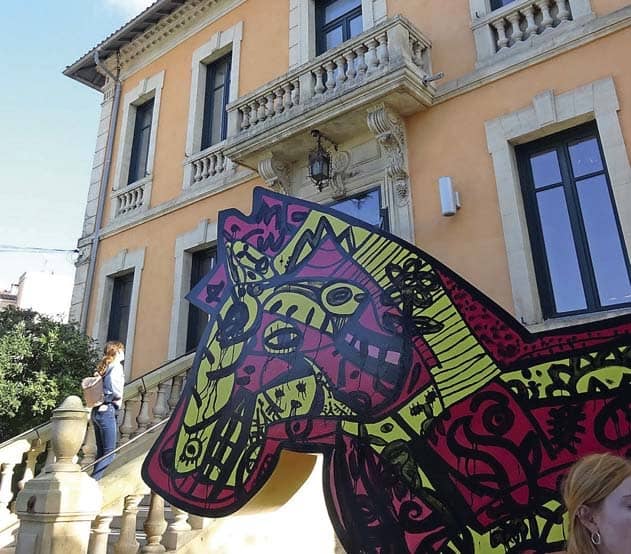 There was no time for a lesson though as we were keen to visit the Fondation Villa Datris, famous for its contemporary sculpture (fondationvilladatris. fr). The Bêtes de Scene exhibition, featuring 85 artists and 120 sculptures, explored the relationships humans have with animals, resulting in some very bizarre creations indeed!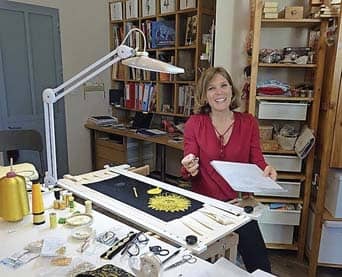 Spirit of discovery
The next day we headed towards Châteauneuf-du-Pape, famous for its wine of course, however, we passed all the winemakers' signs and stopped instead at a distillery. I confess I'd never heard of the Distillerie A. Blachère (distillerieablachere.com) so I was surprised to hear that they produce France's number one non-alcoholic syrup or cordial – PAC Citron.
You can read up to 3 premium stories before you subscribe to Magzter GOLD
Log in, if you are already a subscriber
Get unlimited access to thousands of curated premium stories and 5,000+ magazines
READ THE ENTIRE ISSUE
July 2020