History in THE MAKING
France|August 2020
A rich history came to life for Steve Mather in Bourgogne-FrancheComté, a modern region with an incredible past and countless hidden charms that leave you yearning for more
It's often said that Bourgogne-Franche-Comté is an overlooked region of France, with the majority of tourists staying north to take in the bright lights of Paris or flying south to soak up the sun on the Riviera.
This is despite it being conveniently located only a couple of hours from the capital, and anyone traveling to Lyon and the Côte d'Azur from the City of Light will have to pass through it. So, my advice to those who only see it while barrelling through the beautiful, rolling countryside would stop and stay awhile.
This is an incredibly interesting area to dive into, brimming with history, studded with quaint towns and home to great figures of French history and gastronomic specialties you just can't afford to miss out on. It could be described as France in miniature, featuring mountains, lakes, rivers, vineyards, and forests. Yes, that's right, there's much more on offer here than wine – although that is rather good.
My voyage of discovery began in Sens, the gateway to the region from Paris and remarkably, considering how little is known of the place, home to the very first Gothic cathedral, dating back to around 1135.
Although its name may not be a familiar one now, Sens was once a place of considerable importance and flourished during the Gallo-Roman period. Owing to its name to the Senones people, it was then called Agedincum and became the capital of the Roman province of Lugdunensis Quarta in the fourth century.
In the Middle Ages, its high rank was due to the eminence of archbishops – its Saint-Étienne Cathedral provides strong evidence of this. It also contains the vestments of Thomas Becket who spent time in Sens during his several years in exile after a disagreement with Henry II. A stained glass window depicts the stages of his life, culminating in his rather grizzly death upon his return to England.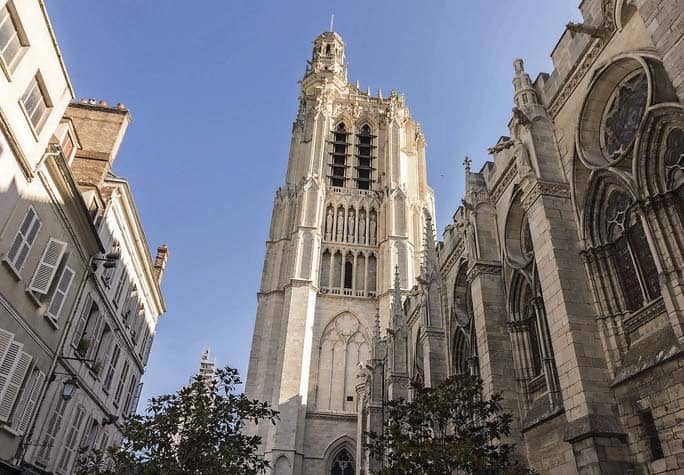 Lofty ambitions
For some, simply reading about the region's history in the pages of dusty old books is not enough. Deep in the forest of Guédelon, something truly unique is taking place, with a large chunk of heritage brought back to life in front of your very eyes.
For in this forest, on the site of an old quarry, a 13thcentury castle is being built from scratch, using medieval techniques and materials. When the idea of the project was first raised by Michel Guyot and Maryline Martin, it was met with a mixture of incredulity and ridicule, but their commitment to their vision stuck and work began in June 1997.
Of course, constructing a castle using centuries-old techniques produces all manner of challenges. Not least retraining craftsmen in trades of the time which no longer exist, the health and safety permutations of employing outdated construction techniques, and finding enough people to believe in the dream. However, they have broken down every barrier and walking among the quarrymen, stonecutters, masons, blacksmiths, woodcutters, and ropemakers – all dressed in period attire – what comes over most is the overwhelming sense of contentment.
People simply love working on the project and are more than happy to speak to visitors about their craft and why they are involved. Some are employed but many are volunteers who travel from near and far to be part of the build.
Plants and vegetables are grown on-site and at lunch, it's time to down tools and head to the Taverne de Guédelon for the period fare. Maybe the escapism this project offers from the modern world is something we could all benefit from, but it's certainly a labor of love, overseen by master mason Florian Renucci.
Construction of this grand design is due to be completed in 2023, although the coronavirus lockdown will have slowed progress temporarily. You can still watch clips from the series Secrets of the Castle on BBC iPlayer to give you an insight into the project from the comfort of your own home.
You can read up to 3 premium stories before you subscribe to Magzter GOLD
Log in, if you are already a subscriber
Get unlimited access to thousands of curated premium stories and 5,000+ magazines
READ THE ENTIRE ISSUE
August 2020