Fat Of The Land
Few countries hold butter in such high regard as France, as Lara Dunn explains
Many will remember the unparalleled tension in French towns and supermarkets in 2017, when empty shelves greeted shoppers instead of freshly baked croissants and creamy pats of butter. Changes in EU quotas, problematic production in 2015/16 and low prices being paid to farmers by the supermarkets resulted in genuine fears for some of the best-loved elements of France's produce. Things have stabilised somewhat today, but for a country that consumes around 8kg of butter a year per head – one of the highest rates of consumption in the world – the notion of running out must still be pretty frightening.
The much-loved creamy fat is a linchpin of French cuisine. For many, every day begins with fresh baguette and butter, but that's far from the end of it. The fat makes up half of the average croissant, the Breton speciality Kouign-ammann (literally 'butter cake') contains 30% butter and, of course, let's not forget Michelin-starred Joël Robuchon's famously decadent pomme purée that took two hours for the chef to create and required an almost equal ratio of butter and potato and which he credited as being one of the dishes responsible for his fame.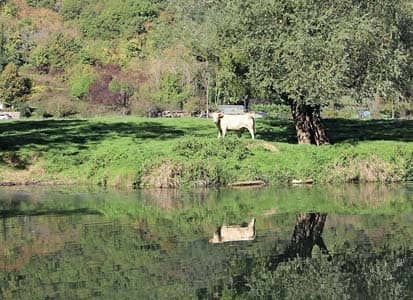 Accidental discovery
The first documented mentions of butter date back to the very beginnings of Western civilisation. The name is thought to derive from the Greek boutyron, latinised to butyrum by the Romans. The story goes that it was discovered by accident, when a nomadic herdsman carried a sheepskin of milk hanging from his steed, and the jostling resulted eventually in the churning of the milk into buttery solids.
Early butters would have been sheep or goat milk based, before the widespread domestication of dairy cattle, but the substance very quickly became popular as a food in its own right, as well as in cookery. The comic Greek poet Anaxandrides mentions Thracian 'butter-eaters' around 380BC while Pliny the Elder references it in his Natural History in the 1st century AD as being popular with 'barbarians'.
You can read up to 3 premium stories before you subscribe to Magzter GOLD
Log in, if you are already a subscriber
Get unlimited access to thousands of curated premium stories, newspapers and 5,000+ magazines
READ THE ENTIRE ISSUE
October 2020