ANNECY
Jan Mitchell enjoys a waterside wander through the Venice of the Alps
The early summer sunshine was warm on my back as I leaned on the cool stone bridge of Pont de la Halle. Beneath my feet flowed the River Thiou, framed by clusters of vividly coloured, fragrant blooms, tumbling towards its waters.
My gaze was focused on the delightful Savoyard jewel of Annecy. At first glance, this capital of Haute-Savoie certainly does not disappoint. It truly is an ancient town, its name deriving from the Roman Villa Aniciaca. Nestling at an altitude of 447 metres in the French Alps, it sits at the northern tip of Lake Annecy, 35km south of Geneva. A famous former resident was the 18th-century writer and philosopher, Jean Jacques Rousseau, born in nearby Geneva.
Time for tea
Sauntering along the Quai Perrière, home to plentiful restaurants, I succumbed to temptation and slipped into the welcome shade of the next lively eatery that I encounter. Following a recommendation from a friendly waiter, I enjoyed an excellent local white wine, Chignin-Bergeron, cru of the Vin de Savoie appellation. I opted for the tartiflette, a simple dish of potatoes, onions, lardons and Reblochon – a delicious complement to my wine.
With little persuasion, I rounded off my lunch with some Gâteau de Savoie, which even has its own legend, I was told. It was invented in 1358 at Chambéry when Charles IV of Luxembourg visited the Count of Savoy, Amadeus VI. To win over his sovereign, Amadeus asked his chef to prepare a cake as light as a feather. I can testify that the result is a truly wonderful fat-free dessert.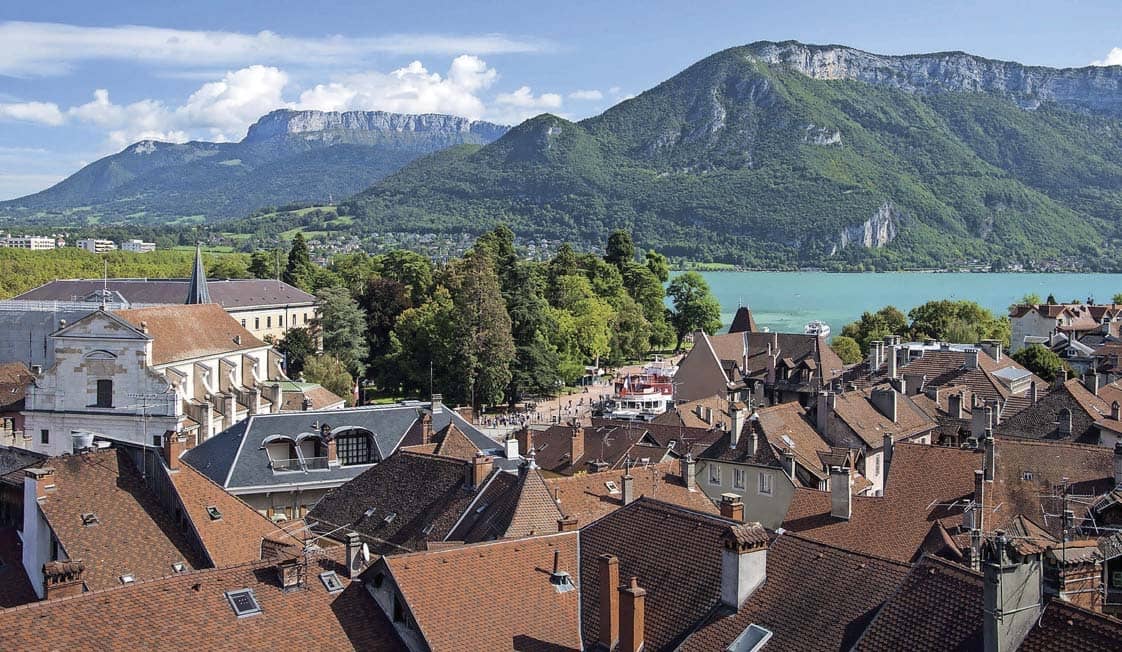 Cruise control
The vista beyond Pont de la Halle reveals the glorious expanse of Lake Annecy, behind which the mountains of the French Alps rise majestically. At 14.6km long, the lake's blue-green water is a truly breathtaking sight. The second-largest natural lake in France, it is also known as Europe's purest.
It is often said that the lake can only be fully appreciated when you venture on to its waters. Deciding to follow this sage advice, I reluctantly took my leave of the charming quayside restaurant, and made my way to the sleek red and white cruise boat sitting beside the lake.
You can read up to 3 premium stories before you subscribe to Magzter GOLD
Log in, if you are already a subscriber
Get unlimited access to thousands of curated premium stories, newspapers and 5,000+ magazines
READ THE ENTIRE ISSUE
September 2020