The Nice guy
Esquire Philippines
|
August 2016
He's the world's most famous normal person, the Hollywood Everyman, the good guy who finishes first. This month, he makes himself even more popular by returning to his most successful character, the rogue CIA agent Jason Bourne. Over coffee in Toronto, Matt Damon tells Esquire about surviving early acclaim, overcoming career setbacks, and why he won't be running for president any time soon. (OK, maybe vice-president.)
HE WALKS IN OFF THE STREET ALONE, NO DRIVER, no handler. He's just a guy in Levi's and boots and a practical black sports coat. Juice and Java is a trendy coffee shop in the Beaches district of Toronto, and there's a smattering of late afternooners around, a few students, some mums and toddlers. He walks past them all and sits at a regular table like it's nothing. As though beneath that grey beanie with the Guinness logo, he's not, unmistakably, Matt Damon, the movie star.
"Isn't this place great?" he says. "I'm staying round the corner, about a block from the lake. It's like a proper beach community, except no one has their designated section, everyone's on top of each other, which is great. We go down there with the kids.
" You go to a crowded public beach with your family?
"Sure. Why not?"
Maybe it's a Canada thing. People are famously nice here, down-to-earth and polite—unarmed Americans with healthcare and manners, not slaves to the celebrity industrial complex in quite the same way. During our 90-minute interview we're only interrupted a couple of times, and never for selfies or autographs. Just a pat on the shoulder and a "Welcome to Toronto!"
But Damon insists it's like this everywhere. He never gets bothered, not even in New York. "Well, if you're in Soho by The Mercer Hotel where all the faces hang out, then you're asking for attention," he says. "But when I lived on the Upper West Side, I never saw anybody. I guess they just don't come north of 72nd Street." Even back home in Pacific Palisades, Los Angeles, he manages to move through life like a civilian, to the envy of his friends.
"I talk to George [Clooney] about New York and he's like 'I can't go there.' It's not the people who follow him, it's the paparazzi," he says. As for "Brad" [Pitt], he has long lived in a form of hiding. And "Ben" [Affleck], Damon's best friend and brother in arms for some 35 years now, could scarcely have had a more different experience, with his J-Lo years and other tabloid shenanigans.
I have a theory. It's less to do with Canada's niceness as Damon's, because that's what people say about him — and it's what Damon says people say, too. He tells me this anecdote, he's been saying for nearly a decade now, it's one of his favorites: "I remember doing an interview with De Niro and Angelina [Jolie] for The Good Shepherd and Larry King had looked up online some words that were closely associated with us. Bob's was like 'intense', and Angie's was like 'ravishing'. I was 'nice'. And I can live with that!"
It's equally true today. When I fished about for Damon stories among his friends and colleagues, what came back were ultimately just confirmations of what a nice guy he is. Words like "lovely, intelligent, hard-working, humble" (Julia Stiles), or "genuine, talented and fucking funny, even though he doesn't know it" (Kristen Wiig). Clooney said "he's a terrific actor and a great guy, but you already knew that." Yes we did. But thanks anyway. It's yet further confirmation that niceness is core to Damon's brand.
My theory is the niceness is a force field keeping fans at bay. His sheer decency repels any harassment because it's just not cool to bug Matt Damon. Tom Cruise, sure, but Damon's one of us, he's our Everyman, the one we root for. Leave the man be.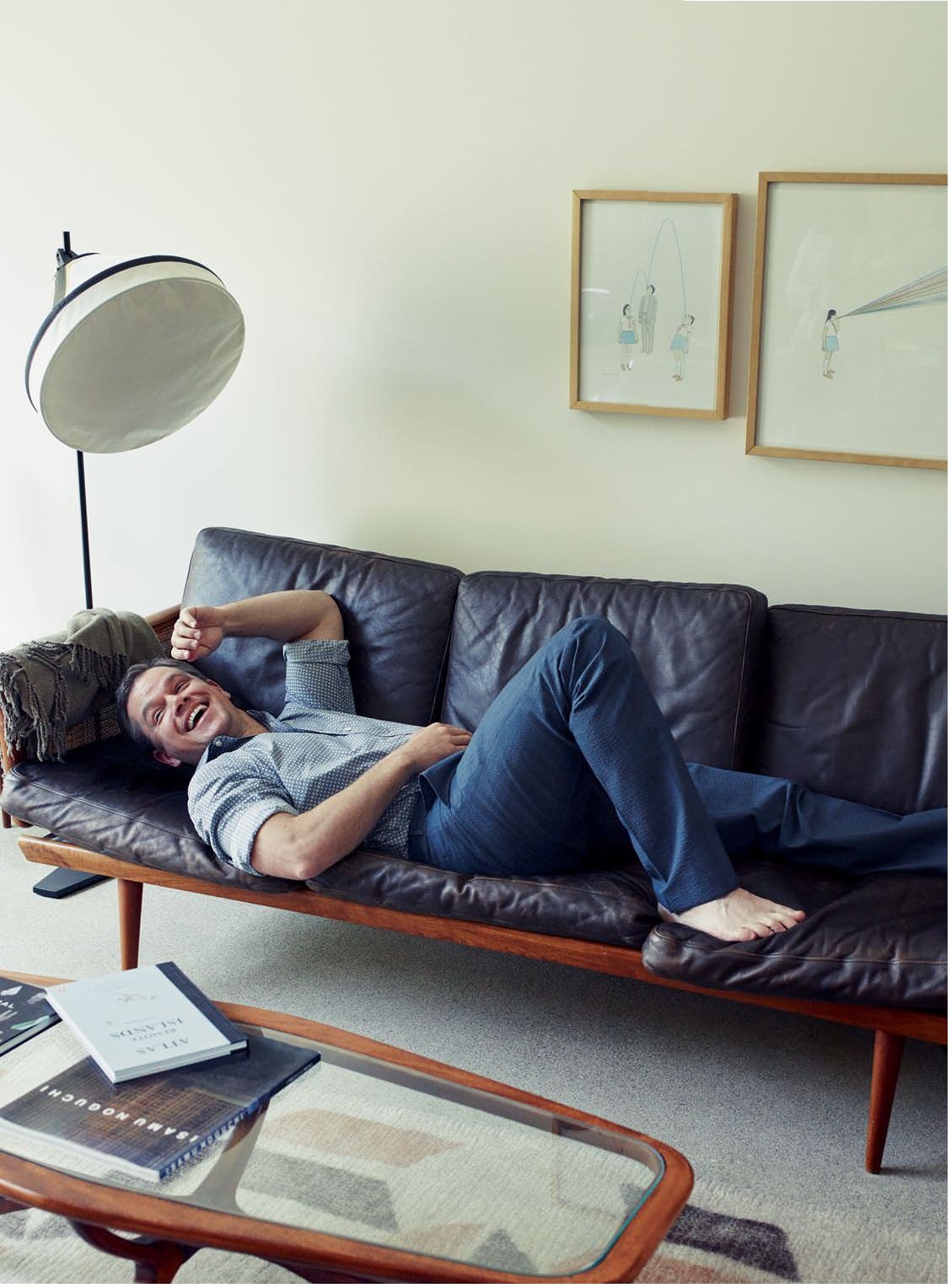 "Oh, I don't know," he says, far too nice to agree. "I think being in a relationship with a woman who's not in the business helps."
Could be; in 2005 he married Luciana Barroso, a former bartender from Argentina, whom he met in Miami. J-Lo she ain't.
"Maybe, it's because I'm actually really boring. Did you ever consider that?"
Objection: irrelevant. (Sustained.)
"I guess I'm just really lucky, then. Because I'm pretty much left alone, but I get to make the work that I get to make. I've been given the best parts of the experience."
In fact, it's possible Damon is the most famous person to be the least troubled by his fame. The normal rules don't seem to apply here. There's nothing hunted or haunted about him—rather, he seems to be actually enjoying himself. He's not even bothered by that perpetual look of recognition he gets from perfect strangers wherever he goes.
"That took a few years," he says. "Because when someone looks at you, your instinct is to look back and think you should know who they are. After a few hundred times, you realize—I don't know these people—and then, of course, you turn away from someone you actually do know and they're like, 'dude, it looks like the fame really went to your head.' And I'm like..." he cracks up laughing, "sorry Mom!'"
LIFE FOR DAMON IS SWEET these days. He's a man at an apex. He's 45 and doesn't look it—still with the boyish good looks and the wry smile, only with a few more creases. He has a big family—a wife and four daughters, three of them his—who live in a sprawling, seven-bedroom home by the sea. He can call pretty much anyone, he never struggles for access—friends include George, Brad, Ben, Don Cheadle, Steven Soderbergh, Paul Green grass and Bono; he has talked policy with Obama and hung out with Nelson Mandela. And he's been so successful that he can now enjoy giving back—his organization Water.org is bringing clean water to millions across the world.
Perhaps most of all, though, he's at the top of his game as an actor. In 2001, at the time of Ocean's Eleven, he and George Clooney figured that a 10-year career would be beating the odds—"we looked at the big movies of 10 years before and a lot of those actors weren't really around anymore." So, to be cruising at altitude in 2016, "is beyond anything I could reasonably have hoped for." And these last couple of years have been the perfect illustration. He's working with about as full a palette as anyone in the industry. Four top-flight directors on vastly different movies, in at least six countries, and barely a moment to catch his breath in between.
"Yeah, we're all whipped at this point," he says. By "all" he means his family, too, whom he drags around the world with him, given his rule that they should never be apart for more than a fortnight at a time. (He once flew his daughter's entire class and teachers out to South Africa while he was filming Invictus). "I got greedy. I hadn't worked for a year-and-a-half, and then I had the opportunity to work with Ridley Scott, Zhang Yimou, Paul Green grass and Alexander Payne. And I just couldn't say no."
The fun started in November 2014 in Jordan, shooting The Martian with Scott, which brought Damon his fourth Oscar nomination. Then they flew to China for five months for The Great Wall with Yimou — "a giant monster movie basically, set in 1100AD". They then moved to Tenerife for this summer's Jason Bourne—which also took them to Greece, Berlin, London and Las Vegas. And then, after six measly days' rest, they shipped off to Toronto for Downsizing, by Alexander Payne (Sideways) and due out next year, which is why we're here.
"It's a really big art house movie," says Damon. "Like a Charlie Kaufman movie. It might be the best movie I end up being in in my career."
You can read up to 3 premium stories before you subscribe to Magzter GOLD
Log in, if you are already a subscriber
Get unlimited access to thousands of curated premium stories, newspapers and 5,000+ magazines
READ THE ENTIRE ISSUE
August 2016