When Reindeer Roamed In Derbyshire
Derbyshire Life|December 2019
In the last ice age our landscape would have hosted these magnificent creatures. Paul Hobson writes
Over the last two decades, I have developed a great love for the landscapes of the northern Scandinavian countries. In most years I travel to either Finland or Norway, with an occasional visit to Sweden, to photograph eagles, divers, bears, ospreys, and reindeer. During these trips, I often ponder on the similarity of the landscape to that of Derbyshire, and to the historical connections between the wildlife I am photographing and the past wildlife of the Peak.
The connection between the present landscape and wildlife of Finland and Derbyshire at first glance may seem tenuous. True, much of the extensive forest that covered Derbyshire has been axed to a pale shadow of its former self, and much of the charismatic megafauna of Finland, such as bears and reindeer, no longer lumber and trek respectively across the Peak's elevated landscapes, but they did once.
A visit to the amazing caves at Creswell Crags will quickly demonstrate that our ancestors lived with and hunted reindeer alongside lynx and woolly rhinos. A day's wildlife watching then must have been an amazing, if slightly heart-stopping, experience!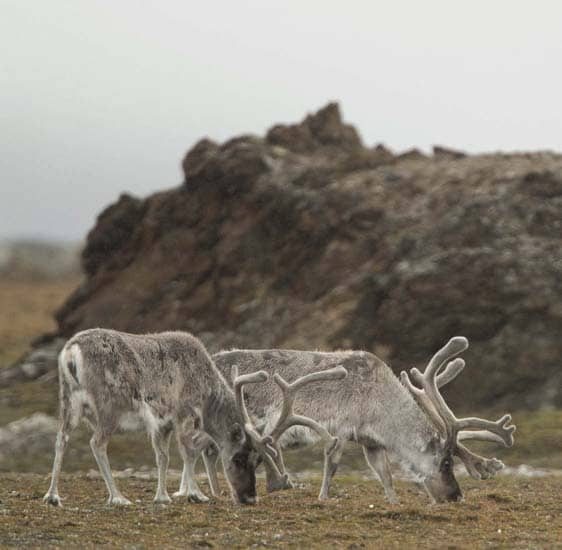 Reindeer were present in large numbers in Britain and Derbyshire around the time of the last ice age, somewhere around 35,000 to 50,000 years ago, when it is thought that they calved in spring on the Peak's plateaux and migrated in winter to lower ground in Lincolnshire.
There is evidence that they may have finally died out as a British indigenous species as recently as 800 years ago in Northern Scotland.
You can read up to 3 premium stories before you subscribe to Magzter GOLD
Log in, if you are already a subscriber
Get unlimited access to thousands of curated premium stories and 5,000+ magazines
READ THE ENTIRE ISSUE
December 2019