Spirit of the game
Wheathills has recently completed an intricate sculpture – commissioned by Dr Dallas Burston who turned up the ball for the Royal Shrovetide Match in 2017 – which captures the essence of the game
Since at least 1667, each Shrove Tuesday and Ash Wednesday the exhilarating and at times ear-splitting spectacle of the Royal Shrovetide Football Match has taken place in Ashbourne. The boisterous and thrilling sporting event played over two eight-hour periods still has all the colour, excitement and drama of a Shakespearian play. It begins at 2pm when a unique ball, created by Terry Brown and painted by Simon Hellaby, is turned up for the waiting crowds from a plinth in the town centre by a celebrated, sometimes royal, but often local dignitary.
Nigel Heldreich, the owner of Wheathills – creators, conservers and restorers of fine furniture and decorative art – has lived and worked in and around Ashbourne all his life. He first attended a match at the age of eight with his father Harold and from the time he started out in business in 1985, has been a regular visitor-player, attending with friends and family and soaking up the 'phenomenal camaraderie' as well as the mud and water. Over the years he has both touched and run with the ball – and been knocked out several times in the process – so he was delighted when Wheathills was commissioned in December 2016 to create a piece of artwork to commemorate and record the game for posterity.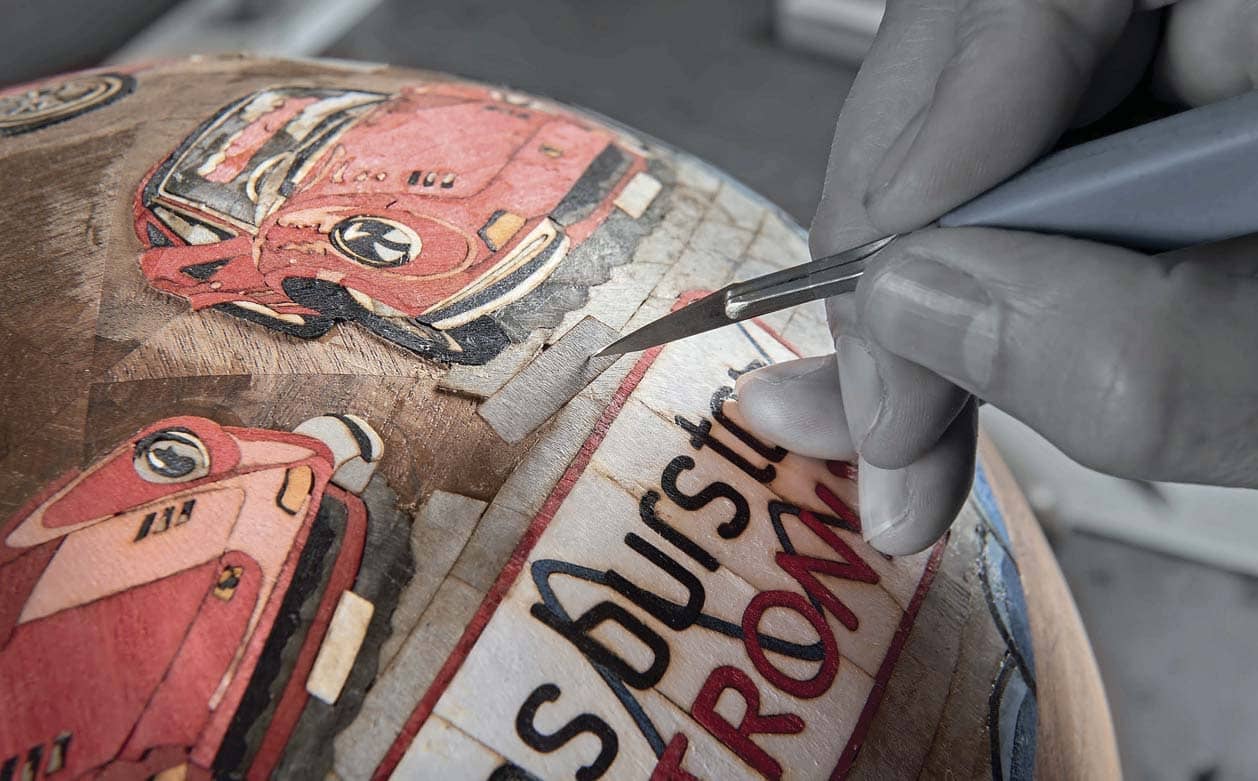 The challenge was set by retired GP and pharmaceuticals entrepreneur Dr Dallas Burston who was born and raised in Ashbourne and invited to turn up the ball on 28th February 2017. Dr Burston explained: 'To be invited to turn up the ball is the highest accolade anybody from Ashbourne could be accorded. It was the proudest moment of my life and I wanted a historical record of the day and the people involved.' His artistic brief to Wheathills was short but exacting. He urged them to create 'the most amazing thing you have ever made.'
Nigel added: 'He also told me that he wanted me to capture the essence of the game as one second in time. What a challenge! I felt a rush of adrenalin, and fear – almost as if I was back as a boy at my first experience of the Game!'
Wheathills craftsmen are specialists in creating highly personalized bespoke furniture and beautiful memory boxes with a secret and personal narrative that is uniquely identifiable to the owner, which lends to them what Nigel considers is an almost spiritual dimension.
Nigel, 51, had not witnessed the cut and thrust of the historic game for many years and decided to place himself in the middle of the action of the 2017 game. Armed with a camera on a 25ft-high pole, he fought his way into the 'hug' to capture some close-up photographs. Despite being knocked over, suffering kicked shins, dislocating a finger and chipping the bone in his thumb he managed to get some 'fantastic images'. 'I could see a multitude of emotions in everyone's face. The players are absolutely focused on getting their plan executed. They manoeuvre themselves, make tactical false runs and you can see the emotion in their faces as they communicate with each other. Some visitors are drawn in by the enthusiasm and then there are others on the periphery frightened that the ball will come their way. I was registering these emotions – elation, screaming and laughing, genuine fear and aggression – and realised the focus wasn't the ball, the game or Ashbourne, it was the waves of different emotion coming from this body of people. I thought to myself where else on earth could you see that? This was what was unique about the event.'
You can read upto 3 premium stories before you subscribe to Magzter GOLD
Log-in, if you are already a subscriber
Get unlimited access to thousands of curated premium stories and 5,000+ magazines
READ THE ENTIRE ISSUE
March 2020