Lea Hurst
Derbyshire Life|March 2020
As we approach the 200th anniversary of the birth of Florence Nightingale this May, Peter Kay – the owner and restorer of her family home in Derbyshire – talks to Pat Ashworth
I am very taken with the idea that as I drive across the parkland to Lea Hurst, I'm following the exact same route that Florence Nightingale would have taken in August 1856 when she returned home to the village of Holloway after her time in the Crimea.

Notoriously publicity-shy – she had no truck with celebrity – she arrived quietly by train to be met possibly at Ambergate, though a popular story is that she walked with her luggage from Whatstandwell. Her childhood home is entirely hidden from view until you pass through a series of gates and round a bend, and the sense of anticipation increases.

There's a plaque in the porch of what is now the family home of Peter Kay, his wife, Jen, and their five children. It dates from the half-century from 1951 when Lea Hurst was a care home, and remembers Florence's mother, whom Florence nursed here until her death at the age of 94. The text concludes, 'It is hoped that this house may be blessed with a spirit of fellowship and goodwill in keeping with the memory of Florence Nightingale.'

I can vouch for the fact that it is. I'm unavoidably delayed this morning and having sent an apologetic message to say that I'll be arriving up to an hour late, I'm met not with impatience but with freshly made sandwiches and a seat in the warm kitchen. Peter Kay, whose family hails from North Wales, bought Lea Hurst in 2011. Two years later, and whilst the family were still living in Asia, he embarked on a complete renovation of the 15-bedroom house, which had been in private hands since the care home closed in 2004.

He has gone beyond mere restoration, though. Studying paintings and photographs as a guide, his aim has been to return the house as far as possible to the way it looked when the Nightingales lived here, and to that end, with the help of art and antiques advisor Tim Corfield (www.corfieldmorris.com), he has managed to source items of Nightingale family furniture, art and memorabilia, replicate others and commission bespoke pieces and furnishings.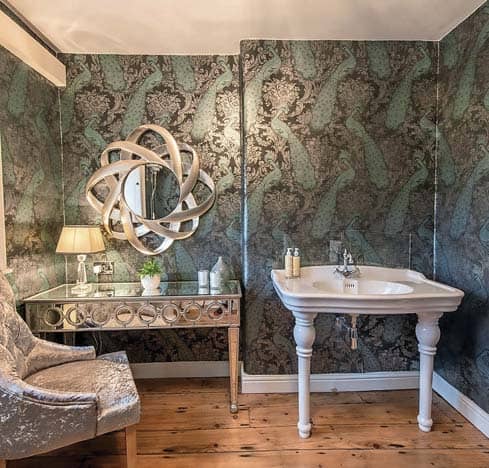 It has been a labour of love. We are sitting in what was the Library of what was originally a 17th-century farmhouse, where Florence was home-schooled by her father, William. He inherited the house, part of the estate of his great-uncle, Peter Nightingale, in 1815 and the family moved in during 1825. With windows on three sides, one of them a deep bay leading out into the garden and parkland, it's a beautiful room and Peter has spent many contented hours in here. 'When William Nightingale inherited the house, he had no need to work and so devoted his life to his children,' he says.
You can read up to 3 premium stories before you subscribe to Magzter GOLD
Log in, if you are already a subscriber
Get unlimited access to thousands of curated premium stories and 5,000+ magazines
READ THE ENTIRE ISSUE
March 2020