Tonight, Matthew, I'm going to be a National Treasure
Don't be afraid of failure. Don't appear on I'm a Celebrity… Get Me Out of Here. And never, ever dance on a giant piano after a hip operation. Matthew Kelly imparts pearls of wisdom to Katie Jarvis
You know me. I'd never ask anything personal. I always have a list of interviewee questions I simply would not – under any circumstances - have the effrontery to pose. (So as not to get confused, I mark this list, 'Interesting Questions'.)
The list includes: divorce; age; sex (not as in gender) (though that can be complicated); religion; money; home address; scandal; anything not covered that's potentially upsetting to said interviewee; anything interesting.
And nothing – absolutely nothing – below aortic level.
"I've just come out of hospital with a hernia," Matthew Kelly tells me, barely two minutes into our first ever conversation.
Interesting.
Given more time, I'd Google
'Appropriate responses to hernia', (possibly an entry on How To Address a Duke). As it is, I have to improvise.
"I'm SO sorry!" I ad lib, using the intonation recommended for 'Duke Has Just Died'.
"Don't be," Matthew Kelly says, in a Lancashire accent that strongly indicates all hernias are funny. "I've had me crumpets sewn up; it's all right."
The thing is, he explains, he didn't exactly sustain his hernia in the most common of ways [pregnancy, frequent coughing, 'bathroom' issues. Source: Cleeveland Clinic].
"I've just come out of Big the Musical, at the Dominion, and had to dance on a giant piano. Well, last year, I had a hip replacement. When they rang up, they said, 'How's your hip?'
"I went, 'Fine!' "'Can you dance?' "I went, 'Yeess!' (Ride a horse? I can ride a horse! I'm terrified of horses but you say anything to get a job.)"
It was, he admits, a taradiddle of iliac [Source: Illustrated Guide to Veterinary Terminology] proportions.
"My hip was not fine at all because I kind of abused it." Threw away his crutches and returned to work after four weeks.
"However! Because I got that job, it made me go back in the gym for three months with a trainer and get some muscles back in my legs. He trained me to do that giant piano dance.
"It was brilliant - but that's when all me pipes fell out and I had to have a hernia operation. It's swings and roundabouts… You know what I mean."
TBH, it's difficult to know how to use this anecdote. "I can't even say, 'The moral of this is: Don't dance on giant pianos'," I point out. "Because that's useful for about .0000001 percent of the population. If that."
"It's a niche market," Matthew Kelly agrees.
**************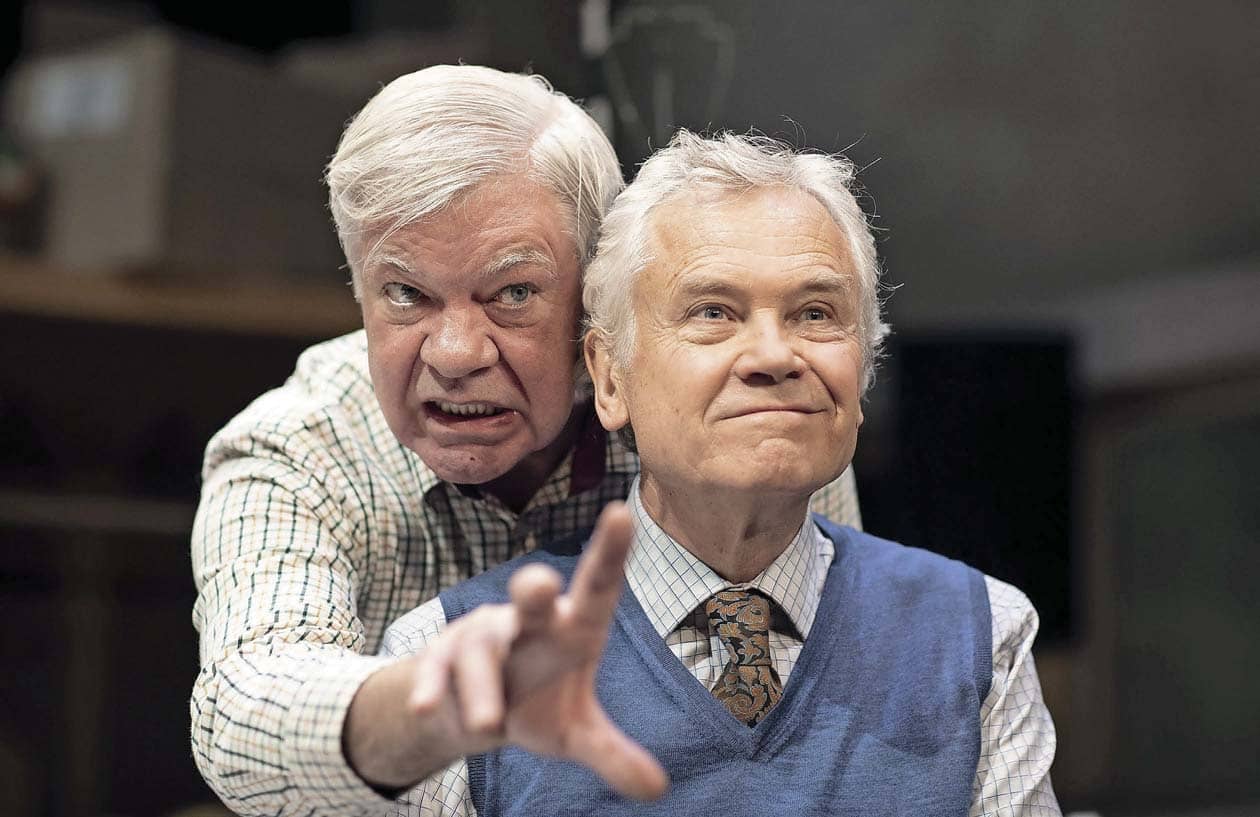 Tonight [presenter name] Matthew Kelly is going to be...
WH Auden! Well, actually… It's more complicated
than that. Because when Matthew Kelly appears
in Alan Bennett's The Habit of Art at Cheltenham's Everyman at the end of this month (alongside David Yelland playing Benjamin Britten (though, actually, it's more complicated than that)), he plays an actor playing WH Auden.
If you haven't seen it, this is a wonderful play within a play. Funny, moving, witty; a treatise on friendship; a study in anger. The Habit of Art imagines a late-in-life meeting between two 20th century geniuses: Auden the poet and Britten the composer.
You can read upto 3 premium stories before you subscribe to Magzter GOLD
Log-in, if you are already a subscriber
Get unlimited access to thousands of curated premium stories and 5,000+ magazines
READ THE ENTIRE ISSUE
March 2020