The blossoming of Kiftsgate
Cotswold Life|March 2020
Kiftsgate Court Gardens, in the North Cotswolds, are famous for their rampant rose – the largest in England. But there's so much more to these horticultural masterpieces, created by three generations of women, as Katie Jarvis discovered. She spoke to Anne Chambers, current owner guardian; and to Vanessa Berridge, author of a book marking the gardens' centenary
Spring [2004]: It had been a horrible day when I left London, but it bucked up just as I arrived in Gloucestershire. I drove along the drive, the steep banks dropping away; and the slopes were covered with bluebells. It was a heartstopping introduction to this garden that was going to play such a big part in my life, Vanessa Berridge
The year is 1938; the month is May; and a mild spring is pouring warm sunshine onto a grateful Earth one minute, before sprinkling it with showers the next. At their castle in Kent, Vita Sackville
West and Harold Nicolson are opening glorious Sissinghurst gardens to the paying public (nicknamed 'the shillingses' in satirical honour of their entrance fees) for the first time.
Meanwhile, at Kiftsgate Court in the Cotswolds, another gardener is preparing to let visitors into her private world, for the National Garden Scheme.
When Heather Muir and husband Major John Buchanan Muir bought Kiftsgate Court in 1919, Jack (as he was known) considered the imposing Victorian house an architectural nightmare: a strange mix of 19th century casement windows, offset by an 18thcentury façade that had been transported, stone by stone, on a specially built light-railway from old Mickleton Manor in the valley below. (Quite a feat, even for ingenious Victorians.)
Despite this architectural incongruity, there were other attractions. Jack fell for Kiftsgate's imposingly elevated site on top of Glyde Hill, high above Mickleton village; Heather, for the land around it. She might lack formal training, but she felt sure she could make something of this near-virgin garden plot. And there was another bonus: move here and their next-door neighbour (a mere halfmile away) would be none other than Lawrence Johnston of Hidcote Manor Gardens-fame.
As Vanessa Berridge writes in her award-winning book Kiftsgate Court Gardens (Three Generations of Women Gardeners), "Although it was an awkward shaped site, [Heather] knew that on the plateau the soil was good and that the shelter of Scots pines, Monterey pines, Wellingtonias, oaks and chestnuts would protect her plantings from both north and west winds."
Something else happened at Kiftsgate in 1938. A mistake; a happenstance.
By now – nearly two decades after the Muirs moved in – Heather had worked wonders. The magnificent structure of the garden had been set, along with much of the beautiful planting that defines it today. But her appetite for unusual and interesting plants remained unabated.
Thus it was she bought from Edward Bunyard – renowned fruit expert and grower of old roses – a simple Rosa moschata, that musky scented, creamy white rambler, to plant at the back of her rose border.
Or so she thought…
In fact, she'd purchased a cuckoo in the nest: a much more confident filipes. Taking famously to the microclimate, the filipes was unapologetic about the error, spreading rampantly and joyously in every direction 'like Sleeping Beauty's briar'.
Such a simple mistake – yet one that would, in many ways, come to define this wonderful garden. Now thought to be the largest rose in England, the Kiftsgate Rose attracts visitors from all over the world – including those few who mistakenly ask to meet Rose herself, imagining a glam Girls-in-Pearls heiress.
With its areas of differing character, its maze of paths; its wildness, wisdom, water and woodland, Kiftsgate could never be characterised within a single flower.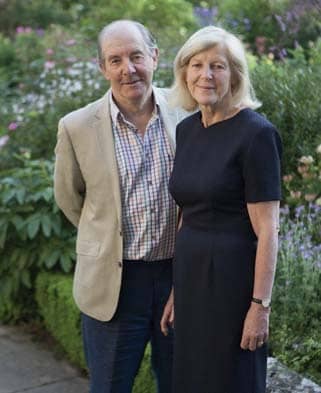 However.
The family has accepted Rose's domineering fame – though the indomitable Diany, Heather's daughter, (who took over the garden in 1954) retained a pragmatic attitude. On garden open days, she would tell visitors intent on buying their own Kiftsgate Rose, "Your garden won't be nearly big enough for it. Put it back!"
************
Summer: My mother was a friend of Hilda Murrell, a great rose breeder. Hilda recommended Rosa Rita, a pinky blue colour. Charles Quest-Ritson came round the garden not very long ago and said that Rosa Rita is totally unobtainable now – has died out – so we're very lucky because it is a lovely rose, Anne Chambers
You can read upto 3 premium stories before you subscribe to Magzter GOLD
Log-in, if you are already a subscriber
Get unlimited access to thousands of curated premium stories and 5,000+ magazines
READ THE ENTIRE ISSUE
March 2020