The Farming Year Spring
SPRING It's the most exciting and busy time of the year on Whittington Lodge farm, and daughter Steph's thoughts are already turning to the future
Spring is one of the most exciting and busy times of year for livestock farmers – and at Whittington Lodge, calving is about to begin. It's not the only sign of life's great cycle, though. For as Ian and Cathy Boyd are looking ahead to eventual retirement, daughter Steph Ackrill is preparing for a future when she'll be running the farm herself.
Cotswold Life continues its seasonal journey following this third-generation farming family on their organic farm 900 feet up in the countryside outside Cheltenham. Ian and Dale – the farm manager – are responsible for general farm work, as well as tending the herd of pedigree Hereford cattle. Cathy manages meat retail sales in partnership with Steph. Steph also runs her own business, Bhoid: contemporary British fashion accessories.
I know spring is here when I can walk round the farm without having to wear several coats and still be shivering! Getting up in daylight is another bonus. But spring is my favourite time of year because of calving. There's joy in the air when calving begins.
As a child, I was always out on the farm – watching TV never occurred to me. My brothers wanted to drive tractors: I'd be up at 6am, bottle-feeding the orphan lambs. When I turned up at school, covered in milk powder, the teachers would say, 'Morning, Steph. How are the sheep?', as if this was completely normal.
Dad used to say of the animals, 'The females are for breeding and males get eaten', which I understood from a very early age... Though I did end up falling for two particular lambs – Sheepie and Cedric. Dad remembers me declaring, 'I am NOT eating Cedric'. They both died of old age and obesity because I rather spoiled them!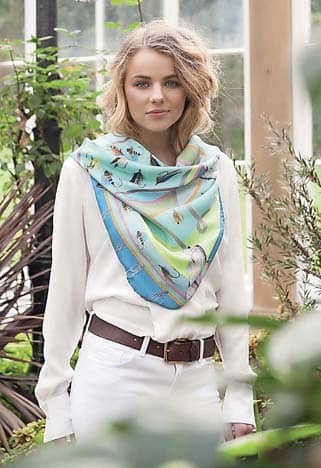 I had a great set of friends at school and, therefore, quite enjoyed my school days. However, my school had a different view, taking my parents aside and warning them I was unlikely to gain any useful GCSEs due to my severe dyslexia. They suggested not setting my sights too high, career-wise. This advice had the opposite effect and I have gone on to gain a BSc and, most recently, a distinction in a master's from Bristol University.
That said, the farm has always been where I can be myself. I was a tomboy, running round in lurid green leggings and a scruffy jumper – which is funny as I now run a fashion business! My two older brothers were always saying to me, 'Bet you can't do that.' So, of course, I'd have to take up the challenge. They were very mischievous; by the time I came along, my parents had seen it all.
We're a close-knit family and knew from early on that I was the one who wanted to carry on the farm. My soul is here – it really is. But we work hard to make sure that doesn't cause rifts between any of us, which can be a hard process. We hold regular family meetings where we talk through everything. Farms are asset-rich but cash-poor.
You can read upto 3 premium stories before you subscribe to Magzter GOLD
Log-in, if you are already a subscriber
Get unlimited access to thousands of curated premium stories and 5,000+ magazines
READ THE ENTIRE ISSUE
March 2020