THE FARMING YEAR-summer
Cotswold Life|June 2020
We've been following the life of a Cotswold farm throughout the seasons. Now, as the earth warms up, it's time for a new bull, picking fruit from the orchard, and looking forward to the spring barley harvest
We've followed the Boyd family – on their organic Whittington Lodge Farm near Cheltenham – through autumn, winter and spring of the farming year. Now, as summer warms the earth, they've new tasks to perform: finding a bull to service their cows; picking fruit in the ripening orchard; looking towards the spring barley harvest in late August. (When your land lies 900 feet up in the Cotswold hills, harvest takes place a little later than down in Gloucester Vale). Lockdown has been affecting the Boyds, too; but the joys of the farm go some way to compensating. Social distancing means nothing to the clouds of butterflies that feed on the wildflower meadows, or the voles busy in the orchard.
Ian and Dale – the farm manager - are responsible for general farm work, as well as tending the herd of pedigree Hereford cattle. Ian's wife, Cathy, manages meat retail sales in partnership with their daughter Steph. Steph also runs her own business, Bhoid: contemporary British fashion accessories. Here's Ian's summer:
Spring and early summer are my favourite times of year: sunny mornings and evenings have to be good for the soul. Flowers emerging from winter slumber; cowslips in the wildflower meadows; green-veined and early purple orchids. Insects flying around - like the amazing fly bee - hovering in flowers; and the sometimes almost deafening sound of birdsong in early morning.
One of the downsides of being a farmer was always thought to be working on your own, sitting in your 'isolation box' more commonly known as a tractor. But, suddenly, this became a blessing with the coronavirus pandemic. We've never appreciated the farm more than during lockdown. Little changed - cattle still have to be tended and crops grown – but, at the same time, everything changed.
We realised early on that self-isolation was going to be critical. One of our family group is high risk so we have all tried hard to minimise risk. But we still have a business to run and it has been a steep learning-curve. Just when you think the situation cannot get any more extreme, it does - and more.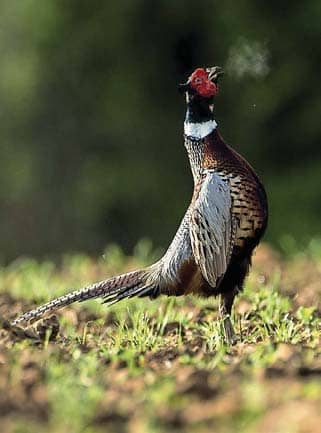 It made us realise how many people we regularly interact with. The farm directly supports four families. A further 30 individuals and small businesses are partially dependent on us: there are four-wheel drive courses, for example. Another 30 regularly visit the farm to enjoy the facilities we offer. Up to now, we have always had over 100 visitors each year, and I give talks to many hundred more. We can't currently do any of that. Instead, I am fast learning video-conferencing.
Dale [the farm manager] has been here six months and he's really made the farm run better. He has instigated a big project replacing my wobbly old fencing with simple electric strands, New Zealand-style. (There should be no more late-night calls informing me the cattle are out - again!) And the new tractor is so civilised. On the rare occasions I am allowed to drive it, I understand what most of the buttons do. Some are exactly the same as the 1980s tractor it replaced; others I daren't touch as I haven't a clue. Most annoying are the buzzers that go off because I've overlooked something. (Nearly all cars are standardised but tractors are so much more complicated.)
You can read up to 3 premium stories before you subscribe to Magzter GOLD
Log in, if you are already a subscriber
Get unlimited access to thousands of curated premium stories and 5,000+ magazines
READ THE ENTIRE ISSUE
June 2020