CORNER
Cotswold Life|June 2020
Did you know that the two most biodiverse places in your home are your gut and your compost bin? If you even have a compost bin… If you do, then it's time to join UCL's Big Compost Experiment, says Professor Mark Miodownik. And if you don't, then it's definitely time to celebrate the 'miracle' that is compost! Katie Jarvis spoke to Mark about his work, his life – and how to save the earth
So the best thing about science is this, I think, as I read (mesmerised) Mark Miodownik's books. We're all experts without knowing it!
We all know, for instance, that gently pushing a ballpoint pen onto paper causes ink to flow. (A shopping list, a love letter, a furiously bold note on someone's shockingly parked car.)
We all know that tipping up a ketchup bottle can be a disappointing exercise. Whereas a satisfying thwack produces tangy crimson splodges.
Or – have you ever thought about this – take cutlery. Really, we should all wince as we lift a spoon or a fork to our mouths, waiting for the dull taste of metal to hit. But we don't. We don't, because we know it won't. We'll just get melting lemon syllabub, or fluffy baked potato, unadulterated.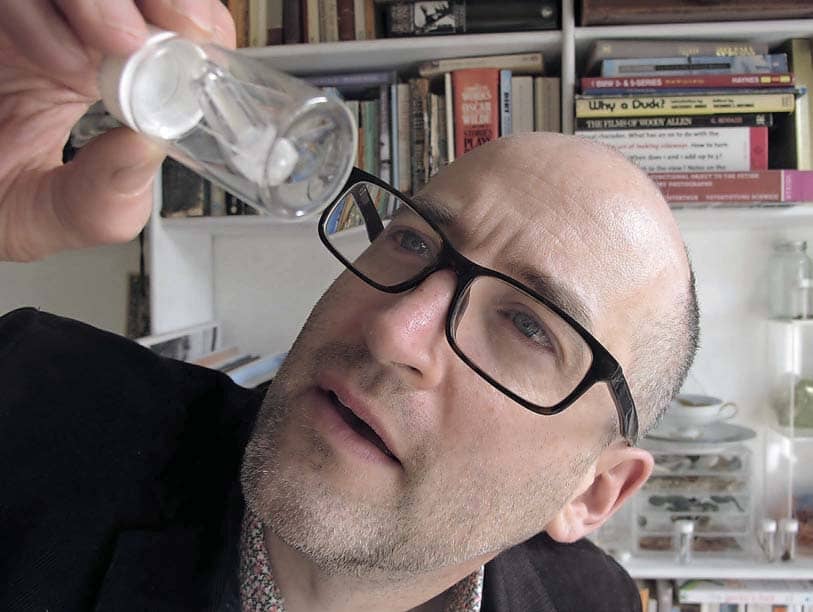 So, yes – we all sort of know this.
But it's odd, really. And that oddness largely passes us by.
For the fact is – as Mark explains – the ink in a ballpoint (invented by László Bíró) is a non-Newtonian fluid. With some of these fluids, an impact causes them to act more like a solid. (Believe it or not, you could actually walk (as demonstrated once on TV) over a swimming pool full of custard.)
Others (like ketchup) become runnier when whacked. László's ink takes the smallest of impacts to make it flow onto a page.
And stainless-steel cutlery? "…it's the transparent protective layer of chromium oxide that makes the spoon tasteless, since your tongue never actually touches the metal and your saliva cannot react with it". (We are, Mark points out, one of the first generations not to taste our cutlery.)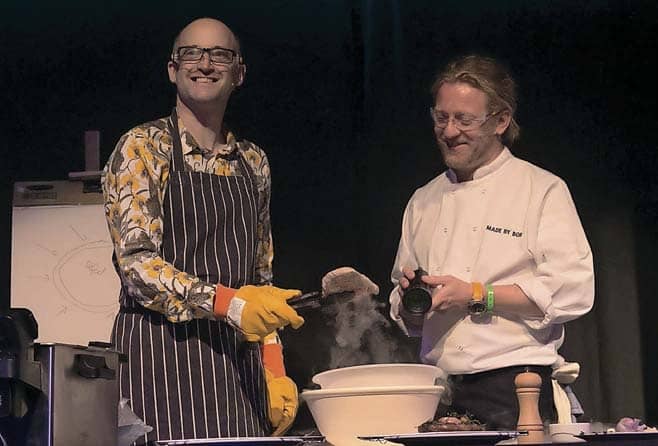 So that's my best thing about science.
But the worst, maybe, is this. That we're not all experts.
That we buy biodegradable plastics and think we've done enough.
That we feel the world can be saved by home-compostable plastics.
"People were very happy about home compostable plastics coming onto the market. But when we asked them, 'Do you have a compost at home?' they'd say no. So what do you think is going to happen to it?
"Well, we put it in our bin and we don't think anything more.
"Yeah, well, it goes to landfill. It's going to be in landfill for 30 or 50 years. That's not sustainable. Just because the first bit of it – the making of it – is biodegradable, doesn't mean it's sustainable."
And that's partly why UCL – where Mark Miodownik is professor of materials and society – launched the Big Compost Experiment.
************
It's lockdown, and Mark Miodownik is at home with two children going "a bit AWOL".
We're speaking by phone, of course; which means I can't nosily have a poke around his flat. Even so, this much I know:
• That there probably aren't many plastic toys lying around.
"I know how hard it is. A toy comes into the house and it might be rejected within a minute. Then what? It's got maybe 10 different plastics in it and some electronics; a battery. You shouldn't put it in the bin – you really shouldn't put it in the bin. But where am I going to put it? And you think, well, I should have said no in the first place."
• And that, even though he lives in a flat, he composts.
"It's something everybody can do. I haven't got a garden; I've been composting all our food-waste for 20 years in a London flat. No food-waste has gone out of this flat."
He's not preachy. Anyone who's followed him on TV, heard him broadcasting, read his books or seen him at Cheltenham Science Festival knows he's not the slightest preachy.
And he's not incomprehensible, either. Even though he co-authors mindboggling papers (Actuation and stiffening in fluid-driven soft robots using low-melting-point material), he can brilliantly do material-science-for-simple-people (me).
You can read up to 3 premium stories before you subscribe to Magzter GOLD
Log in, if you are already a subscriber
Get unlimited access to thousands of curated premium stories and 5,000+ magazines
READ THE ENTIRE ISSUE
June 2020