Exploring Cairo, Warts And All
Actress Celeste Khumalo recently returned from an unforgettable girls' trip to Egypt (en route to Dubai), and discovered that Cairo is a grimy but exciting city that hardly sleeps.
On a recent girls' trip to Dubai, my friends and I stopped over in Cairo, Egypt for a few days. It was our first time in the city and there were so many smaller nuances we had overlooked before getting there. The reality of travel is that it's not just about the tourist attractions and activities; sometimes language, technology, food and money simply get in the way of enjoying being a tourist.
For example, upon exiting the baggage claim area at Cairo International Airport, we were hounded by taxi drivers and operators. This is, of course, to be expected at most airports, but here it was more extreme. When one man told us that taking an Uber was more expensive, we got caught up in trying to calculate the conversion into rands (we had exchanged only some of our money into Egyptian pounds, as advised), while constantly being bothered by other taxi drivers.
Eventually, we just gave in. We needed to get settled and figure things out from our apartment room. We agreed to go with one taxi and were escorted to his van. The conductor who took our cash, asked for a tip for himself and the driver, and closed the vehicle door.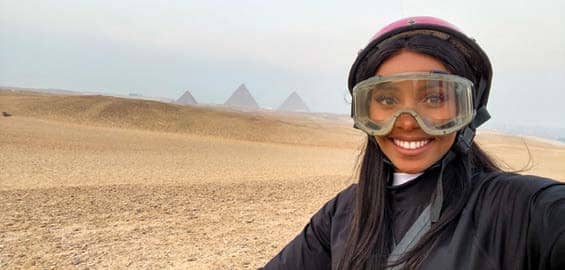 It was only at the tollgate exiting the airport that we realised that we were in a bit of a situation. Our driver couldn't speak a word of English and didn't know where we were going. We just assumed that the conductor had told him. We all tried asking the cashier at the tollgate for assistance but he just stared at us and was fascinated by the loud and, might I say, beautiful South African girls trying to get the driver to understand where we needed to go.
You can read up to 3 premium stories before you subscribe to Magzter GOLD
Log in, if you are already a subscriber
Get unlimited access to thousands of curated premium stories, newspapers and 5,000+ magazines
READ THE ENTIRE ISSUE
Issue 284