The Schism of Youth Scouting Programs in America
Backpacker
|
September 2015
When the Boy Scouts decided to admit openly gay youths in 2013, a group of dissenting leaders struck out on their own and formed Trail Life USA, an "unapologetically Christian" scouting organization. The schism raised a question: Is there a right way to get kids outdoors?
Patrick Doyle, illustrations by Tim McDonagh
THE BOYS WERE NOT INVITED.
Boy Scout Troop 452 has been meeting at Concord United Methodist Church in Beaver Falls,Pennsylvania, as long as there's been a troop, nearly 70 years. But this isn't the usual weekly gathering of the boys and their scoutmaster, Richard Greathouse. This meeting is just for their parents.
It's the fall of 2013 and Greathouse, a 37-year-old electrician with glasses and a goatee, moves toward the front of the room. He's not a big talker, but the boys like him and the parents have trusted him for the 16 years he's been leading the group. As he calls the room to order, the parents quiet around him. The other leaders of the group know what's coming, but the parents have no idea why they've been summoned here tonight.
Scouting in Beaver Falls, a small community 30 miles northwest of Pittsburgh, has gone more or less unchanged since a group of young men founded Troop 452 in the waning days of World War II. Generations of boys have grown up following the same path: They smile and march yearly in the town parade for the opening day of Little League, they serve pancakes at the Maple Syrup Festival, they camp and hike in the woods, work their way up to Eagle Scout, and then go forth to jobs, wives, and homes, and raise their sons in the same tradition. Some of 452's members, in fact, are grandsons of the chartering members. The grandfather of Greathouse's wife was an original member.
But six months earlier, the Boy Scouts of America (BSA) declared a change in policy—accepting openly gay scouts for the first time in its 103-year history. Some, like the leaders of Troop 452, felt the shift represented a fundamental change in the Boy Scouts' value system, that the organization no longer reflected their Christian faith.
There is a better option now, Greathouse explains. He outlines a new path for 452: They'd still take part in the parades, continue the fine traditions of scouting, and be sponsored by the same church, but they'd do so under a different flag.They'd join a nascent scouting organization called Trail Life USA.
Trail Life was launched by a group of former BSA leaders. It's avowedly Christian, maintains that the only acceptable sexuality is between a married man and woman, grants local control to churches and parents, offers freedom from corporate money and the influence it comes with, and believes in adventure. Trail Life promises a return to the values that it believes made the Boy Scouts an iconic American institution: bravery, obedience, and morality.
Greathouse understands, he says to the crowd, that it might not be right for everyone, and if anyone feels uncomfortable with the new group's stances, he has brought along a list of contact information for other local Boy Scout troops.
The choice, he says, is up to you.
IN CHURCH BASEMENTS, BACKROOMS, and fellowship halls across the country, a new conversation is taking place about scouting. Everyone, it seems, can agree that introducing boys to wilderness and outdoor skills is a worthwhile endeavor. More than 110 million boys have participated in the Boy Scouts of America since 1910, and for many, it was the first time they had an outdoors experience.
But that's where the agreement ends. On one hand are the traditionalists, like Greathouse, who place importance on Christian values and independence. On the other hand are those who value social tolerance and inclusiveness—and their numbers seem to be increasing. Today, 69 percent of Americans believe same-sex relationships are acceptable, and the Supreme Court ruled in late June that marriage is a right that extends equally to same-sex couples.
BSA has struggled with social issues in the past; as late as the mid-1970s, it was dealing with lawsuits over racial discrimination. This latest schism in scouting began in 2012, when the national Boy Scouts of America organization reaffirmed its membership ban on openly gay boys and troop leaders, arguing,vaguely, that it was "in the best interest of the organization." (The Girl Scouts of America, by contrast, has never made much fuss about the sexual orientation of its scouts or leaders). The backlash to the BSA's decision was immediate. Scouts for Equality, an advocacy group, gathered 1.8 million signatures protesting the policy, while some Fortune 500 companies—important BSA donors—threatened to withhold cash. OnMyHonor.net cranked up its own protest machine, generating stories in conservative media in support of the BSA ban.
Amid the controversy, the Boy Scouts back tracked, announcing in early 2013 that they would hold a vote on the policy at their national convention in May. They proceeded to conduct a series of studies with stakeholders, including scouts, parents, troop leaders, and corporate benefactors, that showed an organization divided. A majority of the parents and troop leaders opposed changing the membership policy,while corporate donors and the scouts them selves supported a more inclusive position.'
At the convention in May, the Boy Scouts announced a compromise: The ban would remain on openly gay adults, but boys would not be excluded because of their sexual orientation. The measure passed by a vote of 61 to 38 percent.
For troop leaders like Greathouse, the decision didn't sit right. But it wasn't about gay scouts per se; it was about autonomy and a reaction to top-down pronouncements on how to act, how to think, how to raise their sons.
"They released a letter [in 2012] that they were standing strong [on the ban]," Greathouse says. "Then, one year later, they released a letter that said the exact opposite. You can take whatever you want from that, but their word from year to year had changed." His leadership team agrees: "The reason they seemed to be changing—to me, personally—is that they were going to lose money and lose corporate donations," says Dave Brown, a 452 troop committee member who has been involved in BSA for 36 years.
Greathouse's former assistant scoutmaster,Tim Kroll, fell on the other side. "Some of the kids in the troop really wanted to stick with BSA," Kroll says. "A couple kids had political beliefs, moral beliefs that it is acceptable to be gay, and I agreed with them. I think it's great that BSA has a policy for everyone to have a chance." About one-third of 452's 30 members joined Kroll's new BSA Troop 0420; the rest left for Trail Life USA with Greathouse, along with the legacy troop number.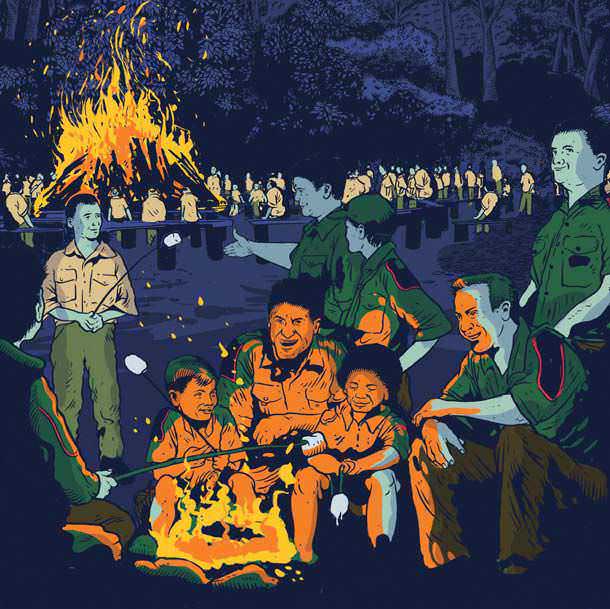 OUTDOOR YOUTH PROGRAMS are far from the only area where there's a fault line between two deeply held American values: social equality and freedom of religion. Many Catholic adoption services have even shut down rather than place children with gay couples.And now comes the conflict between BSA and TLUSA, which may not grab the headlines like marriage equality, but will have widespread repercussions. It's a battle for youth, challenging how young people are introduced to the outdoors, who is welcome, and who decides.
You can read up to 3 premium stories before you subscribe to Magzter GOLD
Log in, if you are already a subscriber
Get unlimited access to thousands of curated premium stories, newspapers and 5,000+ magazines
READ THE ENTIRE ISSUE
September 2015