The Brain In Ancient Egypt
Ancient Egypt|July / August 2020
Neuroanaesthetist Ira Rampil suggests that Egypt's ancient medical men were well aware of the importance of the brain and understood the limitations to treating brain injuries that we have still not overcome today.
"A giant wad of snot – isn't that what Egyptians thought of the brain?" This quote from an esteemed neurosurgical colleague at a major teaching hospital reflects a popular assessment of the ancient Egyptians. Herodotus described some funerary practices where the brain was treated as useless, disposable waste, but this may have simply been a practical solution to a mortuary problem. Egyptian culture, however, from very early times was aware of the essential nature of the brain. I hypothesise that brain extraction was a strategy to improve the odds of quality mummification.
Evidence of Importance to Life
The paramount nature of the brain is reflected in a central feature of the earliest attested document in human history. The Narmer Palette, c. 3150 BC (shown above), depicts the king, exercising his power of life and death via the 'smiting' pose, a rapid means to destroy an enemy by disrupting the structure of the brain. Smiting was a standard icon for three millennia. Also on the palette is the depiction of decapitated enemies, another form of destroying the brain's control of life.
War and violence were well known from Predynastic times, allowing ancient physicians to learn to triage and treat combat injuries and observe the consequences of these injuries. Soldiers also knew that the fastest way to immediately incapacitate an enemy in close combat was to injure their brain.
In 1923, Winlock discovered a cache of about sixty human remains at MMA 507 (Deir el-Bahri) he dated to the Eleventh Dynasty. Based on wounds to the skeletons and associated weapons, these were presumed to be warriors in Mentuhotep II's army of reunification. Recently reassessed by Vogel to the Twelfth Dynasty, they still reflect the brutal nature of combat (see Heath, The Slain Soldiers, AE118). A quarter of these soldiers had grievous cranial injuries (see above left), probably mace-inflicted, which appeared to be coup de grace blows, classic 'smiting' injuries which may have followed initial, non-lethal, arrow injuries.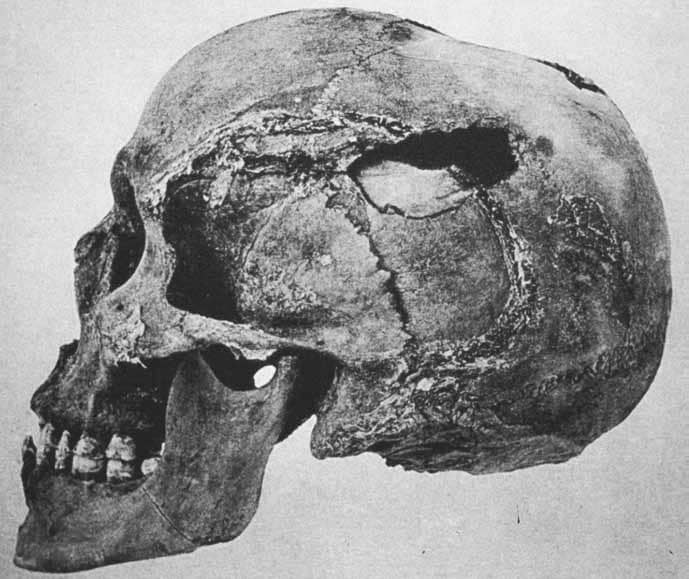 Another well-known example is the mummy of Seqenenra Tao, the penultimate pharaoh of the Seventeenth Dynasty, who fought to remove the Hyksos from Egypt. He was executed by several brain-penetrating blows to the skull (see below).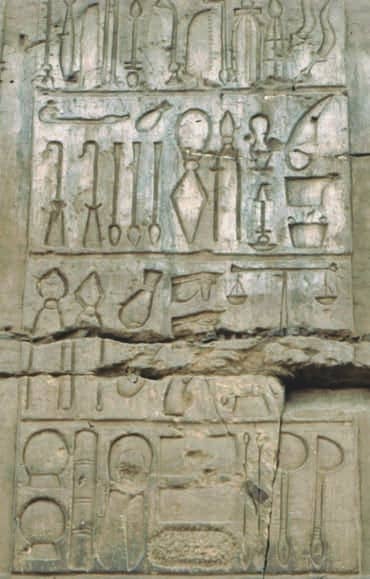 The mummy of Harsiese, the High Priest of Amun at Thebes during the reign of Osorkon II (Twenty-second Dynasty) reveals a different kind of head injury. The skull had a round, beveled perforating wound on his forehead. This wound was not immediately fatal since there are signs of healing at the bone edges. This is a surgical procedure called trepanation, not a battle or accidental wound. Trepanation (see opposite, right) was performed as far back as the Neolithic Period and there are many known examples of long-term survival like Harsiese. A Fourth Dynasty trephined skull was also discovered in a mastaba in the West Field of the Great Pyramid. A double-headed cutting/ scraping tool on the Ptolemaic medical instrument panel at Kom Ombo (shown ringed above left) has been suggested as specialised for trepanning. The motivations for trepanation are not known with certainty but apparently directed to treating a brain malady. Trepanation continues today as a means to remove internal blood clots.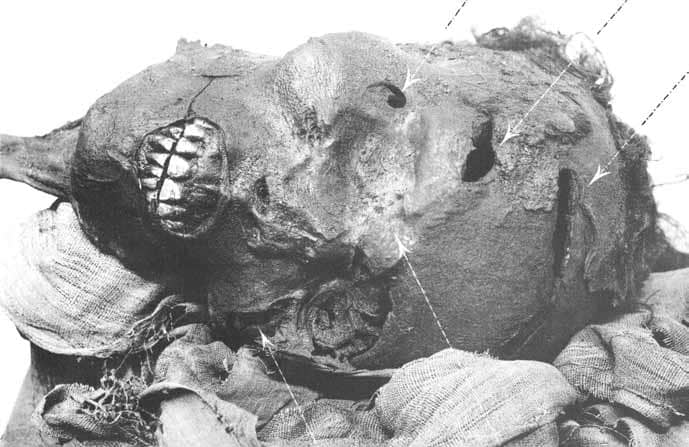 Medical Evidence
The Edwin Smith Papyrus (opposite top left) is a unique source of Egyptian surgical knowledge c. 1600 BC (Second Intermediate Period). James Breasted suggested that due to its vocabulary and grammar, it is a copy of a much older document, perhaps originating in the Old Kingdom. The exceptional nature of the text lies in its scientific observation of wounds and injuries. Other medical papyri deal with diseases, and use magic in respect to cause and cure.
You can read up to 3 premium stories before you subscribe to Magzter GOLD
Log in, if you are already a subscriber
Get unlimited access to thousands of curated premium stories and 5,000+ magazines
READ THE ENTIRE ISSUE
July / August 2020