THE RELIGIOUS MEANING OF SLEDGES IN ANCIENT EGYPT
Ancient Egypt
|
September / October 2020
The wheel entered in the history of Egypt after the Middle Kingdom with the invasion of the Nile Valley by foreign peoples. At the beginning of the New Kingdom the war chariot became a regular part of the Egyptian army. "But why is the use of wheels so unusual outside the military field?" asks Nacho Ares.
A few months ago, visiting the replica of the tomb of Tutankhamun (KV62 in the Valley of the Kings, Luxor), built behind the house of Howard Carter, at the beginning of the road that leads to the Valley, I was enjoying some of the accurate details of the paintings. On the eastern wall of the Burial Chamber, a group of the dead king's officials are seen pulling a huge catafalquechapel on a sledge (see above). It is an important part of the typical scene of the funerary procession painted or sculpted in many tombs of the West Bank of ancient Thebes, the area where the tomb of Tutankhamun was excavated.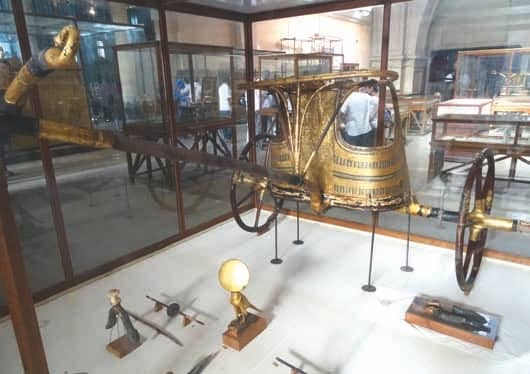 In contrast, the Antechamber of the replica is decorated with some of the photographs of this room taken by Harry Burton in the last days of November 1922, when the tomb was opened offering "wonderful things". In the pictures of the southern part of the Antechamber we can see the remains of six complete but dismantled chariots (see left), cut into pieces in antiquity because they were bigger than the narrow passage of the tomb's entrance. As a result, there was a chaotic jumble of axles, chariot bodies and wheels.

I had seen those photos dozens of times, but it was at that very moment that a question occurred to me. Why did the ancient Egyptians of the New Kingdom, employing wheels for chariots and other developments, not use them to transport the heavy catafalque with the royal mummy? As is usual with matters relating to ancient Egypt, the answer is not straightforward. The same concept is shown on the walls of other tombs of the identical period where the funerary procession is represented only with sledges and not wheels. Why? What is the reason?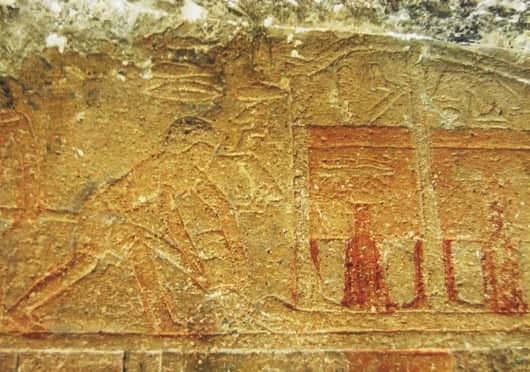 A Difficult Question
It is known that the chariot and the wheel were introduced to Egypt by the Hyksos two hundred years before Tutankhamun, in the sixteenth century BC – plenty of time for the Egyptians to develop different vehicles or machines with wheels.
The first answer I received when asking colleagues about this problem is that is easier to employ sledges than wheels on the irregular surface of the desert. But that answer is obviously wrong as the Egyptian army used chariots, on the same desert, over rocks, sand and rough roads.
Why did Mesopotamian cultures use the wheel and not the Egyptians? Richard W. Bullied (The Wheel, Columbia University Press 2016 p. 94) argues that
"the broad and peaceful Nile River provided a magnificent avenue for royal boats and barges, which were sometimes buried with a pharaoh, while torrential springtime floods rendered the Tigris and Euphrates Rivers in Mesopotamia too turbulent and unreliable for royal regattas."
You can read up to 3 premium stories before you subscribe to Magzter GOLD
Log in, if you are already a subscriber
Get unlimited access to thousands of curated premium stories, newspapers and 5,000+ magazines
READ THE ENTIRE ISSUE
September / October 2020