THE RAPTORS OF ANCIENT GEBEL EL-SILSILA
Ancient Egypt
|
September / October 2020
John Wyatt, Maria Nilsson and John Ward continue their examination of the bird species depicted at this major ancient quarry site.
John Wyatt, Maria Nilsson and John Ward
The first article by our intrepid trio (in AE120) concentrated on the desert birds of ancient Gebel el- Silsila. This time they focus solely on raptors, those majestic, highly-skilled birds that arouse feelings of incredulity, awe, reverence, love, fear and even terror in equal measure. Of all the types of avian depictions in these ancient quarries, those of raptors or possible raptors were perhaps the most frequent. Why? Were raptors particularly common in this area? What, apart from being very visible and active, made them so important to local residents over a period of some two thousand years from the Middle Kingdom right through to Roman times?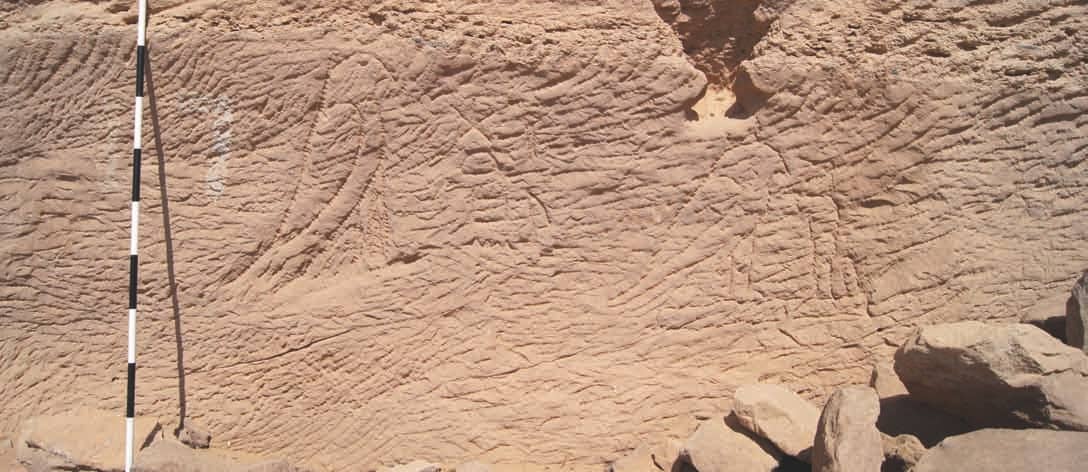 It is estimated that some 15-20 species of raptor overall may have been resident in, or breeding visitors to, the Gebel el-Silsila area in ancient times with another 15-20 passing though on migration and/or wintering. The Nile Valley serves as one of the major bird migration routes linking Europe to Africa and huge thermals, which are regularly used by the larger migrating species such as pelicans, storks and raptors, sometimes in many hundreds, still occur here. But such assemblies are seasonal and for short periods so, most of the time, only one or two birds would have been around daily.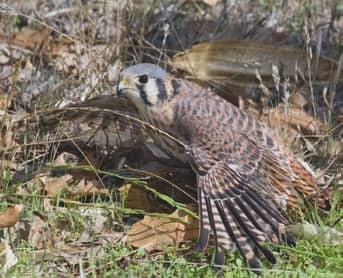 RAPTORS
A Raptor or Bird of Prey is loosely defined as any bird which hunts, carries off and/or feeds on other living creatures. It usually has unbelievably keen eyesight, a powerful, curved beak, strong feet equipped with talons and is an amazingly skilful flier. Raptors belong to one of tified ancient species). The Accipitriformes is a varied group consisting of vultures (4 identified ancient species), eagles (8), kites (4), harriers (4), hawks (3), buzzards (4) and Honey Buzzard, Osprey and Secretary Bird (1 each) while the Falconiformes were then represented by at least eight known species..Depictions of daytime raptors are fairly common at Gebel el-Silsila and can perhaps be divided into six categories (leaving out vultures which we will study in a later article).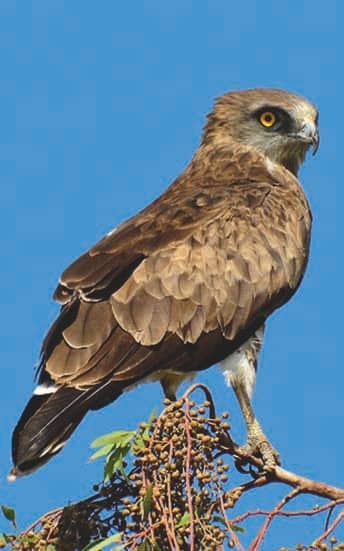 1. Headless Raptors
Two depictions appear to be of headless birds but without heads for very different reasons. Both are from Roman Quarry 24. One (opposite, bottom left) is apparently standing on a decorated plinth, in spite of its legs being only faintly suggested, and has clearly lost its head and upper body to subsequent quarrying. The top third of the other (opposite, bottom right) was never finished, but a completed version nearby probably indicates what was intended. The tail shapes of all three birds and the decorated plinth of the first are, however, comparable with the stylised versions of other raptors at this site. To be more specific as to family or individual species is impossible although local factors suggest these might just possibly be falcons. This quarry was dedicated to the triad of Medamud (Montu, Raatawi and Harpocrates), so perhaps all these falcons represented the main god in his avian form.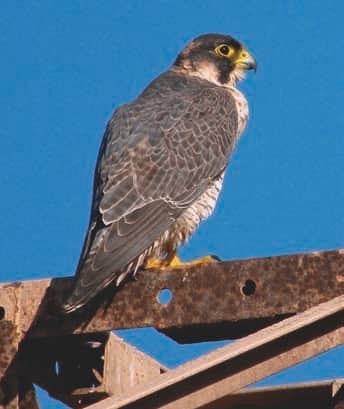 2. Tailless Raptors
You can read up to 3 premium stories before you subscribe to Magzter GOLD
Log in, if you are already a subscriber
Get unlimited access to thousands of curated premium stories, newspapers and 5,000+ magazines
READ THE ENTIRE ISSUE
September / October 2020