LOVELY UGLY BES!
Ancient Egypt|July / August 2020
Branko F. van Oppen de Ruiter finds beauty, charm and religious significance in Egypt's famous dwarf god.
Branko F.van Oppen de Ruiter
In appearance, the Bes-figure is charmingly hideous. Its iconography, it should be stressed, is neither consistent nor evolving. The familiar image of the leonine dwarf with the mask-like grimace and tall-feathered crown first appears in the Eighteenth Dynasty. The figure can be male or female; its body can be ideally beautiful or hideously deformed. With this paradoxical physique, Bes embodies seemingly contradicting traits that exemplify his importance in magic and religion, popular beliefs and everyday life in ancient Egypt. Examining his animalistic features will bring out dualities that will illuminate this lovely/ugly character.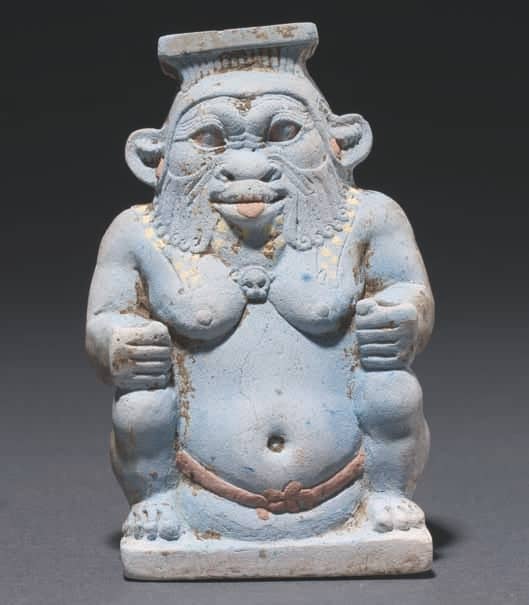 Animalistic Appearance
The most recognisable characteristics of the Bes-figure are its facial features. The head is portrayed frontally (only occasionally in full or half profile). The male Bes has bushy eyebrows and a moustache and beard that are sometimes unwieldy and furry, at other times stylised in decorative swirls. He tends to have deep-set gawking eyes, a pudgy nose and thick lips pulled into a teeth-baring grin – often (from the New Kingdom onwards) with a protruding tongue. These features evince his apotropaic function. Animalistic aspects are emphasised by a leonine mane and round ears. His face is habitually drawn into a bestial grimace, occasionally resembling that of a lion or baboon. Sometimes these features give him a Nubian appearance.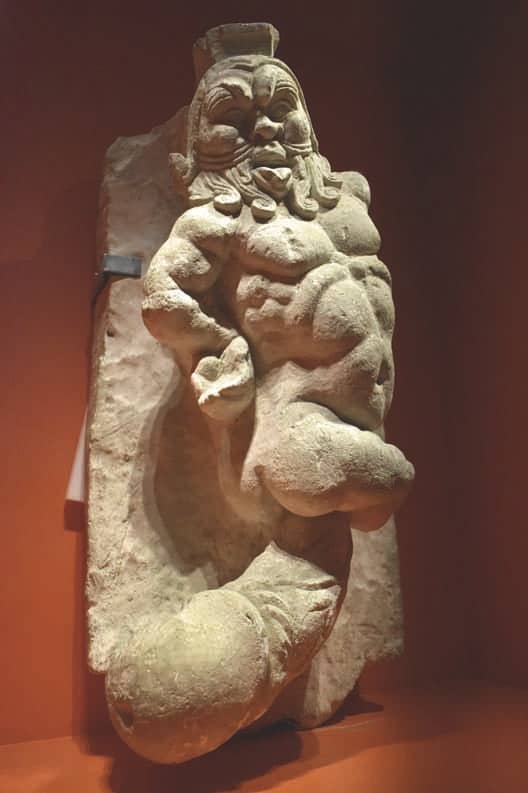 The familiar stunted and rotund, dwarfish body of the Bes-figure represents the opposite of the ideal athletically perfect physique. The male Bes may even have pendulous breasts (see opposite, top left). His bandy legs are short and thick, with his feet at times pointing outward. His bottom is usually pronounced and often has a feline tail, sometimes with a tuft. Normally his penis is small and, as a rule, circumcised. Only very rarely is he portrayed with an enormous phallus (opposite, top right).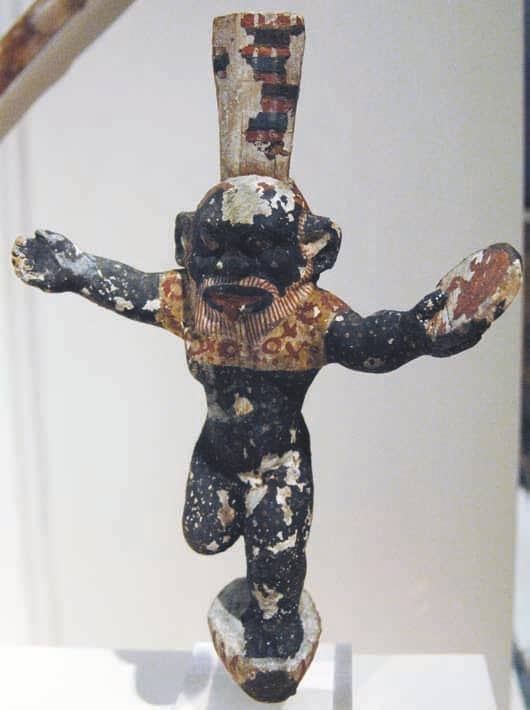 From the Eighteenth Dynasty onwards, his headdress became an adornment of several tall ostrich feathers, but both the male and female figure could also appear without a crown or with another type of headdress. His arms are outstretched (opposite, bottom right), or akimbo with hands on the hips; he may be holding attributes such as serpents, sceptres or weapons (a short sword or knife, mace or club), musical instruments (the lyre or lute, tambourine or cymbal, rattle or double flute), amulets (the udjat or ankh), or plants (lotus or papyrus). Besfigures are often nude but may also wear a spotted leopard's skin over the shoulders (opposite, bottom left), with the cat's head and forelegs hanging over his chest. From the Hellenistic period, the warrior image of Bes adopts a breastplate and leather-strapped kilt, as well as an oval Galatian or later still a round Roman shield, in addition to brandishing a knife or sword (opposite, top right).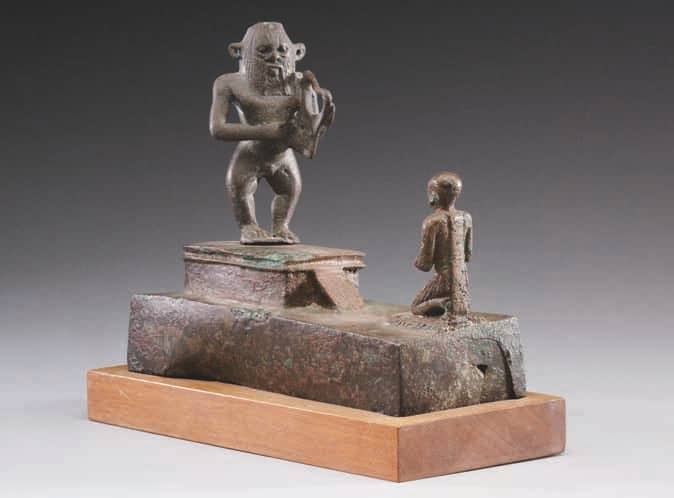 You can read up to 3 premium stories before you subscribe to Magzter GOLD
Log in, if you are already a subscriber
Get unlimited access to thousands of curated premium stories and 5,000+ magazines
READ THE ENTIRE ISSUE
July / August 2020