ANUBIS – JACKAL, WOLF, DOG, FOX OR HYENA?
Wildlife expert John Wyatt continues his investigation of Egyptian gods by looking at another important deity and the animal or animals associated with him.
There has always been confusion as to whether representations of Anubis in his wholly animal, black form were of a jackal, wolf, dog or fox. However, in his anthropomorphic form, he is most frequently referred to as 'jackal-headed' and much of the mythology concerning him is based on that animal. Yet, the ancient Egyptian term for Anubis, sab, referred to several canines and not just to the jackal.
In Volume II (Euterpe) of the George Rawlinson version of History of Herodotus, the Greek historian wrote in Chapter 67 that: "The dogs are interred in the cities to which they belong, also in sacred places." and a few sentences later that "… wolves, which are not much bigger than foxes, they happen to bury wherever they happen to find them lying." So Herodotus in 440 BC and/or his translators/interpreters in AD 1875 were already differentiating between dogs (possibly domesticated or feral animals as they belonged in cities), wolves and foxes, but strangely omitting to mention jackals. Rawlinson then confused things further by saying in his footnote to that chapter that: "Herodotus is quite correct in saying that wolves in Egypt were scarcely larger than foxes. It is singular that he omits all mention of the hyena, which is so common in the country, and which is represented in the sculptures of Upper and Lower Egypt. The wolf is an animal of Upper and Lower Egypt. Its Egyptian name was ouonsh." Again no jackal is mentioned, but hyenas are added to the mix.
However, Paul Nicholson et al., writing about just one of at least twenty-one major canine cemeteries throughout ancient Egypt in The Catacombs of Anubis at North Saqqara (2014), say that over 90% of the bodies identified there were dogs or other canines such as jackals and foxes. No wolves were mentioned. I also once saw, on an early morning outing near Dahshur in 2008, three different looking canines which appeared to be possibly an Egyptian Red Fox, a slightly larger Golden Jackal and a very much larger Grey Wolf in that order.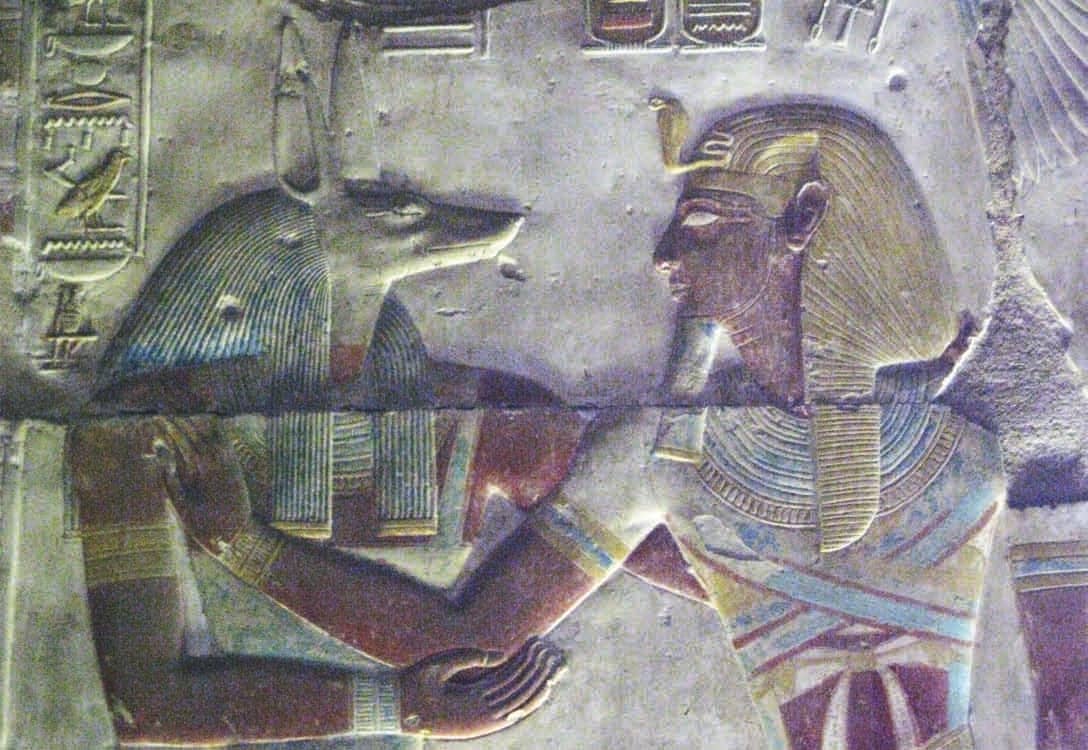 So, for the moment, let us call Anubis and other similar gods just 'canine-headed' and, by examining both the gods and the actual evolution of canines in the Old World in greater detail, see if we can come to a better understanding of the actual situation in the past and now.

Khenti-Amentiu
Canine deities were a part of Egyptian religion from ancient times. One of the earliest was Khenti-Amentiu at Abydos, whose name meant 'Foremost of the Westerners'. He was the protector of the royal cemetery and the warrior god of the underworld. A temple to him was founded there in Predynastic times (prior to 3100 BC) and his name also appeared on the necropolis cylinder seals of two First Dynasty pharaohs, Den and Qa'a (see opposite, top left), in his role as the deity supporting the dead kings. But was his name actually just an epithet for Osiris and/or Wepwawet and/or Anubis? His body in human form was entirely swathed in bandages. He stood with arms folded across his chest and wore the white crown of Upper Egypt, all of which suggest a possible link to Osiris. The canine hieroglyph to start his name, however, might indicate alternative or additional relationships with Wepwawet or Anubis.
Initially, in the Old Kingdom, only the name of Anubis appeared in the offering formula but, by the Fifth Dynasty, Osiris and Khenti-Amentiu were also included and slowly became more closely connected until, during the First Intermediate Period, the latter's temple at Abydos was specifically rededicated to Osiris and became the main Osirian cult centre. Khenti-Amentiu was thus down-graded, having lost his guardianship and royal duties to Osiris and part of his funerary role to Anubis, but, nevertheless, continued to be worshipped at Abydos until the Thirteenth Dynasty as the combined deity Asir- Khenti-Amentiu.
Wepwawet
Another ancient canine-headed warrior god of Upper Egypt, possibly the oldest, was Wepwawet (see below). He was first depicted atop the standard of Upper Egypt on the Narmer Palette (see above) with his rear legs touching rather than apart, as would be the case for Anubis, and preceded by the shed emblem which has been variously identified as the royal placenta or a canid den. The latter appears to be more in context.
You can read upto 3 premium stories before you subscribe to Magzter GOLD
Log-in, if you are already a subscriber
Get unlimited access to thousands of curated premium stories and 5,000+ magazines
READ THE ENTIRE ISSUE
April / May 2020