Quick Sticks
Woolworths TASTE
|
August 2019
Never perfected pad Thai? Reluctant to try ramen? Freaked out by pho? It all starts with a working knowledge of the humble noodle. Put the kettle on, we have 10 smart ideas for instant gratification
5 WAYS TO PIMP YOUR INSTANT NOODLES
Your fill-the-gap snack will never be boring again…
1 SESAME CHICKEN FLAVOURED NOODLES
Cover the noodles from Woolworths sesame chicken flavored noodle pot with water and seasoning, add halved cherry tomatoes and roughly chopped spring onion, then microwave until the noodles are cooked and the broth is hot.
2 BEEF PHO-FLAVOURED NOODLES
Heat Woolworths' beef who flavored noodle pot according to package instructions and serve with roasted cashews, chili and mung bean sprouts for crunch.
3 PLAIN QUICKSTICKS NOODLES
Add a drizzle of Woolworths' Easy to Wok honey, soya and ginger stir-fry sauce to a bowl of hot, steaming noodles – reserve the seasoning sachet to sprinkle over microwave popcorn for a late-afternoon office snack.
4 CHICKEN-AND-HERB QUICKSTICKS NOODLES
Crush Woolworths' chicken-and herb-flavored quick sticks raw noodles over a quick Asian-style slaw for a new take on croutons. Mix the seasoning into soya, sesame and honey dressing to toss with the slaw.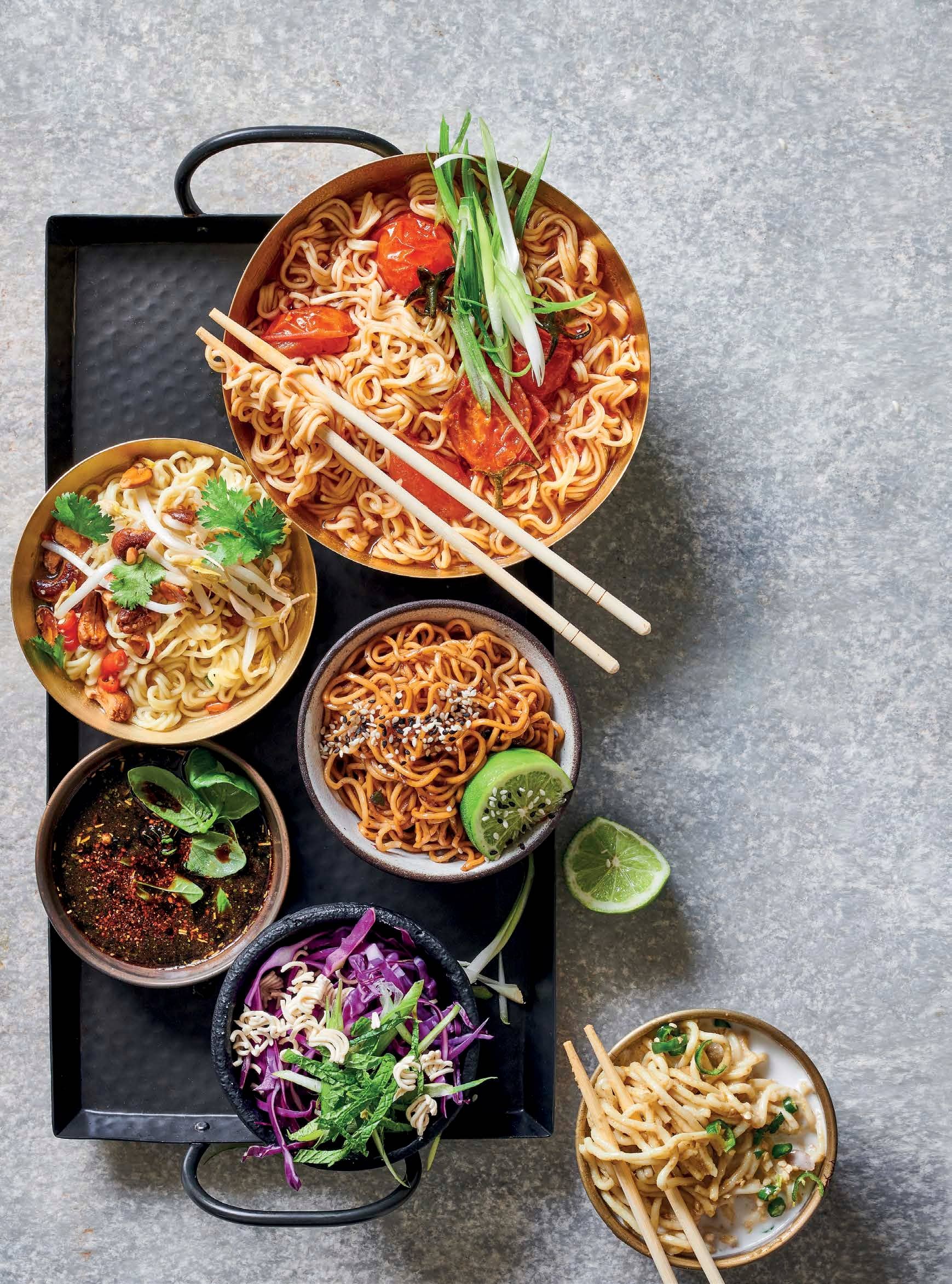 5 THAI GREEN CURRY QUICKSTICKS NOODLES
Drizzle with coconut milk and add a little hot water to make a broth. Serve with fresh chili and coriander.
DIY FRAGRANT PORK BELLY BROTH WITH RAMEN
"I often make this at home – it's one of my favorite ways to make the most of leftover pork belly. It's super-easy and supercharged with flavor. Ramen for beginners."
Serves 4
EASY
Preparation: 20 minutes
Cooking: 1½ hours
Woolworths pickled quail's eggs 1 x 290 g jar
soya sauce 3–4 T
pork belly 1 kg
olive oil 1 T
sea salt a generous pinch
water 2 cups
whole star anise 2–3
Szechuan peppercorns (or black peppercorns) 1 T
green peppercorns 2 T
cinnamon 1–2 sticks
Woolworth's miso paste 1 T
black garlic 4–6 cloves, chopped
fresh ginger 1 x 5 cm piece, peeled and chopped
Woolworths organic chicken stock 1 liter
Woolworths instant noodles 2 x 75 g packets, cooked (seasoning reserved)
baby spinach, for serving
roasted chili paste, for serving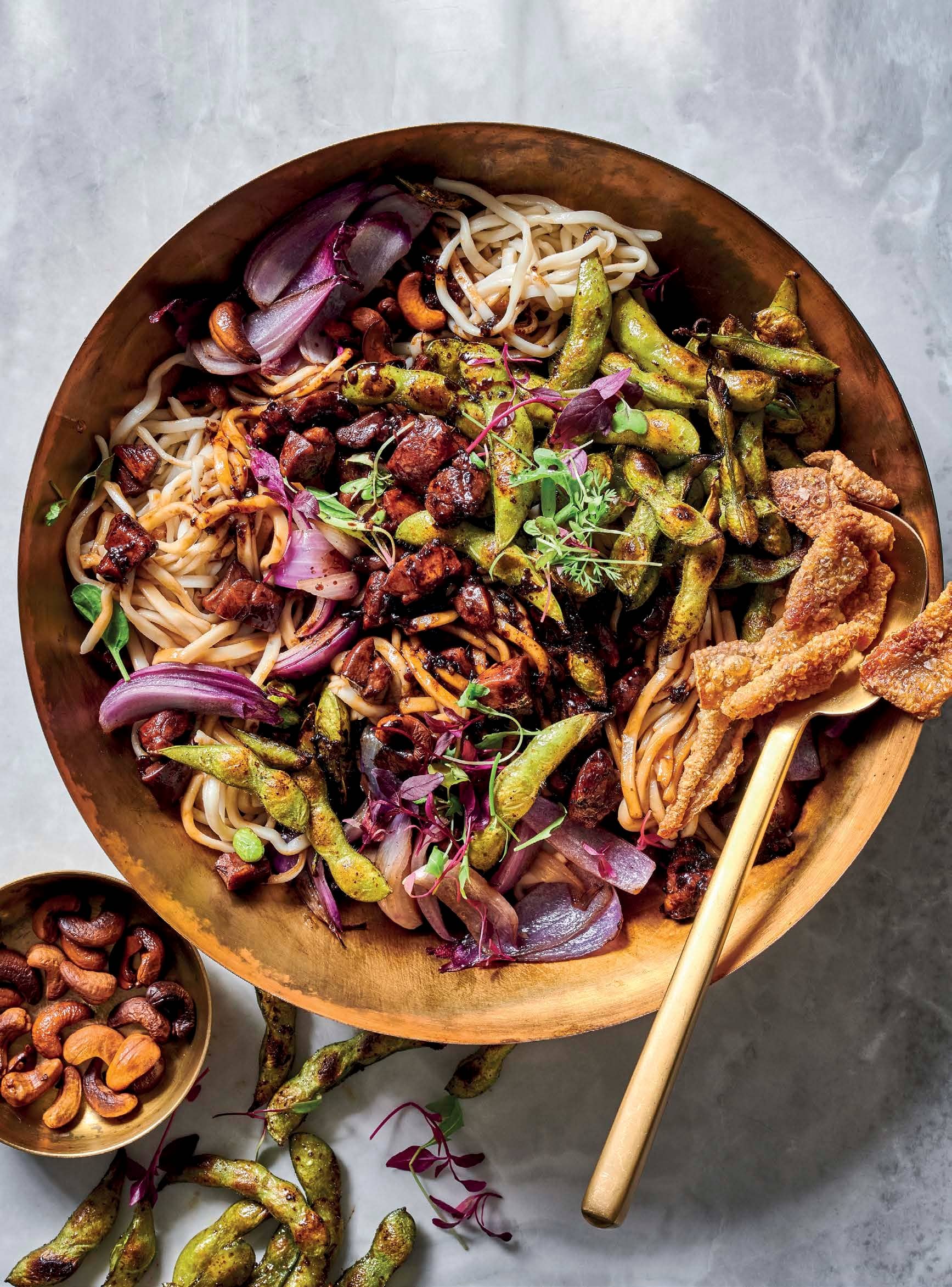 You can read up to 3 premium stories before you subscribe to Magzter GOLD
Log in, if you are already a subscriber
Get unlimited access to thousands of curated premium stories, newspapers and 5,000+ magazines
READ THE ENTIRE ISSUE
August 2019