Almost Famous
Woolworths TASTE
|
April 2019
What does it take to cook for Hollywood movie stars? Chef Nicola Spilsbury found out when she landed a job working for Vin Diesel and his family while they were in SA last year.
Nicola got the call in July last year. She'd been working on a new concept restaurant in Franschhoek, where she is now head chef, but back then it was still in its development stages, so she'd been out of the kitchen for a while.
A major Hollywood movie star and his family were looking for a private chef to cook for them for a couple of weeks in the house they were renting in Hout Bay. "The house was booked through Perfect Hideaways and Margot Janse [chef and former Eat Out Top 10 alumnus] is part of their team, so she recommended me," Nicola says. "I remember her saying this was her reputation on the line, too."
But Hollywood movie stars won't let just any Prue Leith-trained, Margot Janse-vetted chef cook their lunch. Nicola had to audition.
"The brief was healthy, family food – organic, simple, child-friendly," she says, "but I also had to be able to step things up when entertaining." On the day of the interview, "I was living in Franschhoek and had to cook lunch in Hout Bay, so I used a friend's house in Constantia to prep. I was rushing but I still stopped at Banks to get chefs' whites and then my friend accidentally locked me out so I was washing carrots under the outside tap!" This is a classic Nicola anecdote. Many of her cooking escapades sound like a crazy MasterChef pressure test crossed with an episode of The Amazing Race.
She made an Asian-style slaw with sticky chicken – reducing the dressing/ marinade of honey, soya, ginger and chilli to make a glaze – topped with sesame brittle. As a side, she served warm maple-roasted sweet potatoes dressed with crème fraîche, sriracha and lime (find the recipe on page 110). She got the job.
What followed was a cooking marathon that plays out like a season of MasterChef, complete with celebrity guest appearances and a surprise finale.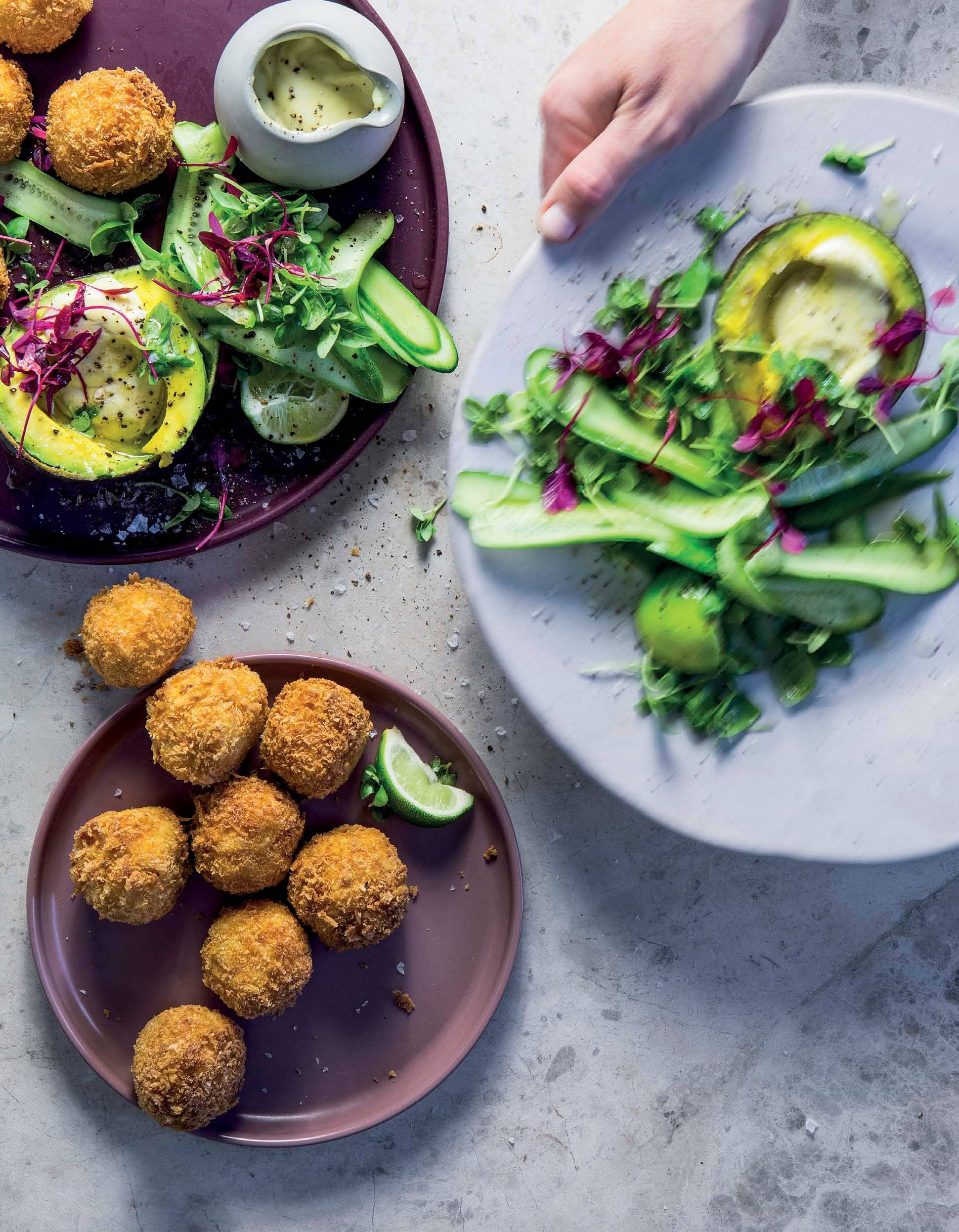 For more than eight weeks,
Nicola cooked three sit-down meals for around 12 people every day. The client was Vin Diesel, his family and entourage. After a few days she stopped asking what she should serve. "Paloma said to me, 'I don't need to tell you what to cook. We love your food. You know what we like'."
Nicola took this compliment to heart, and after months of being away from the kitchen, she apparently decided to make up for lost time – cooking multiple courses, options and sides at every meal.
Diesel was in Cape Town to shoot the movie Bloodshot, in which he plays a reanimated superhero based on the Valiant comic. Some of the production crew mentioned that the Diesels are discerning when it comes to food. They have chefs in their homes in California and the Caribbean, one of whom served the movie's director – also an accomplished eater – a spread of Spanish tapas as good as any he'd eaten in Spain. In other words, they recognise a great chef when they meet one.
Nicola's booking was initially for two weeks from the beginning of August, but she eventually plated her last dish at the end of September.
"I loved it," she says, "they let me cook what I wanted to cook – there was no brief. I'd go to bed with a Donna Hay cookbook and wake up and read more cookbooks. I was always planning menus."
You can read up to 3 premium stories before you subscribe to Magzter GOLD
Log in, if you are already a subscriber
Get unlimited access to thousands of curated premium stories, newspapers and 5,000+ magazines
READ THE ENTIRE ISSUE
April 2019