A Culinary Tour De France
WINE&DINE
|
September - October 2019
From slurping fresh oysters in Cancale to savouring decadent caviar in Bordeaux, we traversed across France over 10 days to experience some of the best produce the country has to offer
While farm-to-table is bandied about a lot in the food industry, in France however, the variety of fresh produce grown by artisan farmers makes it feel a lot more genuine. We were all the more convinced that we were going to be in for lots of honestly good meals in this charming country when one of the first things we saw upon arriving at a Bresse poultry farm in Curtafond—our first stop of the trip—located south east of France, was hundreds of happy chickens roaming freely on open fields.
These chickens are free to move around outdoors as they please, enjoying ample fresh air and sunlight, and are given adequate food— it's no wonder they look so carefree and healthy.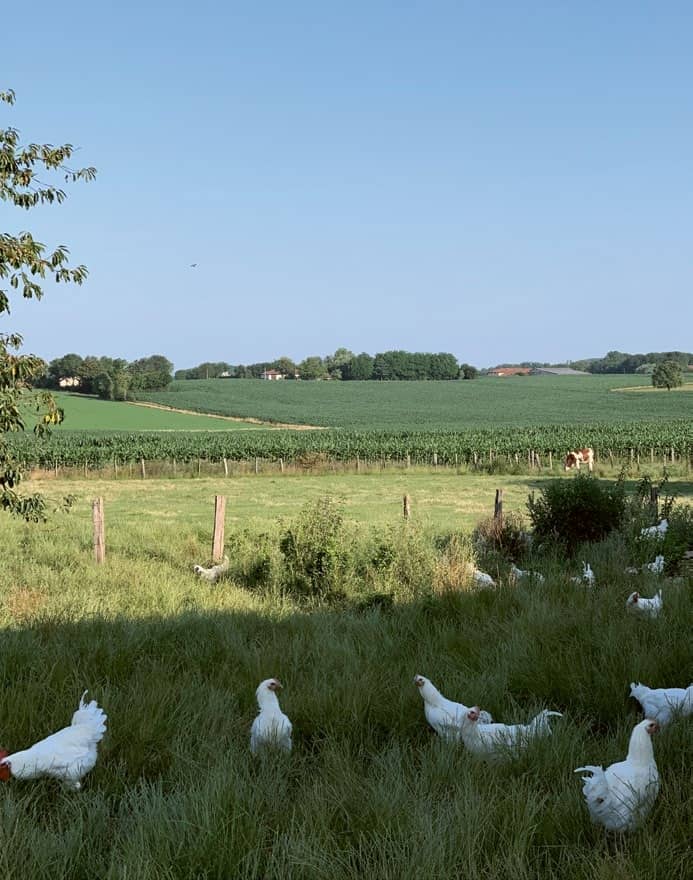 Compared to the living conditions of factory farmed chickens— most are raised in artificially-lit confined spaces with no access to fresh air and barely any room to move—it's a far cry from how these Bresse chickens are bred. And according to breeder Jean-Michel Sibelle, a happy chicken is part of the recipe for a top quality end product.
"Our chickens are comfortable, relaxed and happy, and it reflects in the taste and texture of the meat," Jean-Michel explains.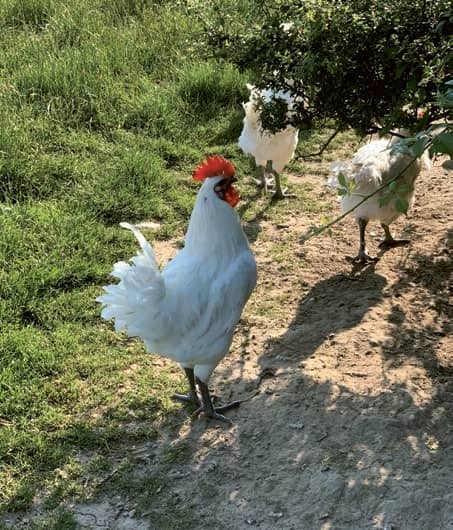 BRESSE IS BEST
Often referred to as the wagyu of all poultry, the Bresse chicken is truly quite a unique bird.
Apart from its distinctive features like its red crests, untainted white feathers and blue feet—a result of its terroir as the soil in Bresse is said to contain acids which act as a bleach, rendering the feathers white and the feet blue—the Bresse chicken is the only poultry in France to be granted the illustrious AOC (Appellation d'Origine Contrôlée) status.
"What this means is that a certificated chicken must not only be reared in the Bresse area, but farmers have to adhere to strict conditions as defined by AOC certification like allocating at least 10 square metres of space for each bird; flocks must be no larger than 500 birds; and they are required to have a large building for the birds to retreat to at night. The feed prepared for the chickens is also strictly regulated. For instance, from about 35 days, the young birds are fed cereals, comprising a mix of maize, wheat and milk—the feed is designed such that it is intentionally low in protein so that the birds will be forced to forage for insects, worms, snails as well as grass to supplement their diet," Jean-Michel shares.
Depending on whether they are going to be sold as a chicken, "poulard" (female) or capon (male), the birds have to spend a certain amount of time on the fields—at least nine weeks for a chicken; 11 weeks for a poulard and 23 weeks for a capon.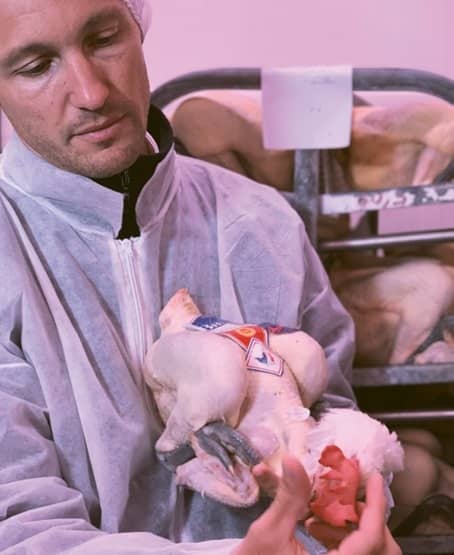 Thereafter, the birds are 'finished' in wooden cages called 'epinettes' in a dark room for 10 to 15 days (at least 30 days for poulards and capons) where they just eat and sleep in a comfortable environment. The purpose of this final stage according to Jean-Michel is to allow the chicken to put on some fat, to make the meat tender by the time it arrives on our table.
We had the opportunity of tasting some of these regal chickens and can understand why some people say the Bresse chicken is "the best chicken you'll ever taste in your life". Our dish of Bresse chicken stuffed with morel, foie gras, veloute of porcini mushrooms and root vegetables was incredible—the chicken skin was thin, crisp, golden and not fatty, while the meat was succulent, firm and packs a delicious flavour punch.
Clearly the amount of care, respect and dedication that goes into rearing these Bresse chickens have resulted in an unrivalled product that is well loved by top chefs and foodies around the world. And despite it costing three times more the price of a regular chickens, the demand is consistently high as consumers are willing to fork out money for a quality product they know they can trust.
Jean-Michel is one of the passionate poultry farmers that poultry specialist Mieral works with. The company, which celebrated its 100th anniversary this year, is best known for supplying top restaurants with the highest quality poultry. Fourth generation owner Valery Mieral shares that some of their secrets to ensuring the quality of their products include a solid partnership formed with farmers; staying true to free range farming practices; using only 100 per cent natural feed; upholding of traditions; respect for the lands; and having passion for what they do. Today, Mieral is one of the last remaining family-run Bresse chicken businesses in France.
EXPLORING CHEESE CAVES IN THE LOIRE
Next up on our itinerary was a visit to Mons Fromages, located in St Haon-le-Chatel in the Loire. Run by Hervé Mons, a second generation affineur and one of France's most respected cheese experts, Mons is best known for producing exceptional ripened cheeses—they age over 200 types of cheese in their facility. So instead of making their own cheeses, they source for excellent French and Swiss cheeses from specialist regional producers then mature them in their cheese caves before putting them out in the market for sale.
Commonly referred to as affinage, this process is the careful practice of ripening or maturing cheeses to allow them to develop flavour and texture. An affineur like Hervé is a person who ages or matures cheeses. As one of their staffJean-Baptiste Convert took us around Mons' cheese facility comprising four large ageing caves and an old railway tunnel which has been converted into an ageing cave, he shared with us some of the procedures that the team of affinage experts go through on a daily basis, for instance, there is a huge refrigerated receiving area where cheeses arrive every day to be processed, from large cheese wheels to small blocks. Here, the cheeses will be assessed before being sent to the correct rooms to be 'treated'. Those with delicate fresh skins are transferred to the drying room with a higher temperature and lower humidity where they will harden and form rinds to ensure even maturing. The slightly older cheeses will be checked and sent to the appropriate ageing caves.
Once the cheeses are transferred to the ageing caves, the affinieur has to perform multiple tasks on the cheeses on a regular basis, such as examining, scrubbing, brushing, washing, flipping, wrapping and rewrapping the cheeses— depending on the needs of each individual cheese—to allow them to reach their fullest potential (flavour and texture).
You can read up to 3 premium stories before you subscribe to Magzter GOLD
Log in, if you are already a subscriber
Get unlimited access to thousands of curated premium stories, newspapers and 5,000+ magazines
READ THE ENTIRE ISSUE
September - October 2019