Try These Creative Burgers, Sandwiches, Sliders And Wraps
Taste of Home
|
April/May 2019
Lay down your forks and pick up these creative burgers, sandwiches, sliders and wraps.
MICHELLE ANGLIN
Grand Prize Winner
WHAT PROMPTED YOU TO ADD DATES TO THESE DELICIOUSLY UNIQUE BURGERS?
I really love bacon-wrapped and cheese-stuffed dates. I thought this burger version of that appetizer would work together beautifully and it did! I knew that adding dates to these juicy burgers would help add a sweet surprise to every bite and give a little bit of caramelization to the burger while cooking.
WHAT OTHER SPRING RECIPES ARE YOU LOOKING FORWARD TO MAKING?
I love the seasonal change of foods, and when spring arrives I am all about fresh produce. Cucumber salads are a favorite in our house because cucumbers are so versatile. Combine them with fresh radishes, watermelon, basil and a light dressing to make a delicious chilled salad on a warm day, or julienne the cukes and add them into shrimp spring rolls for a showstopping appetizer.
HAVE YOU ENTERED A COOKING CONTEST BEFORE?
I had never entered a cooking contest before this, and frankly I am still in shock that I won the grand prize. I had to keep checking my email to make sure I wasn't seeing things. I love, love, love Taste of Home magazine, and when I saw that there was a contest for sandwiches, burgers and sliders I thought, Why not enter my burger and see what happens? I'm so glad I did! I hope everyone enjoys it.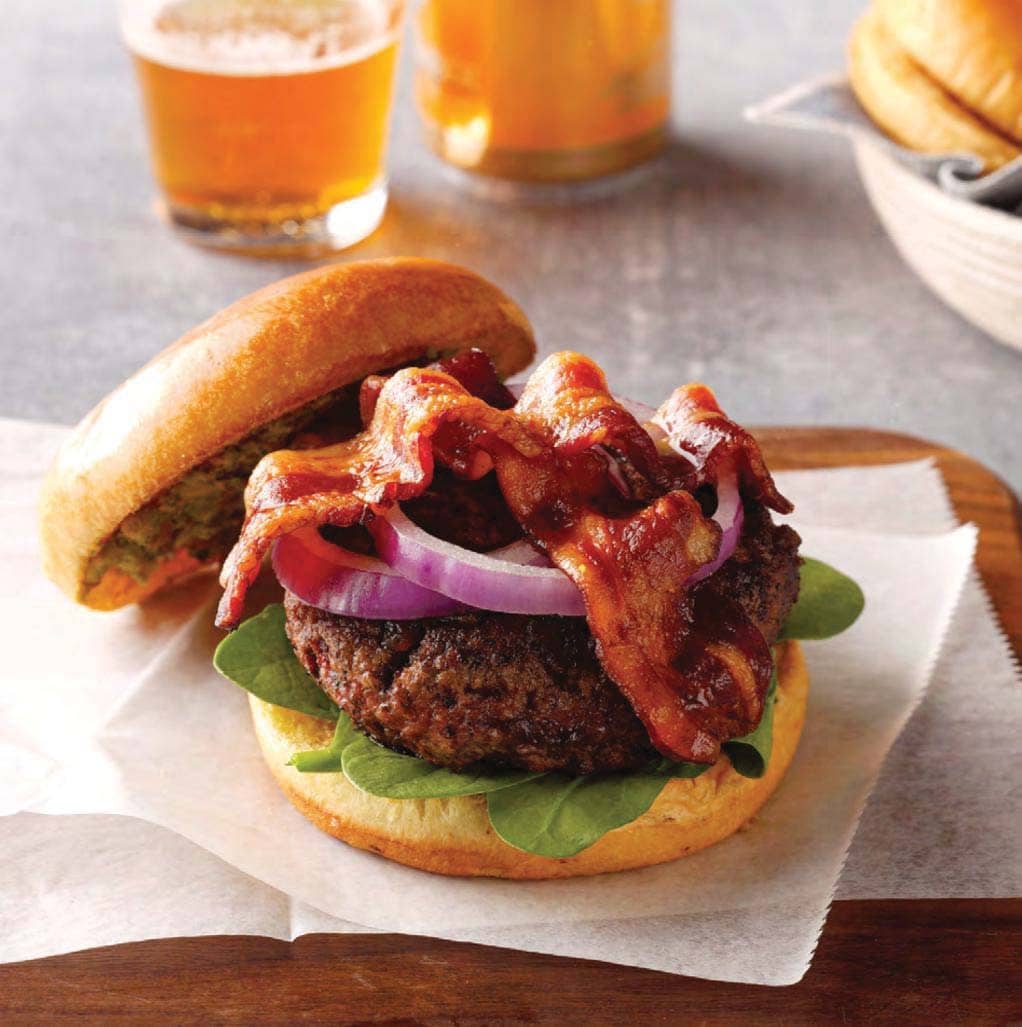 Grand Prize
Bacon & Date Goat Cheese Burgers
If you can't find maple bacon, you can process 1¹â'' tablespoons of maple syrup with the spinach-goat cheese mixture in the food processor.
—Michelle Anglin, Livingston, MT
Prep: 30 min. • Grill: 10 min.
Makes: 6 servings
2 3/4 cups fresh baby spinach, divided
1 pkg. (8 oz.) pistachios, shelled
2 Tbsp. lemon juice
2 garlic cloves, halved
1/2 to 1 1/2 tsp. crushed red pepper flakes
1/4 tsp. each salt and pepper
1 pkg. (5.3 oz.) fresh goat cheese, crumbled
1/4 cup olive oil
1 1/2 lbs. ground beef 1 pkg. (8 oz.) pitted dates, chopped
6 brioche hamburger buns, split
1 medium red onion, sliced
1/2 lb. maple-flavored bacon strips, cooked
1. Place 2 cups spinach, pistachios, lemon juice, garlic, pepper flakes, salt and pepper in a food processor; pulse until chopped. Add goat cheese; process until blended. Continue processing while gradually adding oil in a steady stream to reach a spreadable consistency. Refrigerate until serving.
2. Meanwhile, in a large bowl, combine beef and dates, mixing lightly but thoroughly. Shape into six 1/2-in.-thick patties. Place burgers on an oiled grill rack or in a greased 15x10x1-in. pan. Grill, covered, over medium heat or broil 4-5 in. from the heat until a thermometer reads 160°, 4-5 minutes per side. Grill buns, cut sides down, over medium heat until toasted.
3. Top bun bottoms with remaining spinach, burgers, red onion and bacon. Spread 4 tsp. goat cheese mixture over cut side of each bun top; place on burger. Cover and refrigerate remaining goat cheese mixture; save for another use. 1 burger: 804 cal., 45g fat (11g sat. fat), 118mg chol., 788mg sod., 67g carb. (34g sugars, 9g fiber), 39g pro.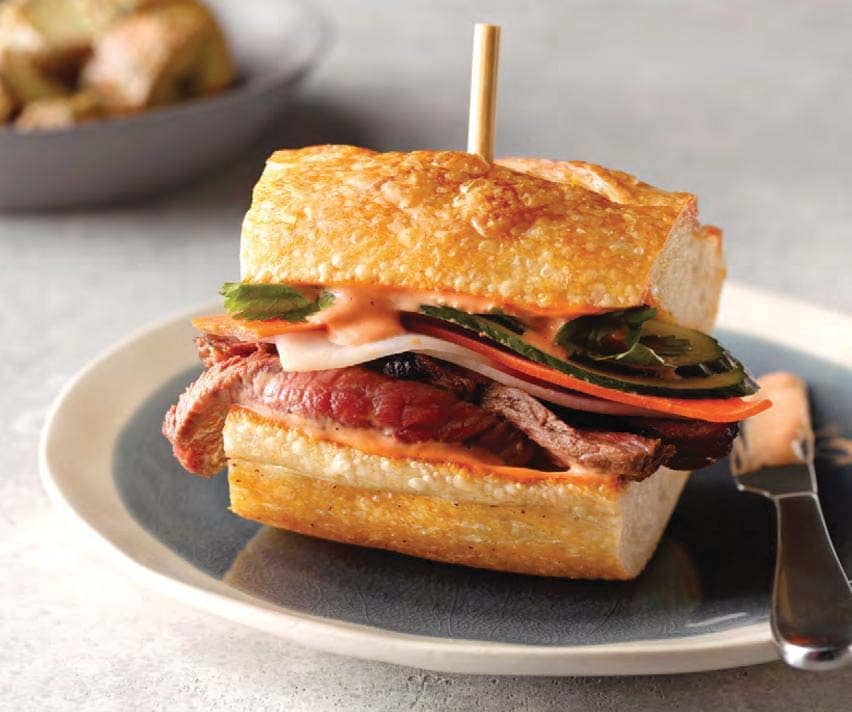 First Place
Steak Sandwiches with Quick-Pickled Vegetables
This recipe is a Cambodian version of the classic Vietnamese dish banh mi, with pickled vegetables, cucumber, Sriracha mayo and marinated beef.
—Hudson Stiver, Bowen Island, BC
Prep: 30 min. + marinating
Cook: 15 min. + standing
Makes: 6 servings
1 cup white vinegar
1 Tbsp. sugar
1 1/2 cups thinly sliced fresh carrots
1 small daikon radish, thinly sliced
1/4 cup packed brown sugar
1/4 cup rice vinegar
1/4 cup soy sauce
1 beef top sirloin steak (1 1/4 lbs.)
1 Tbsp. olive oil
1 French bread baguette
(101/2 oz.), halved lengthwise
1/2 cup mayonnaise
2 Tbsp. Sriracha chili sauce
1/2 cup thinly sliced English cucumber Fresh cilantro leaves
1. In a large bowl, whisk white vinegar and sugar until sugar is dissolved. Add the carrots and radish. Refrigerate at least 2 hours. Meanwhile, in a shallow dish, combine the brown sugar, rice vinegar and soy sauce. Add beef and turn to coat. Refrigerate for 1 hour, turning once. Drain beef, discarding the marinade.
2. In a large skillet, heat the oil over medium-high heat. Cook steak until meat reaches desired doneness (for medium-rare, a thermometer should read 135°; medium, 140°; mediumwell, 145°), 7-10 minutes per side. Let rest 10 minutes before slicing.
3. Meanwhile, broil baguette cut sides up, 3-4 in. from heat, until golden brown, 3-4 minutes. Drain carrots and radish, reserving 1 1/2 tsp. vinegar marinade. In a small bowl, combine the mayonnaise, chili sauce and the reserved vinegar marinade; spread half over cut sides of baguette. Top with the steak, pickled vegetables, cucumber and cilantro; replace top. Cut crosswise into 6 slices. Serve with remaining mayonnaise mixture. 1 sandwich: 430 cal., 20g fat (4g sat. fat), 40mg chol., 888mg sod., 37g carb. (9g sugars, 2g fiber), 25g pro.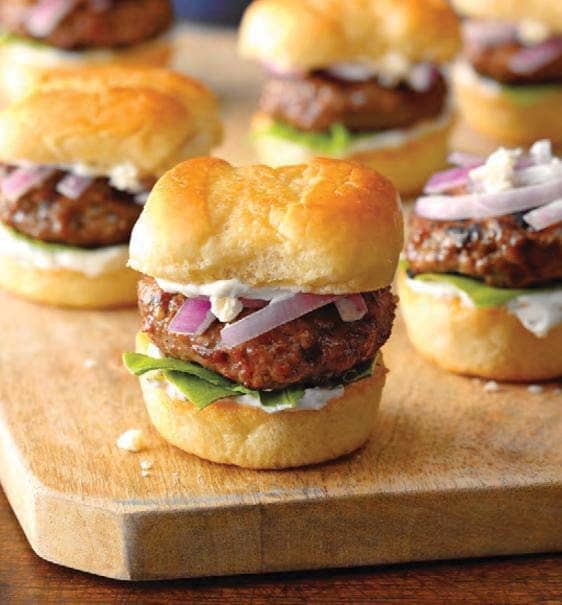 Second Place
Santorini Lamb Sliders
I love lamb burgers, so I created a crowd-friendly slider version. It's best to make the tzatziki sauce a day or two in advance to allow the flavors to mingle for extra zip.
—Cristina Certano, Colorado Springs, CO
Prep: 30 min. + chilling
Grill: 10 min. Makes: 10 servings
1 cup plain Greek yogurt
1/2 cup shredded peeled cucumber
1 1/4 tsp. salt, divided
1 lb. ground lamb
1 Tbsp. grated lemon zest
4 garlic cloves, minced and divided
2 tsp. dried oregano
1/4 tsp. plus 1/8 tsp. pepper, divided
1 tsp. lemon juice
1 tsp. dill weed
10 mini buns or mini ciabatta buns
10 Bibb lettuce leaves
1 medium red onion, thinly sliced
1 cup crumbled feta cheese
You can read up to 3 premium stories before you subscribe to Magzter GOLD
Log in, if you are already a subscriber
Get unlimited access to thousands of curated premium stories, newspapers and 5,000+ magazines
READ THE ENTIRE ISSUE
April/May 2019