The Forlorn Artisans Of Sauraha
Hospitality Food & Wine
|
Mid November 2018, Issue 11
Flocks of tourists visit Chitwan National Park round the year.
The Park is the treasure trove of amazing stock of nature's beauty that lures one and all. The Park is rich in flora and fauna that has helped to grow handicraft market in Sauraha. Most of the handicraft items found in Sauraha are not brought from outside rather they are made in Sauraha itself. These handicraft items are locally marketed by the villagers and shopkeepers. Of several kinds of handicraft items found in Sauraha, the wooden Rhinos and Elephants are the cynosure of all eyes.
Artisans are always respected all over the world, because what they can do is not everybody's cup of tea. History is witness where many famous artists spent their lives to improve certain skill. Let's say painting of horses. Great painters like Edgar Degas, George Stubbas, Theodore Gericault, John Freederick and Cruz Azaceta had devoted their lives capturing different moods of the horses. Today, their paintings of horses have become legends in the history of painting.
Like these painters of the west, the artisans in Sauraha are known for chiseling beautiful rhinos and elephants out of wood. Many artisans of Sauraha have taken making wooden rhinos and elephants as their only livelihood. However, such legendary artisans of Sauraha are now reluctant to carry on the tradition any more. Due to lack of proper market, protection and encouragement from the government, once flourishing trade is now dying slowly.
Among many artisans who have dedicated their lives to making wooden rhinos and elephants in Sauraha, one name is very popular. He is Karma Lama, originally hailed from Ramechhap, who is considered the best artisan in Sauraha. Mr. Lama has successfully carved out a reputation for himself as a highly skilled artisan. Speaking with this scribe, one of the shopkeepers in Sauraha said, "If you see the most attractive wooden rhinos and elephants in the shops of Sauraha, they are made by none other than Karma Lama".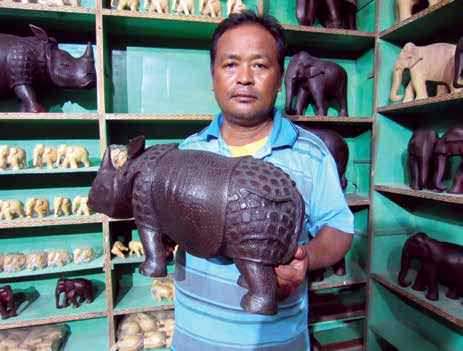 "I am from a poor family background of Ramechhap. Due to circumstances as such, I could not continue my school education. I had more pressing needs to fulfill than continuing education in school. I, therefore, left home in search of a possible livelihood. For a few years, I wandered around and tried my hands at every possible job that came on my way. Meanwhile, I realized that without education I could not get a better job. After having spent a few years recklessly, I reached Kathmandu where I took interest in Thanka Painting. I settled in Bhaktapur where subsequently I spent 25 years of my life, polishing my skill in Thanka painting. Well, how I happened to come to Sauraha is an interesting story to tell about", said Lama with a broad smile on his face.
It is really quite interesting to know that how a man who spent 25 years of his life in Thanka Painting, suddenly decided to change his interest in woodcarvings…a skill that he knew nothing until then.
You can read up to 3 premium stories before you subscribe to Magzter GOLD
Log in, if you are already a subscriber
Get unlimited access to thousands of curated premium stories, newspapers and 5,000+ magazines
READ THE ENTIRE ISSUE
Mid November 2018, Issue 11