Vietnom
Food & Wine
|
February 2019
The flavors of Vietnamese cooking are ones we could eat every day, all year round. Here, James Beard Award–winning cookbook author Andrea Nguyen explains how to bring the tenets of this bright, brilliant cuisine home.
WHEN MY FAMILY FLED the communist takeover of Vietnam and settled in Southern California, supermarkets carried a limited array of Asian ingredients. It was 1975, and there was no fish sauce, a staple that we missed dearly. My mother figured out American work-arounds, and when needed, she stocked her pantry via a trip to Los Angeles' Chinatown. She taught me to honor tradition yet also be resourceful and creative. Vietnamese food fuses the country's tumultuous history with its regional differences and interactions with foreign nations. Zippy sauces, fresh herbs, springy noodles, and East-West overlaps delight on many levels. Nowadays, you don't have to shop at an Asian market to make good Viet food—most major supermarkets carry the basics in their international aisles. There's never been a better time to make Vietnamese food part of your routine.
LESSON No.1
KEEP YOUR EYES ON THE STIR-FRY
STIR-FRYING HAPPENS FAST, so line up prepped ingredients to gracefully and easily glide through the cooking process. You don't have to use a giant wok; any wide pot or pan that can take a lot of heat will collapse all the greens into a crisp tender, savory side dish. This recipe is my supermarket take on the classic, subbing baby kale for water spinach, a go-to vegetable in everyday Viet meals. Added bonus: Prewashed greens don't release much liquid, which can dilute flavors and turn a stir-fry sizzle into a fizzle.
BABY KALE STIR-FRIED WITH OYSTER SAUCE
TOTAL 20 MIN; SERVES 2 TO 4
2 tsp. oyster sauce, plus more to taste
1 tsp. fish sauce (such as Three Crabs)
4 tsp. canola oil or other neutral oil (such as grapeseed), divided
1 ( 3 /4-oz.) red Fresno chile, jalapeño, or serrano chile, seeds and ribs removed, chopped (about 1 1 /2 Tbsp.) (optional)
1/2 tsp. granulated sugar (optional)
1 1 /2 Tbsp. finely chopped garlic, divided
2 tsp. water 1 tsp. cornstarch
2 (5-oz.) pkg. baby kale, spinach, or mixed leafy greens (about 16 cups) Black pepper
1. Whisk together oyster sauce, fish sauce, and 1 teaspoon oil in a small bowl until combined. If desired, stir in chile and sugar. Add additional oyster sauce, if desired. Stir in 1 1 /2 teaspoons garlic; set aside. Whisk together 2 teaspoons water and cornstarch in a small bowl until milky and smooth; set aside.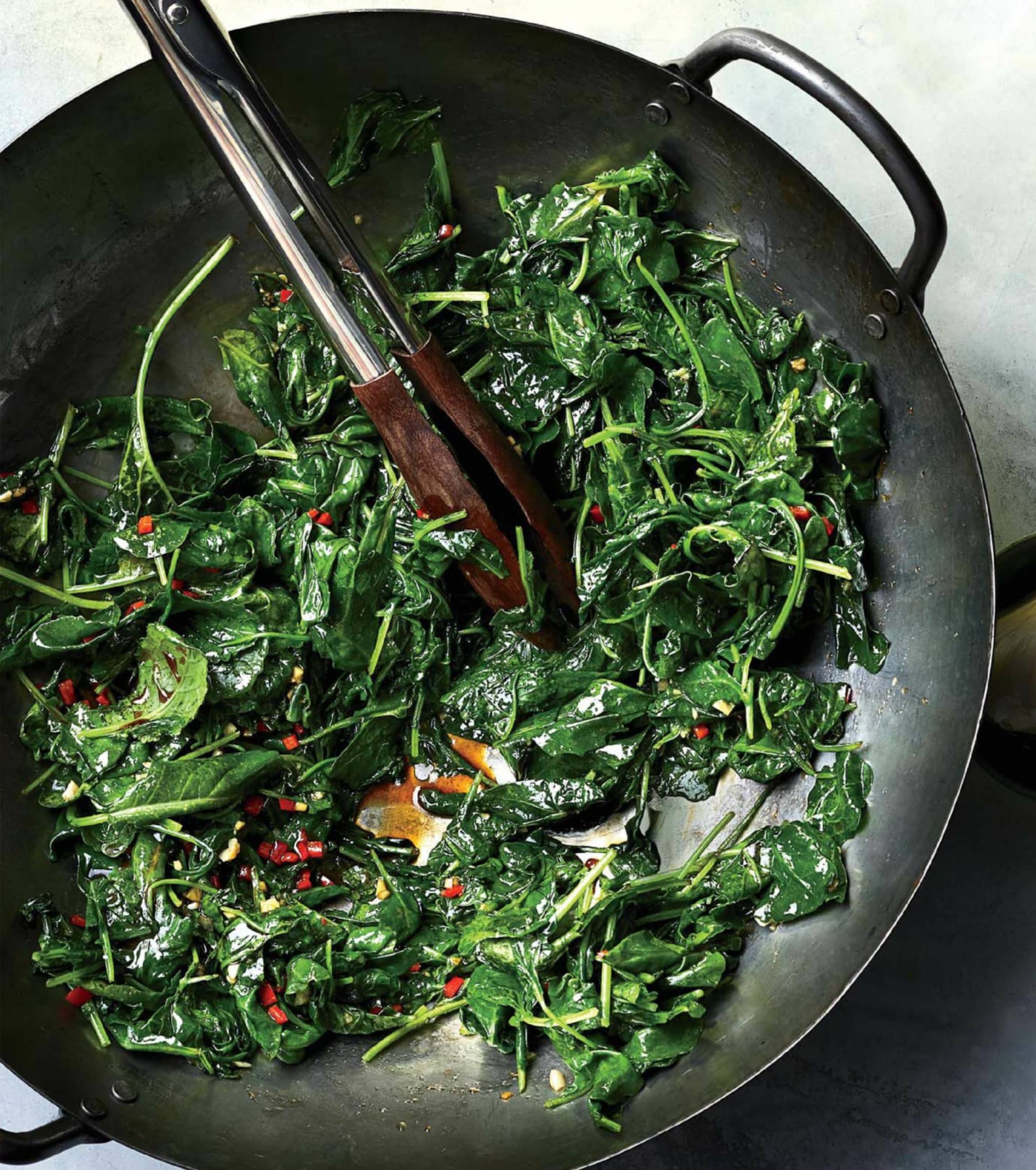 2. Heat remaining 1 tablespoon oil in a 5- to 6-quart Dutch oven over high until shimmering. Add remaining 1 tablespoon garlic; cook, stirring constantly, until fragrant, 5 to 10 seconds. Add kale a few handfuls at a time, stirring until wilted before adding next batch, until all greens have wilted and are reduced to about one-third in volume, about 2 minutes and 30 seconds.
3. Add oyster sauce mixture to kale; stir to fully coat greens. Cook, stirring often, until greens have released most of their liquid, about 40 seconds. Stir in cornstarch mixture; cook, stirring constantly, until sauce thickens slightly and greens take on a silky finish, about 30 seconds. Transfer greens to a platter; garnish with black pepper.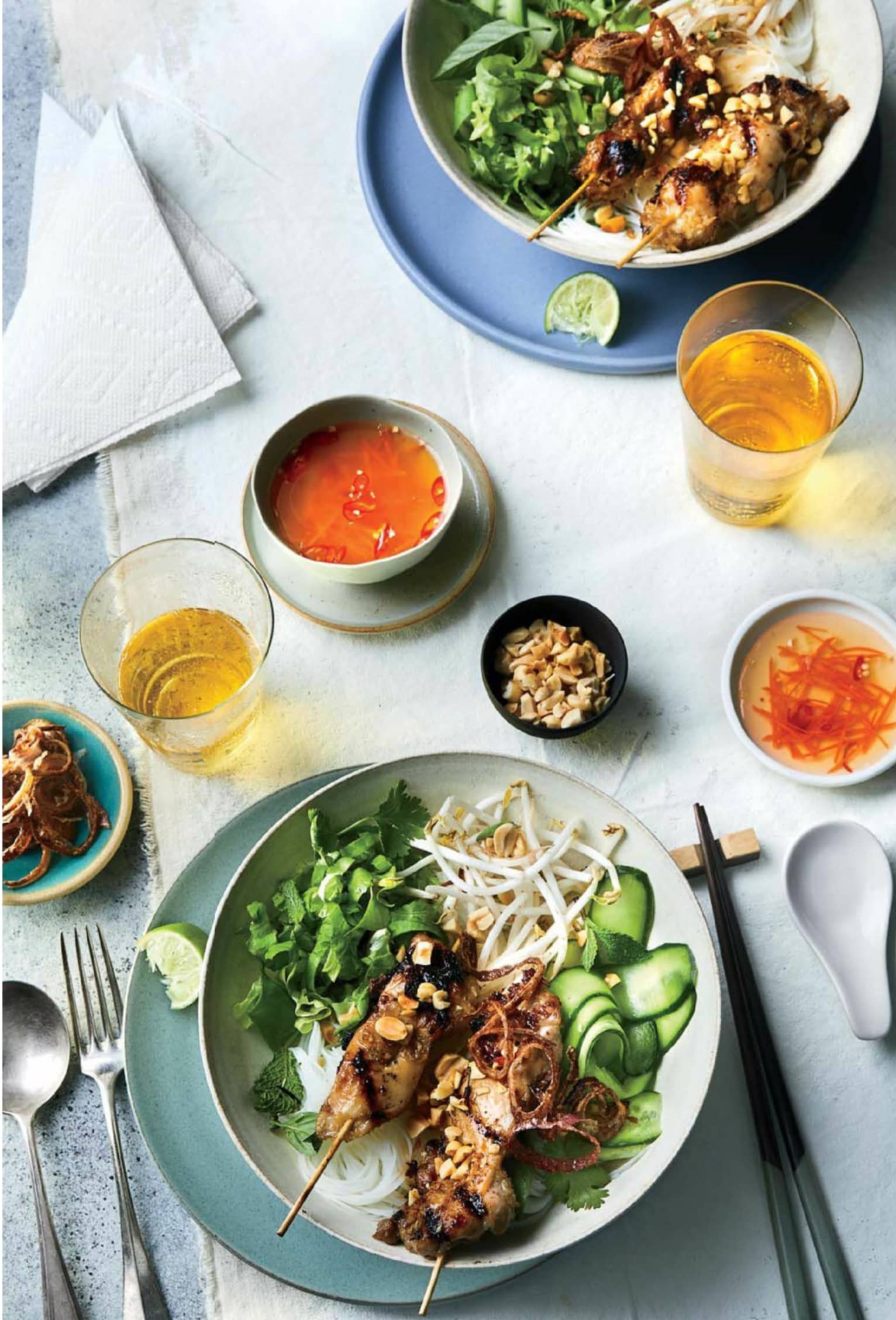 LESSON No. 2
LAYER ON THE FLAVORS
TO MAKE VIETNAMESE rice noodle salad bowls, simply layer the ingredients in a bowl, and let diners dress their own at the table. The vegetables provide refreshing crunch; the noodles carry flavor; and a bold homemade sauce, nuoc cham, unites things with its Viet imprint. The main feature and toppings are up to you; in this version, grilled chicken skewers are the highlight.
RICE NOODLE SALAD BOWLS WITH GRILLED LEMONGRASS CHICKEN
TOTAL 1 HR; SERVES 4
MARINADE
1/4 cup coarsely chopped lemongrass (from 1 medium stalk)
3 Tbsp. coarsely chopped shallot
1 1 /2 Tbsp. granulated sugar or 2 Tbsp. light brown sugar
1 1 /2 Tbsp. canola oil or other neutral oil (such as grapeseed)
1 1 /2 Tbsp. fish sauce (such as Three Crabs)
1 Tbsp. chopped garlic 1 tsp. soy sauce
3/8 tsp. cayenne pepper or black pepper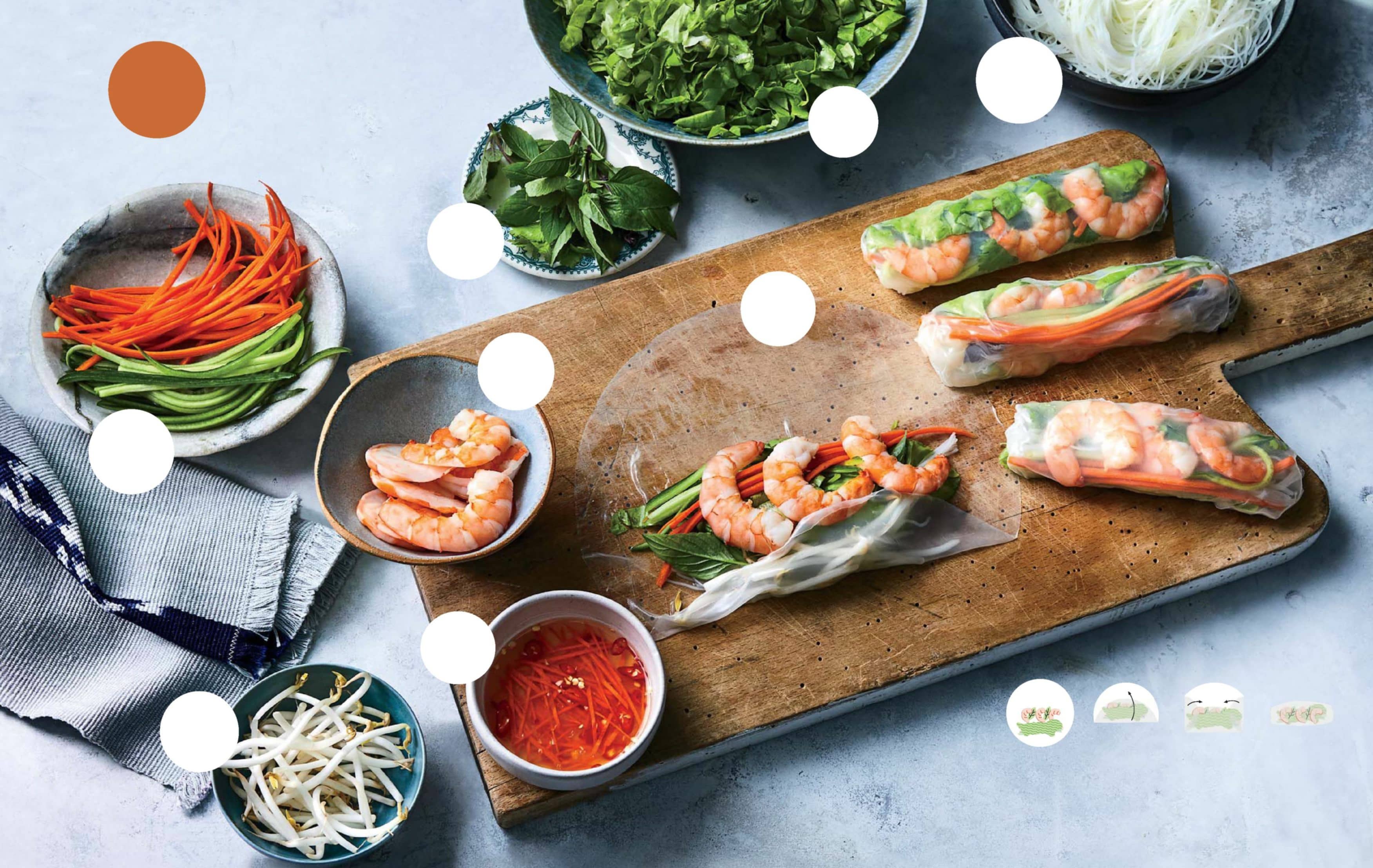 SALAD BOWLS
1 1 /4 lb. boneless, skinless chicken thighs
1 (6- to 8-oz.) pkg. uncooked rice stick noodles (maifun) or 1 (10- to 12-oz.) pkg. uncooked rice capellini pasta or thin spaghetti
4 cups loosely packed mixed baby lettuces or soft-leaf lettuce leaves (such as butter, Boston, or green leaf), thinly sliced
1 1 /3 cups fresh bean sprouts (optional)
1 (2-oz.) Persian cucumber, shaved into thin strips (optional)
1/2 cup torn fresh cilantro, divided
1/2 cup torn fresh mint, basil, and/or dill, divided
Canola oil or other neutral oil (such as grapeseed), for grilling
2/3 cup unsalted roasted peanuts or cashews, coarsely chopped
1/4 cup crispy fried shallots or onions (optional)
1 cup Nuoc Cham (recipe p. 81)
You can read up to 3 premium stories before you subscribe to Magzter GOLD
Log in, if you are already a subscriber
Get unlimited access to thousands of curated premium stories, newspapers and 5,000+ magazines
READ THE ENTIRE ISSUE
February 2019