New Comfort Classics
BBC Good Food UK
|
October 2018
Food is an amazing thing. Not only does it nourish our bodies, it can provide comfort on even the gloomiest of days. So, invest a little time in the kitchen on one of these warming new recipes from senior food editor Cassie Best, then snuggle down on the sofa and dive in
Miso, mushroom & brisket pie
With miso, soy, parmesan and porcini in the ingredients list, you might be thinking I've gone a bit fusion crazy, but rest assured, there's method in my madness. I wanted to create a beef pie that smacks you round the chops with umami richness and these ingredients deliver just that. It's an absolute stonker and my new favourite pie recipe.
SERVES 6-8 PREP 40 mins plus soaking, cooling and chilling
COOK 4 hrs 10 mins EASY
20g dried porcini mushrooms
4 tbsp olive or rapeseed oil
1 large onion, chopped
200g button mushrooms, halved or quartered
3 thyme sprigs
800g beef brisket, or another cut of stewing steak, cut into large chunks
2 tsp dried mustard powder
2 tbsp plain flour
125ml (small glass) red wine
1 tbsp brown miso paste
1 tbsp light soy sauce
600ml beef stock
For the pastry
350g plain flour
1 tsp dried mustard powder
75g shredded suet
100g cold butter, cut into small pieces
25g parmesan, grated
1 egg, beaten
pinch flaky sea salt
1 Cover the porcini in 100ml boiling water and set aside. Heat 2 tbsp oil in a wide pan, add the onion and cook over a medium heat, stirring often for about 10 mins until soft. Push to one side of the pan, add the button mushrooms and thyme, fry until any water has evaporated and the mushrooms are soft and taking on some colour (about 4-6 mins). Scrape the onions and mushrooms into a bowl.
2 Heat the remaining oil in the pan. Toss the beef in the mustard powder, flour and some seasoning, then fry, in batches if needed, until each piece has a dark brown crust. Drain the porcini mushrooms, but keep the soaking liquid, and roughly chop them. Return all the beef, onions and mushrooms to the pan along with the porcini liquid. Add the wine and bubble for a few mins, scraping the bottom to release any tasty bits. Add the miso, soy and stock, season and cover the pan with a lid. Simmer for 2 hrs 30 mins-3 hrs until the beef is as tender as you'd like it. Stir every 15 mins or so, adding more water if it's sticking to the bottom of the pan. Strain the stew through a sieve over a large pan or bowl and discard the thyme sprigs. Stir 100ml liquid back into the beef and transfer the rest to a jug – this will be your gravy. Cool the stew and gravy, then chill. You can do this up to three days before assembling the pie.
3 Mix the ingredients for the pastry, except the egg, in a food processor with a good pinch of salt. Slowly add water, a tablespoon at a time, until the pastry starts to clump together (ours needed 5 tbsp). Tip onto your surface and knead a few times to incorporate any flaky bits. Remove a third of the pastry and shape both pieces into discs, wrap in cling film or baking parchment and chill for at least 30 mins, or up to one day.
4 Heat oven to 200C/180C fan/ gas 6 with a baking sheet heating up on the middle shelf. Roll out the larger piece of pastry, using a little flour if you need it, until about the thickness of a £1 coin. Lift over your rolling pin and use to line a metal or enamel cake tin or pie dish – we used a deep, loose-bottomed 20cm cake tin – leaving plenty of pastry hanging over the edges. Fill with the cooled stew. Brush around the inside edge of the pastry with egg then roll out the remaining pastry and use to cover the pie.
5 Squash or crimp the edges and roll the pastry back on itself to create a seal. Press the edge lightly with a fork, if you like, brush with egg and make a generous steam hole in the middle (we used the end of a large round piping nozzle to do this). Sprinkle with flaky sea salt. Bake for 45-50 mins until the pastry is deep golden brown, then leave to cool for 10 mins while you reheat the gravy. Remove the pie from the tin and serve with gravy, mash and veg.
GOOD TO KNOW 1 of 5-a-day
PER SERVING (8) 643 kcals • fat 38g • saturates 18g •carbs 42g • sugars 3g • fibre 4g • protein 28g • salt 1.1g
Comfort know-how
Taking your time to caramelise the meat will mean the difference between a bland stew and a rich flavour some one. To do it properly, heat the pan until hot – the oil should be shimmering. Brown the meat in batches, making sure each piece has plenty of space in the pan. Allow each side to build up a thick crust before you attempt to turn it; if it sticks, it's not ready to turn. It will only release once nicely browned.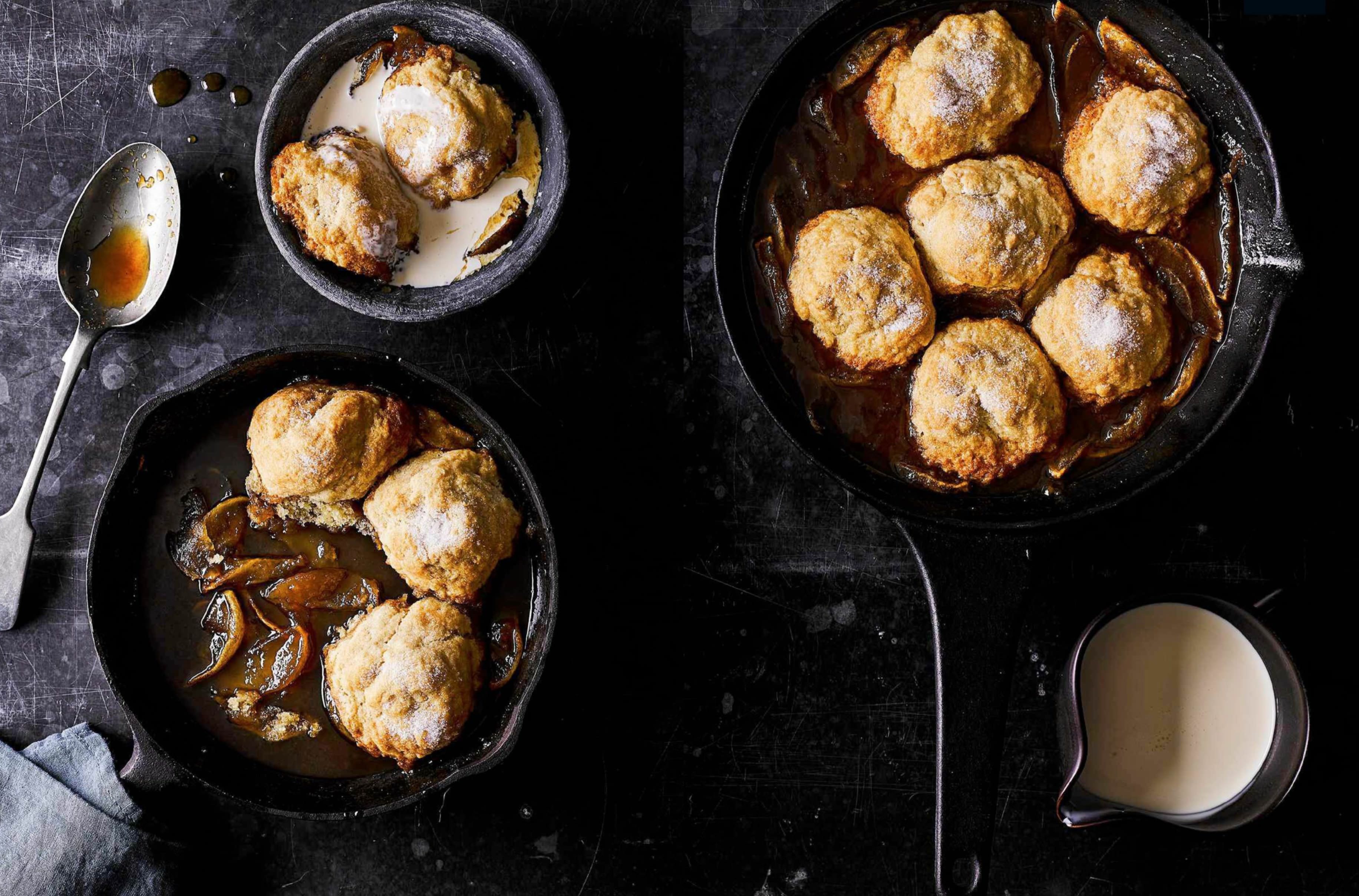 Rarebit toasties with sticky Marmite onions
Add some crispy bacon to the mix and you've got the ultimate morning-after-the-night-before bacon sarnie. Forego the eggs and serve with a bowl of tomato soup and you've got a hearty lunch or dinner for a chilly day. Whenever or however you decide to eat this, it's so worth it.
SERVES 2 PREP 15 mins
COOK 35 mins plus cooling
EASY V
2 tbsp plain flour
2 tbsp butter
250ml milk
50ml ale or stout
80g extra mature cheddar
11/2 tsp English mustard
1 tsp Worcestershire sauce, plus extra to serve
pinch cayenne pepper
1 tbsp vegetable or rapeseed oil,
plus extra for the eggs if using
2 onions, halved and thinly sliced
1 tbsp light brown soft sugar
1 tbsp Marmite
4 chunky slices sourdough bread
2 eggs (optional)
You can read up to 3 premium stories before you subscribe to Magzter GOLD
Log in, if you are already a subscriber
Get unlimited access to thousands of curated premium stories, newspapers and 5,000+ magazines
READ THE ENTIRE ISSUE
October 2018