Easiest Ever Midweek Meals
BBC Good Food UK
|
October 2019
Bake Offwinner John Whaite shares recipes from his new book, all made on the hob in under 45 minutes
Black pepper & basil vegetable stir-fry
This recipe should come with a warning: it is intensely hot. But it's not a chilli heat that commands vats of cooling ice water, rather a more nasal heat. Use half the amount of black pepper for less of a kick.
SERVES 2 PREP 10 mins COOK 20 mins EASY V
2 tbsp olive oil 1 aubergine, cut into 2cm cubes 4 spring onions, sliced into 2cm pieces 1/2 courgette, cut into 1cm discs 2 banana shallots, cut into 8 segments lengthways
40g ginger, finely grated 4 garlic cloves, finely sliced 1 large red chilli, deseeded if you prefer less heat, finely sliced
2 tbsp light soy sauce 4 tbsp dark soy sauce 1 tbsp dark brown soft sugar 1 tsp cornflour 2 tsp freshly ground black pepper handful basil leaves, roughly chopped squeeze of lime juice, to serve rice or noodles, to serve (optional)
Set a large frying pan over a medium heat and add the oil. Once the oil shimmers, add the aubergine, spring onions, courgette, shallots, ginger, garlic and chilli. Fry on a medium-high heat, stirring occasionally, until the vegetables are softened and slightly browned – about 15 mins. Meanwhile, combine the soy sauces, sugar and cornflour in a small bowl, stirring to dissolve the sugar into the liquid.
Add the pepper to the veg pan, toss together for just a moment, then add the soy sauce mixture and allow it to bubble for a minute. Take offthe heat, stir through the basil, and serve with a squeeze of lime and rice or noodles.
GOOD TO KNOW fibre • vit c • 2 of 5-a-day
PER SERVING 265 kcals • fat 12g • saturates 2g • carbs 29g • sugars 24g • fibre 8g • protein 6g • salt 6.2g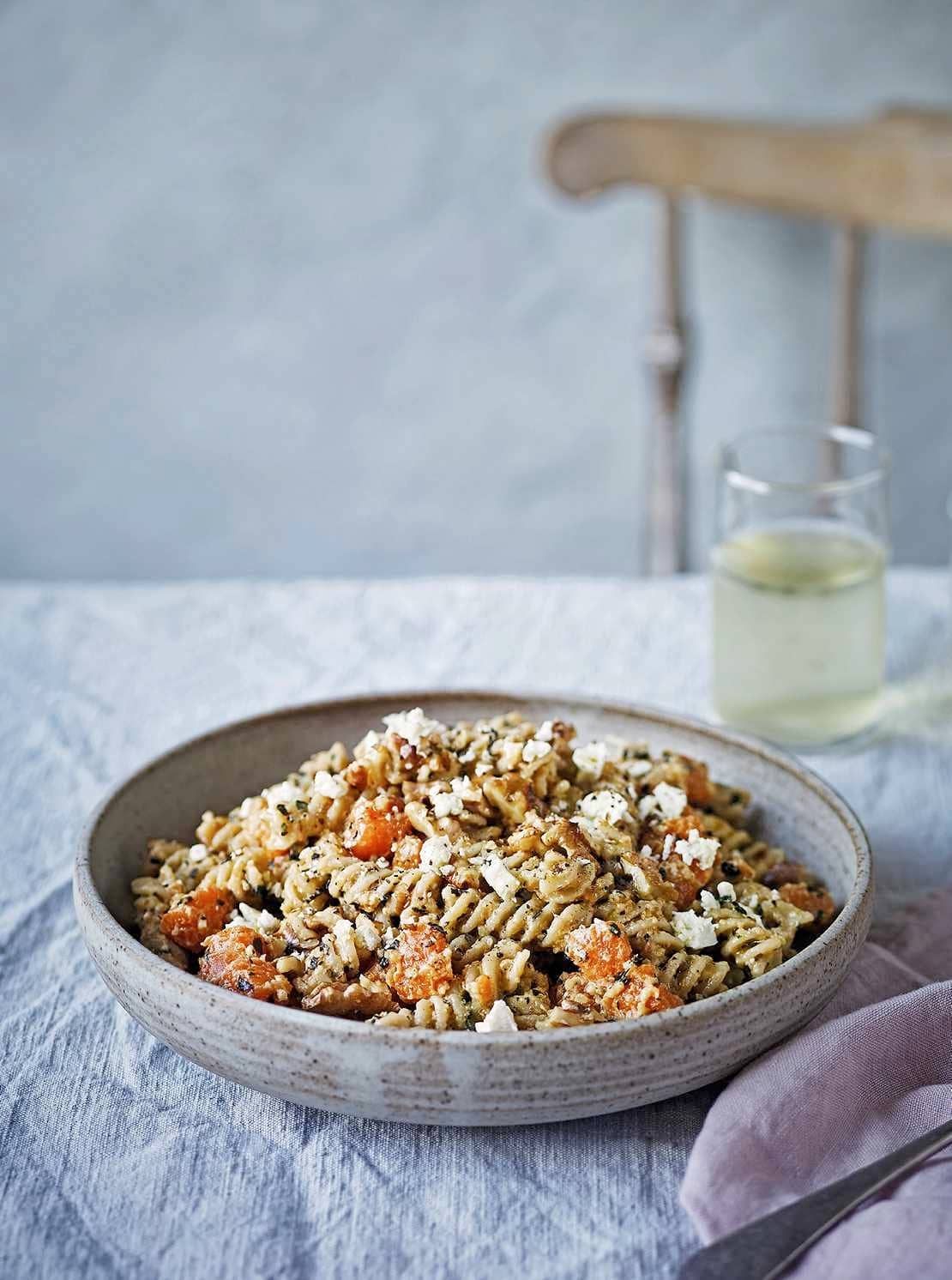 Walnut, feta & mint pesto with sweet potato & wholemeal pasta
Speedy though this may be, it feels as if it'll do you a lifetime of good. I love the combination here, it's all so earthy yet it is somehow revived by the mint and the sweetness of the potato. While this will serve two, I have eaten a full batch myself – but I daren't measure my greed against that of others.
SERVES 2 PREP 10 mins COOK 10 mins EASY V
200g dried wholemeal fusilli 1 large sweet potato, peeled and cut into 1cm pieces
For the pesto 60g walnuts handful of mint leaves 50g feta cheese, plus a little extra to serve 150ml rapeseed oil
For the pesto, heat a medium saucepan over a high heat. Once hot, add the walnuts and fry, shaking the pan occasionally, for a minute or so, just until the walnuts release their bittersweet aroma. Set aside.
Fill the pan about half-full with well-salted water and bring to the boil. Drop in the pasta and sweet potato and boil for 8 mins.
Meanwhile, carry on with the pesto. Put all the ingredients in a mini food processor, along with 1/2 tsp fine salt and some black pepper, and pulse to a chunky pesto. Or you can do this using a pestle and mortar – pound the mint leaves with 1/2 tsp fine salt, then add the walnuts and feta, and pound until chunky. Add the black pepper and the oil last, then blend to combine.
When the pasta is cooked, drain it, but reserve 2 tbsp of the starchy cooking water and add that to the pesto. Return the pasta to the pan, offthe heat, and stir through the pesto. Serve with a scattering of crumbled feta and a pinch of salt to taste.
GOOD TO KNOW calcium • fibre • iron • 1 of 5-a-day
PER SERVING 1,378 kcals • fat 103g • saturates 11g • carbs 81g • sugars 11g • fibre 14g • protein 23g • salt 1.9g
Tex-Mex crispy pork rice
You can read up to 3 premium stories before you subscribe to Magzter GOLD
Log in, if you are already a subscriber
Get unlimited access to thousands of curated premium stories, newspapers and 5,000+ magazines
READ THE ENTIRE ISSUE
October 2019