What Ever Happened To Turtle Soup?
Jack Hitt explores the disappearance of an American delicacy and joins a hunting party to take part in a centuries-old culinary tradition.
The best turtle hunting anywhere, I'd been told, was down this one road—"can't miss it"—in that far southwest outback of Virginia where the state resembles a wood planer peeling Kentucky off from Tennessee. One of the few champions of the almost extinct practice is Ricky Crouch, a logger whose South Carolina twang is music to my ears (I'm from there, too). But his directions, translated through crummy cell reception, ended up on paper as: "Past a gas station, out of business, a road goes off there, left, right, the one-lane bridge, and careful there's a rise where the road goes to gravel and it looks like you're going to drive off the earth." And finally, before he hung up: "Don't worry, just get there and I'll find you."
Somehow I did find that terrifying rise, then down Dean Hollow Road, past the Dean Cemetery, where I met Buster Dean, who's been hosting a turtle hunt at his farm for decades now. Crouch and assorted relatives and friends all gather here in this isolated little valley every July Fourth because they love the taste of snapping turtle and the intrigue of the hunt. They practice a style of turtle hunting that easily dates to before the Civil War and back to the very mists of the nation's founding.
I wanted to find out what had happened to turtle soup, which was among the most sought-after and popular dishes in all of American history. Accounts in the 18th and 19th centuries of massive parties known as "turtle frolics" suggest they were more popular than hog barbecues and oyster roasts, with descriptions of servants bearing three-foot-long upturned turtle shells filled with hot turtle stew for large crowds. No early cookbook lacked a recipe for turtle, terrapin, or snapper stew—made from sea turtle, snapping turtle, box turtle, or diamondback terrapin, all of which, in Southern slang, became "cooter" in the pot. But some 50 years ago, turtle soup disappeared and, to most palates, now seems almost improbable verging on unacceptable. What happened?
That was my question, and through a convoluted set of connections, I had been introduced to Ricky, who had told me right off that "ain't nothing like catching a big cooter and ain't nothing like eating one" and then invited me to join his July Fourth crew. So I packed my rubber boots.
"Look how nice Buster done scraped out the cow dung," Ricky's father, Bud, said to me the night before the hunt, as folks started hauling in their gear to Buster's open-air cowshed, where they'd sleep. A five-foot-high pile of meadow muffins—days old, so no smell—marked the entrance. It was threatening to rain, so the assembled crew—a mixed-race group ranging from Ricky's five-year-old grandson Landon to 78-year-old Bud—all gathered inside to get supper going, blow up those new air mattresses a foot thick, and tell some stories.
A retired cooter hunter, Frank Marshall, parked permanently in a portable easy chair, was there for the company and the moonshine. He asked me if I knew how to clean a turtle. I didn't. "Well," he said, "you grab him by the tail, and you take some tissue and wipe his butt. Now, he's clean." Laughter shook the shed wall, and all around, bullets of chaw blasted into the dust. According to legend, Ricky said, turtle is made up of a miscellany of meat, seven kinds—chicken, beef, lamb, goat, fish, pork, and shrimp. Bud piped up with the genesis story for my benefit: "They say that the Lord made the world in seven days, and he had a whole bunch of scraps left over. With those, he fashioned the cooter."
For centuries, the flavor was legendary, and, really, nothing said American democracy like turtle. The poor man could often find a few slow-moving specimens hanging out at the backyard well, even as the privileged man sought out its refined flavor. Two days after voting for independence in Philadelphia, on July 4, 1776, John Adams celebrated with a bowl of turtle soup; when the war was over, George Washington met with his officers at Fraunces Tavern in lower Manhattan for a farewell frolic; and Lincoln celebrated his second inaugural with terrapin stew. Before Aaron Burr murdered Alexander Hamilton, both were members of the elite Hoboken Turtle Club.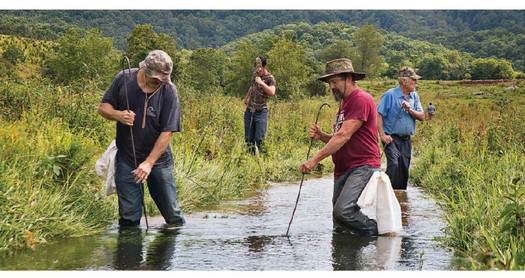 You can read up to 3 premium stories before you subscribe to Magzter GOLD
Log in, if you are already a subscriber
Get unlimited access to thousands of curated premium stories, newspapers and 5,000+ magazines
READ THE ENTIRE ISSUE
November 2015