The Future Is Now
Xbox: The Official Magazine
|
September 2019
CYBERPUNK 2077 IS SET TO BE THE MOST EXCITING GAME OF THE COMING YEAR. OXM WENT DEEP WITH CD PROJEKT RED'S FIRST-PERSON SCI-FI RPG, AND OVER THE NEXT FEW PAGES WE BRING YOU EVERYTHING YOU NEED TO KNOW ABOUT EVERYONE'S MOST-WANTED GAME
Every time we're treated to some new information about Cyberpunk 2077 or see the game in action, we invariably get more excited about it. And it's not hard to see why, given that it's tapping into our innate desire to venture into a world in which we can live out our ultimate cyberpunk fantasy. The mere thought of wandering the streets of Night City and basking in its neon glow is enough to make us go haywire with excitement.
Top it off with the fact that it's going to star one of the nicest people on the planet – we are, of course, referring to the rather breathtaking Keanu Reeves. But despite its impressive cast, we've played games inspired by the cyberpunk genre before – so what is it that makes this any different? The simple answer is that it's being developed by one of the most talented triple-A development studios around. CD Projekt Red is renowned for creating games that are rich in both narrative and design, such as The Witcher 3: Wild Hunt, and it's the studio's approach to story-telling that leads us to expect this game will be nothing short of spectacular.
Our dream, when it comes to Cyberpunk 2077, is to be able to immerse ourselves within its world, a dream that the developers also seem to share. It's one of the main reasons they're utilising a first-person perspective, as opposed to third-person which they used in the Witcher series. "Observing the world through the eyes of [your character] V enables this feeling of scale that, I think, is unavailable in third-person," explains story director, Marcin Blacha. "Imagine standing next to a skyscraper and looking up as opposed to 'looking up' by moving the camera to show the sky in third-person. There is a visible difference. Also, a first-person perspective is closer to how we perceive the world naturally, hence it's easier to 'forget it's a game'".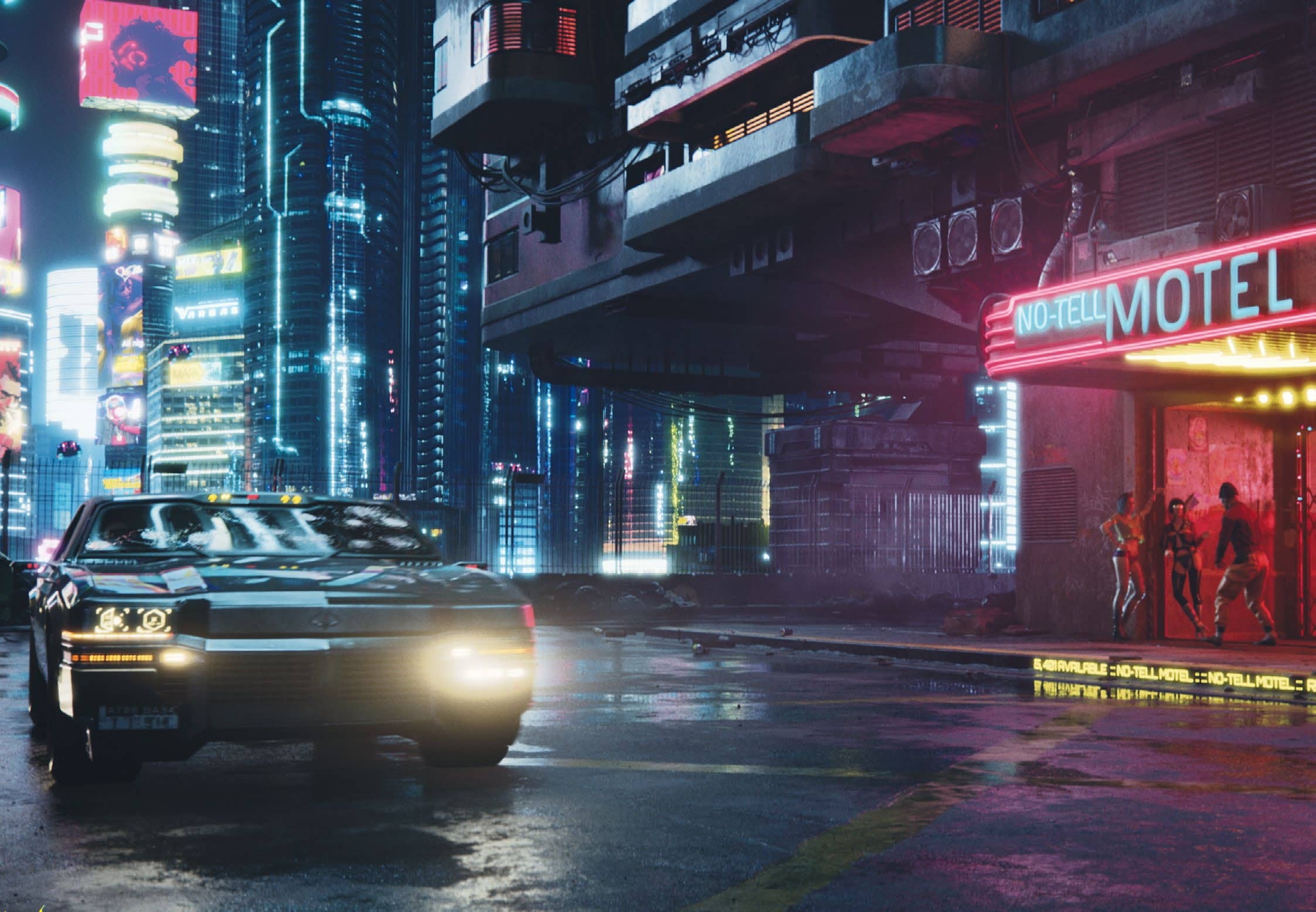 But it's not just about how we see the world but how we interact with it that's important. Thankfully CD Projekt Red has done several things to cover that, too. A key component is player agency. "We try very hard for the players to always have a say in what's going on," says Blacha. "We do that either through using dialogue to influence the situation, or by simply giving players the freedom to move or look around during dialogue or cutscenes. Also, we try to never break immersion - in the 2018 demo, remember how we connected to the woman in the bathtub? Information was presented directly on the cornea. If you don't use fast-travel, there are no loading screens, too. Finally, there's character creation, where we plan to give you options to create the V you can say is yours. From choosing a body type, to facial features, hairstyles, skin tone, voice — there's a lot there to play with."
At the start of the latest gameplay demo shown to the press at E3 this year, we saw the character customisation first-hand, which had changed its look since last year. We also received more information about the 'life paths' within the game: the Nomad, the Corporate and the Street Kid. These paths, or roles, will have a long lasting effect on your character and the overall story. For example, certain dialogue options will be made available to you, while others you may be locked out from, based on your choice. And, depending on which life path you choose, you'll start the game off in one of three different locations.
_ROLE_PLAYING
The choices and decisions allow for more attachment to your character but ultimately the extent to which you are immersed will all depend on how well the story is told. We know what the world and some of the characters look like and we have a good idea of how the game will play, but the one area about which we know very little is the story. There are some things, however, that were revealed in the latest gameplay demo, and other bits of information that can be gathered from Mike Pondsmith's original pen-and-paper RPG, Cyberpunk 2020, that gives us an opportunity to surmise what might happen in the game.
You can read up to 3 premium stories before you subscribe to Magzter GOLD
Log in, if you are already a subscriber
Get unlimited access to thousands of curated premium stories, newspapers and 5,000+ magazines
READ THE ENTIRE ISSUE
September 2019