Now Playing - Fortnitemares
Xbox: The Official Magazine
|
Christmas 2018
With the Halloween-time return of the Fortnitemares event, we delve back into Fortnite Save The World to see what's new.
It's Halloween as we're writing this, so what better time to dive back into Fortnite's Save The World, whose Fortnitemares event returns to throw spookiness into the PvE zombie survival mix. Oh wait, what? You don't play Save The World? You only play Battle Royale? Well, sunshine, you're missing out on one of the best and most enjoyable co-operative shooters going.
Fortnite has itself had a truly phenomenal year with Battle Royale hitting record numbers for concurrent online players, and catching the zeitgeist with everyone either playing it, or condemning it as the new evil corrupting our youth. Back in August, almost a year after the Battle Royale mode's launch, Epic claimed 78.3 million players glided onto its island across all six platforms. That's nuts.
But, in case you didn't know, Fortnite started out as an early access PvE game called Save The World in July 2017… when this writer first got on board (yes, I've got the Founders Umbrella in BR, nah nah na-nah). And, to this day, I prefer Save The World to Battle Royale. Which in any case, ask any teenager, is now "dead". That's 'dead' as in possibly not quite as cool any more, although it's still clearly doing the business.
Let me explain this to the uninitiated. In Save The World, across a number of modes and events, you defend a target – for example, an Atlas storm-shrinking machine – against hordes of zombies, known as the Husk, who are materialising out of an apocalyptic storm.
To this end, you're smashing stuff up, mining for resources with your pickaxe, crafting weapons and traps and putting up your Fort around the thing you're protecting. Sound familiar? It should, it's the basis of BR right down to its pickaxe handle.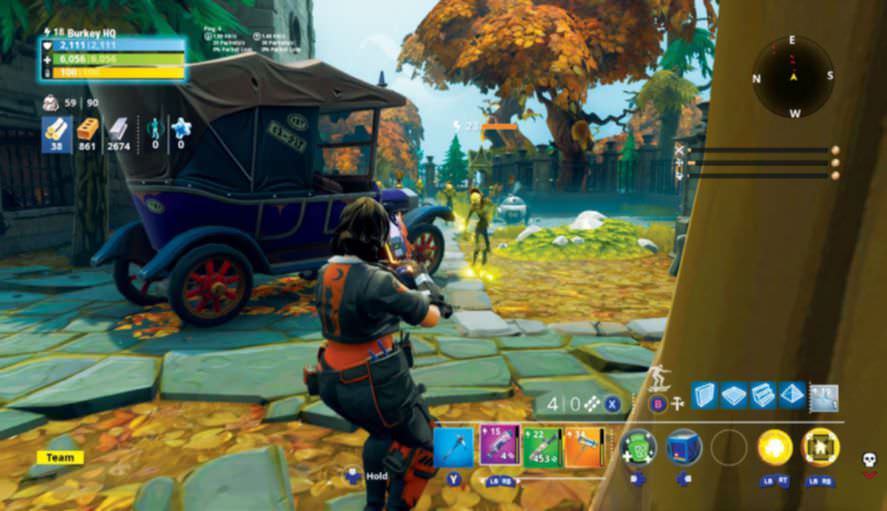 You can read up to 3 premium stories before you subscribe to Magzter GOLD
Log in, if you are already a subscriber
Get unlimited access to thousands of curated premium stories, newspapers and 5,000+ magazines
READ THE ENTIRE ISSUE
Christmas 2018