OnePlus 8 Pro: A great phone that's no longer a great value
PCWorld|June 2020
OnePlus used to give you a lot for the money. Now it just gives you a lot.
The OnePlus 8 Pro ushers in a bunch of firsts for the humble Android phone maker. It's the first OnePlus display with a hole-punch camera and a 120Hz refresh rate. It's the first OnePlus phone with wireless charging and a quad-camera. It's the first time OnePlus has made Wi-Fi 6 and 5G standard. Heck, it's even the first OnePlus phone with IP-rated water resistance.
It's also the first OnePlus handset to top a thousand bucks (with tax), more than three times the cost of the original OnePlus One. To be fair, things have changed quite a bit since 2014, when Samsung's flagship Galaxy S5 cost just $650 off-contract. But even though OnePlus can claim the 8 Pro costs $300 less than the closest apples-to-apples comparison Galaxy phone, a four-figure sticker price is still much more shocking on a OnePlus phone than a Samsung one.
While the 8 Pro is a fantastic phone that continues to shine a light on just how expensive premium Android phones have become, the light is less illuminative this time around. By throwing out its own playbook to give die-hard fans everything they wanted, the OnePlus 8 Pro has joined the ranks of the phones it was supposed to undercut.
DESIGN: BIG AND BEAUTIFUL
The design of the OnePlus 8 Pro doesn't deviate much from that of its predecessor, the OnePlus 7 Pro. Its dimensions are a touch bigger, and it's a bit lighter (199 grams vs. 210 grams) and thinner (8.5mm vs. 8.8mm). There's one noticeable deviation: The curved display now has a hole in the upper left corner for the selfie cam, rather than the delightful pop-up cam introduced on the 7 Pro.
It's probably for the best that OnePlus removed the moving and inherently breakable parts, but I'd be lying if I didn't say I missed it. The pop-up selfie cam might have been a little gimmicky, but it gave the 7 Pro a unique feature that set it apart from other premium Android phones. The hole-punch camera gives it a sameness that makes it feel less special, amplified by the fact that the bezels haven't really shrunk much either.
But while the overall look may be a little on the safe side, the OnePlus 8 Pro is still a very nice phone. My chief complaint is the rather bulbous camera bump, which is once again centered and vertical but noticeably thicker, making the OnePlus 8 Pro all but impossible to use on a flat surface. It's better with one of OnePlus's bumper cases, but with such a beautiful, fingerprint repelling frosted glass finish in Ultramarine Blue or Glacial Green, you won't want to cover it with a slab of silicone.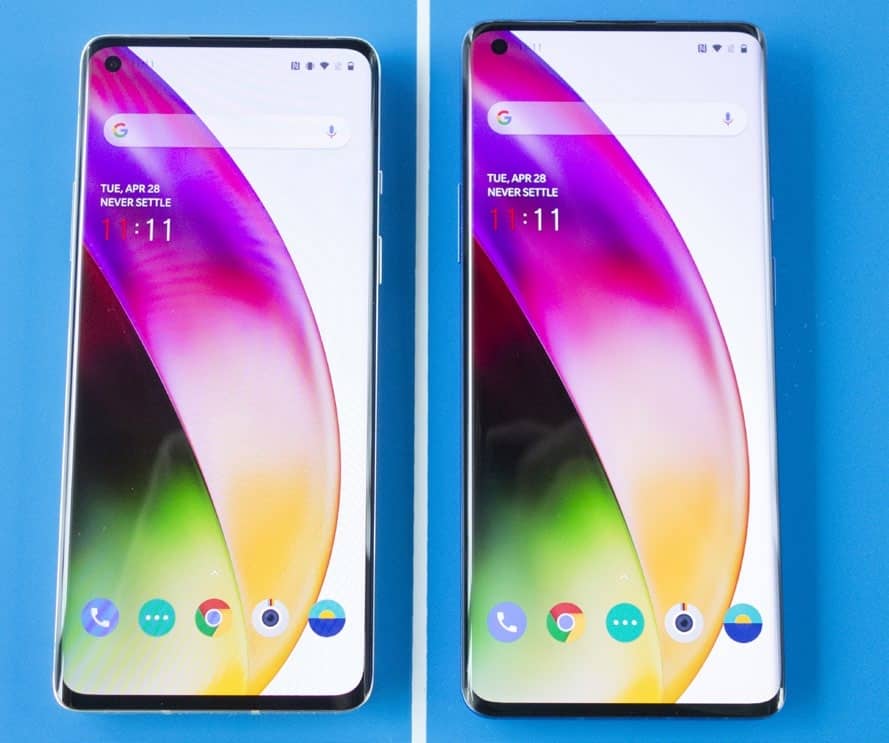 DISPLAY: PIXEL PERFECTION
While there are plenty of "pro" components inside the OnePlus 8 Pro, none of them matter more than the display. OnePlus isn't often at the forefront of screen tech—its first OLED screen didn't arrive until late 2015, in fact— but the Fluid Display on the 8 Pro is on the absolute cutting edge of smartphone screen tech, belying the seemingly minor spec-sheet improvements over the 7 Pro:
OnePlus 7 Pro: 6.67-inch 3120x1440, 516 ppi, 19.5:9, 90Hz refresh rate
OnePlus 8 Pro: 6.78-inch 3168x1440, 513 ppi, 19.8:9, 120Hz refresh rate
You can read up to 3 premium stories before you subscribe to Magzter GOLD
Log in, if you are already a subscriber
Get unlimited access to thousands of curated premium stories and 5,000+ magazines
READ THE ENTIRE ISSUE
June 2020