Lenovo Yoga C640: The battery life blows us away
Leave the AC adapter at home.
At first glance, it's easy to dismiss this particular model of Lenovo's Yoga C640, a Best Buy exclusive with a relatively anemic dual-core i3 Comet Lake CPU, a puny 128GB SSD, and a $600 price tag. That said, this sleek convertible (officially the Yoga C640-13IML) has an ace up its sleeve: a beefy battery that just goes, and goes, and goes.
While this made-for-Best Buy system isn't a great pick for users looking to process 4K videos or crunch big numbers (there are other Yoga C640 configurations better suited for such CPU-intensive tasks), it could be a great fit for users looking for a versatile 2-in-1 that can go all day long without an AC cord.
SPECS AND FEATURES
Lenovo offers three versions of the Yoga C640-13IML (go.pcworld.com/3vrs; we'll just call it the Yoga C640 from here on out) on its website, including an $850 version (or $770 after discounts) with a 10th-gen Core i5-10210U processor, 8GB of DDR4 RAM, and a 256GB solid-state drive, and a $1,000 model ($910 with rebates) with the same RAM and SSD but an upgraded i7-10510U CPU. There's also a $1,050 configuration that ups the RAM on the Core i7 version to 16GB. All three models come with the same touch-enabled 13.3-inch Full-HD IPS display.
Our review version (81UE000WUS) of the Yoga C640-13IML isn't listed on Lenovo's website; instead, it's a $600 Best Buy exclusive (go.pcworld.com/600x) that's considerably less expensive (and, consequently, less powerful) than the other three models.
Here are the details:
CPU: Dual-core Intel Core i3-10110U (Comet Lake)
Memory: 8GB DDR4
Graphics: Integrated Intel UHD Graphics
Storage: 128GB SSD
Display: 13.3-inch 1920x1080 IPS, touch-enabled
Webcam: 720p, dual-array microphone, physical camera shutter
Connectivity: One SuperSpeed USB 5Gbps (formerly known as USB 3.2 Gen 1) Type-C port, two SuperSpeed USB 5Gbps (formerly known as USB 3.2 Gen 1) Type-A ports, combo audio jack
Networking: Wi-Fi 5 (802.11ac)
Biometrics: Fingerprint reader
Battery capacity: 60 Watt-hour
Dimensions: 12 x 8.1 x 0.7 inches
Weight: 2.88 pounds (3.22 pounds with AC adapter)
Overall, this is a typical configuration that we see in budget laptops. The dual-core 10th-gen Comet Lake Core i3 CPU is perfectly capable of everyday computing tasks such as web browsing, Office, and light photo editing, although it'll start to chug when it comes to demanding multi-core operations like video processing or crunching databases. The 8GB of RAM offers a decent amount of headroom for multitasking or juggling multiple browser tabs.
The 128GB SSD will get cramped awfully fast. Once you take into account Windows 10 and other apps pre-loaded onto the C640, the drive only has about 77GB of free space left. If you store a lot locally, you might want to invest in an external hard drive or cloud storage.
Physically, the 0.7 inch-thick and 2.88pound C640 is about the same size and weight as other 2-in-1 systems in its class. The fingerprint reader is always a nice bonus. While Wi-Fi 5 networking is standard for laptops in this price range, just remember that you won't be able to take advantage of the enhanced speed and efficiency features offered by cutting-edge Wi-Fi 6 routers.
We've left the best for last, though: namely, the Yoga C640's 60 Watt-hour battery, which bodes well when it comes to battery life. Later on, we'll put the battery to the test and see whether it lives up to its promise.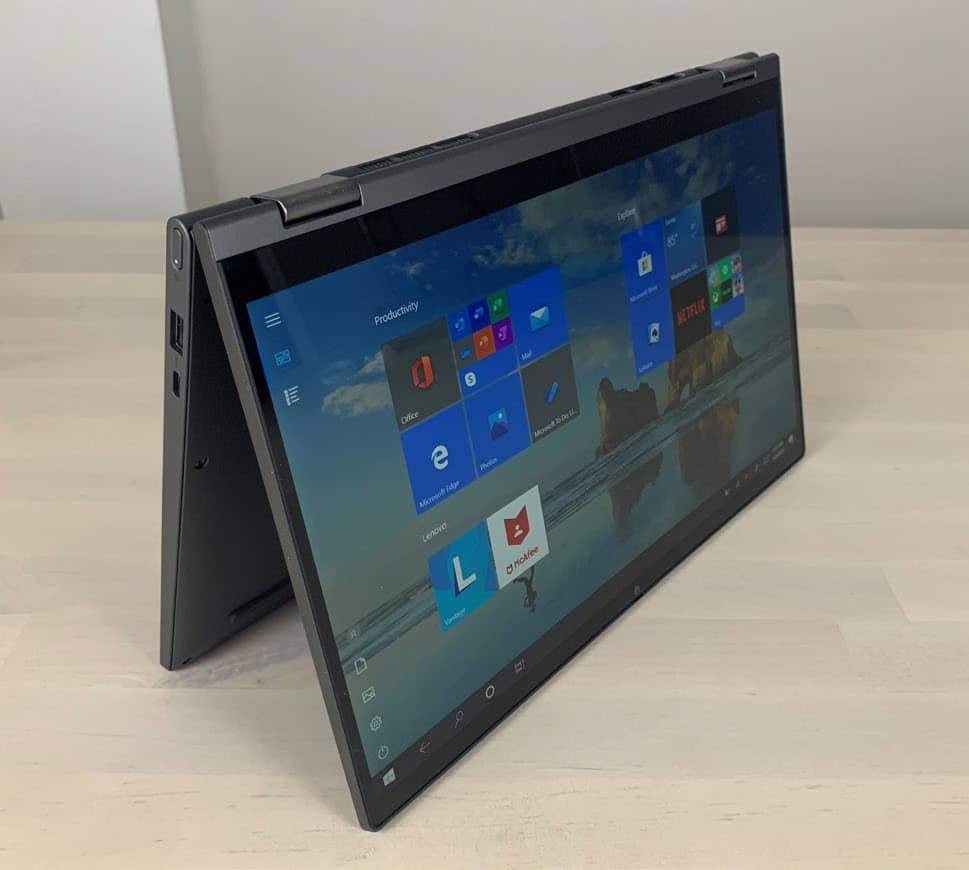 The 2-in-1 design lets you swivel the display all the way around for tablet use, tent it on a tabletop, or sit it keyboard-down with the screen tilted up.
DESIGN
The Lenovo Yoga C640 boasts the same overall design scheme as Lenovo's other Yoga models, including its angled front edge, flat sides, and the signature Yoga 360-degree hinge. Thanks to the hinge, you can swivel the display all the way around and use the C640 as a tablet, tent it on a desk or tabletop, or sit it keyboard-down with the display angled up for kiosk mode.
The C640's sandblasted aluminum shell did a nice job of resisting fingerprints, although I could also spot faint greasy hand smudges here and there. While the C640's flat, nearly featureless lid (save for the Yoga logo) feels smooth to the touch, the bottom half of the chassis has a slightly rubberized feel, which helps to keep the laptop from slipping out of your hand.
A couple of other design features worth mentioning include the Yoga C640's power button, which sits on the right side of the laptop near the hinge, a position that makes it tough to press by accident.
Also worthy of note is the "TrueBlock" privacy shutter for the 720p webcam sitting in the display's top bezel. The shutter is so subtle that it's easy to miss, and it doesn't offer any visual cues whether it's open or shut. That said, the shutter is easy to slide (I had a much tougher time dealing with the shutter on the Yoga C640's pricier cousin, the Yoga C740 [go. pcworld.com/c740]), and given this laptop's budget price range, it's a rare treat to get a webcam shutter at all.

DISPLAY
Any budget laptop display whose brightness measures north of 250 nits (or candelas) is a plus in our book. All too often, we see bargain laptops with screens that can't even hit that low-water mark.
You can read up to 3 premium stories before you subscribe to Magzter GOLD
Log in, if you are already a subscriber
Get unlimited access to thousands of curated premium stories, newspapers and 5,000+ magazines
READ THE ENTIRE ISSUE
August 2020