Intel Launches 10th-Gen 'Ice Lake' Chips, Pushing Hard On Graphics For Notebook PCs
If you already own a Matebook or Matebook Pro, or are eyeing one on Amazon, here's what you need to know
Intel's eleven new Ice Lake chips are betting big on graphics. Intel claims that its new 10th-gen Core family, launched at the start of August, will offer the best integrated graphics experience of any thin-and-light notebook PC—about equaling what some discrete chips offer in PCWorld tests.
Intel began setting up Ice Lake expectations in May (go.pcworld.com/icla), positioning its first mass-market 10nm parts as improvements for the notebook PC as a whole, including AI, communications, and I/O. The overarching message is "new": a new process technology, a new CPU core, and a new graphics engine, along with "new" advancements in communications and I/O.
Here are Intel's mobile Ice Lake chips, in a nutshell: 11 processors, most sporting 4 cores and 8 threads, in either a 9W, 15W, or 28W power tier. Base frequencies begin at 700MHz and climb to 2.3GHz, while single-clock turbo frequencies top out at 4.1GHz. Graphics frequencies will hover right around 1GHz, with 32, 48, and 64 EUs differentiating performance. We also have real-world testing data (go.pcworld.com/ilpf) to demonstrate how Ice Lake delivers graphic performance on a par with the lowest tier of discrete GPUs.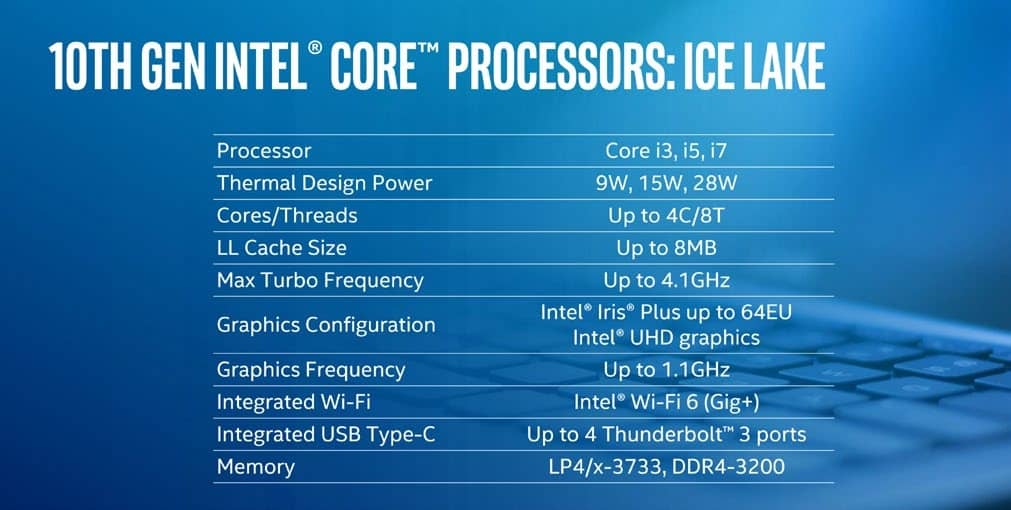 A bit of sticker shock, however, may affect how some perceive Ice Lake. Most 10th-gen
Ice Lake base clock speeds fall short of their existing 8th-gen Whiskey Lake counterparts. Some of the new Ice Lake low-power chips offer base clocks of less than 1GHz. Versions of Ice Lake designed for tablets now consume 9 watts, rather than the 5 watts of their predecessors, Amber Lake.
Intel says that more than 35 notebooks built around Ice Lake microprocessors will be sold alongside existing Whiskey Lake and Amber Lake notebooks, beginning this holiday season. There's still more to come: Intel's next microprocessor disclosure will be made in the second half of August, where the "second part of our mobile family" will target "high-frequency applications" and form the foundation for Intel's commercial offerings, said Ran Senderowitz, vice president of mobile platform marketing for Intel's Client Computing Group.
Will that be Intel's next-gen Tiger Lake chip (go.pcworld.com/tgcp), due in 2020? Or the Comet Lake chip (go.pcworld.com/ comt) that was part of a recent leaked roadmap? Things are getting messy.
HOW TO READ INTEL'S NEW ICE LAKE MODEL NUMBERS Intel is promising to ship new products to every PC segment over the next 12 months— nothing particularly new, as product refreshes occur throughout the year. But with a mixture of 14nm and the new 10nm products co-existing in the market, things may get confusing—especially with Qualcomm's Snapdragon 8cx (go.pcworld.com/qs8c) and AMD's third-gen mobile Ryzen (go.pcworld. com/rchp) chips also in play.
Before you can parse Intel's new Ice Lake products, however, you'll need to describe them—and yes, Intel has a new model number scheme, too.
You can read up to 3 premium stories before you subscribe to Magzter GOLD
Log in, if you are already a subscriber
Get unlimited access to thousands of curated premium stories, newspapers and 5,000+ magazines
READ THE ENTIRE ISSUE
September 2019