Intel 10th Gen: The Core i9-10900K is indeed the world's fastest gaming CPU
PCWorld|July 2020
Intel's 10th-gen Comet Lake S CPUs don't take the crown in multi-core performance but they close the gap enough that you may want to consider them.
I
ntel's 10th-gen Core i9-10900K is—without a doubt—exactly as Intel has described it: "the world's fastest gaming CPU."
Intel's problem has been weaknesses outside of gaming, and its overall performance value compared to AMD's Ryzen 3000 chips. With the Core i9-10900K, Intel doesn't appear to be eliminating that gap, but it could get close enough that you might not care.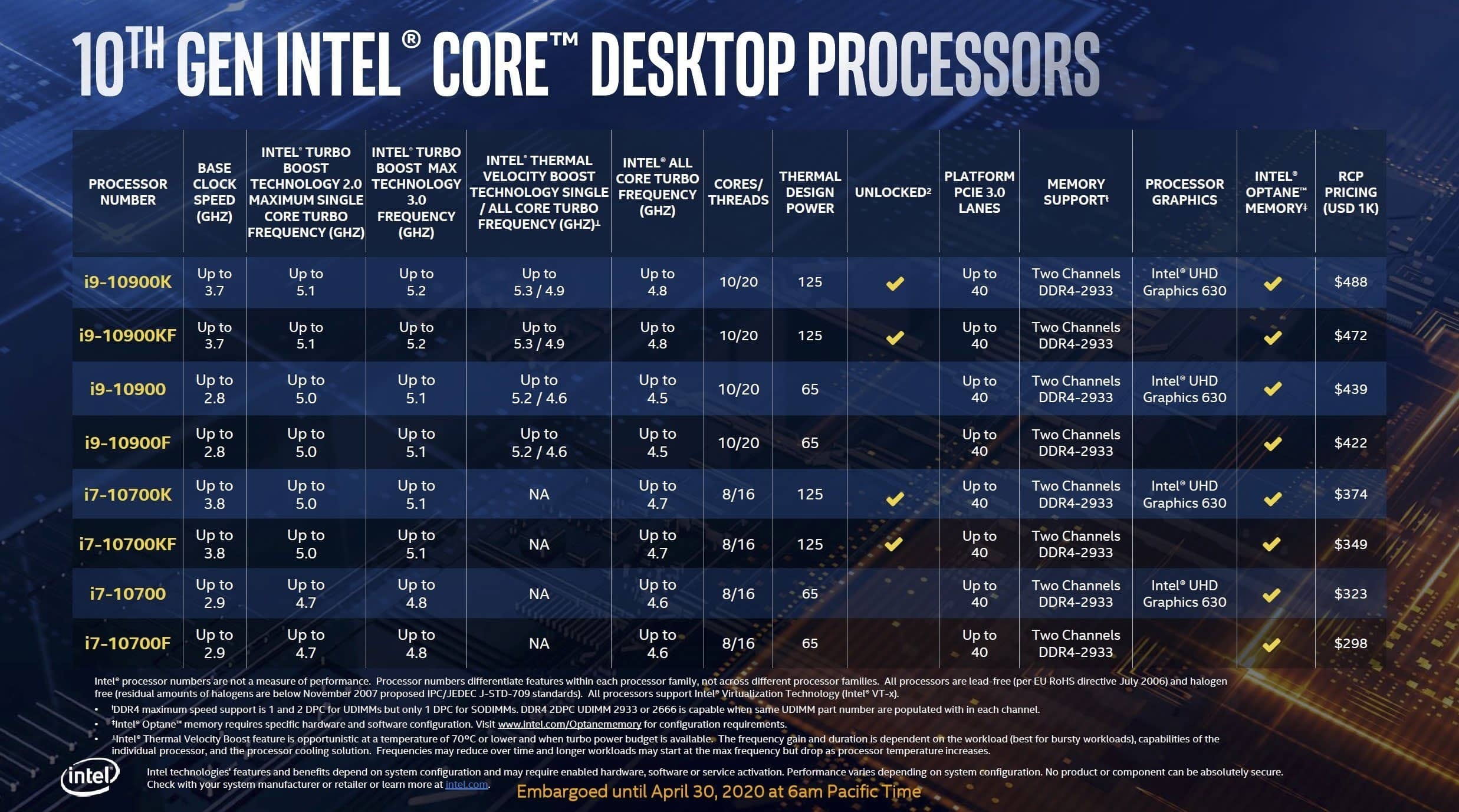 WHAT IS CORE I9-10900K?
Despite its 10th-gen naming, Intel's newest desktop chips continue to be built on the company's aging 14nm process. How old is it? It was first used with the 5th-gen Core i7-5775C desktop chip from 2015 (go. pcworld.com/575c). Many tricks, optimizations, and much binning later, we have the flagship consumer Core i9-10900K, announced April 30 (go.pcworld.com/109k). The CPU features 10 cores and HyperThreading for a total of 20 threads, with a list price of $488.
The Core i9-10900K does bring a few changes. Intel officials said the chip uses a thinner die and thinner solder thermal interface material (STIM) to improve thermal dissipation. Intel also had to make a thicker heat spreader (that little metal lid to keep you from crushing the delicate die).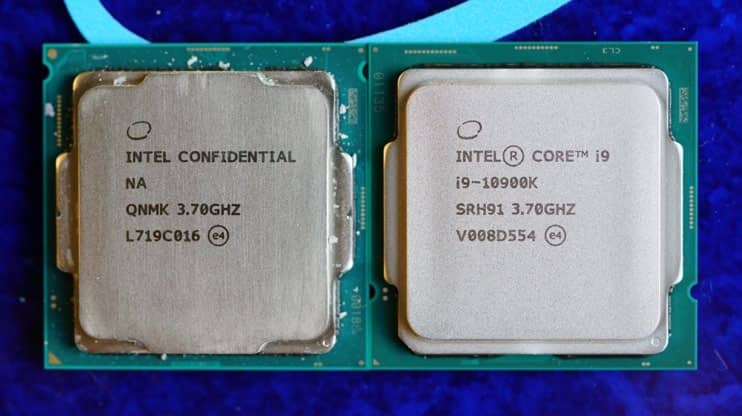 A 10th-gen Core i9-10900K (right) next to an 8th-gen Core i7-8700K (left). There are subtle differences in the "wings" that the load plate clamps onto, and the notches in the substrate are on opposite corners.
Why make the die and STIM thinner, but the heat spreader thicker? The reason is cost. Intel said it had to keep the height of the heat spreader on all of its CPUs the same so they'd be compatible with existing cooling hardware. Intel officials did say the materials used for the heat spreader help compensate for that compromise, so overall the new chip is better at power dissipation.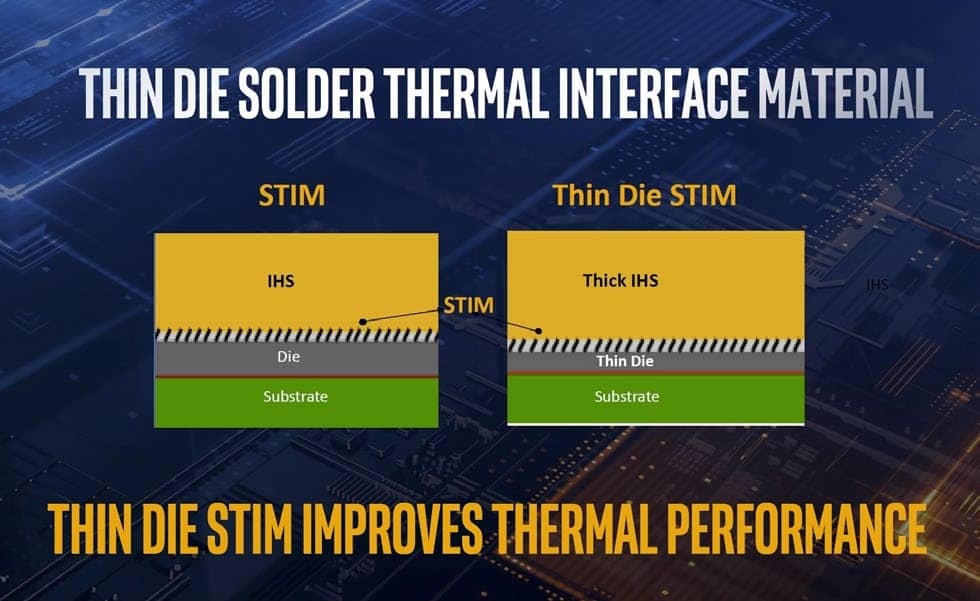 The 10th-gen Comet Lake S CPUs feature a thinner die and thermal interface material, plus a thicker heat spreader to help improve heat dissipation.
A NEW SOCKET?!
It's true: Intel's new 10th-gen CPUs bring with them a new LGA1200 socket that is—of course— incompatible with the previous 9th-gen CPUs. Intel took flack for introducing a new chipset with its 8th-gen desktop chips that was incompatible with the previous generation, so you can understand the anger for those who just want to upgrade the CPU, not also the motherboard.
The LGA1200 socket and new Z490 don't seem to change much. You still install the CPU almost the same way, and if you have an existing LGA1151 cooler, it'll still fit. Sadly, rumors of PCIe 4.0 on the X490 proved untrue, leaving Intel at a disadvantage compared to Ryzen 3000 chips that have the faster interface for SSDs and GPUs.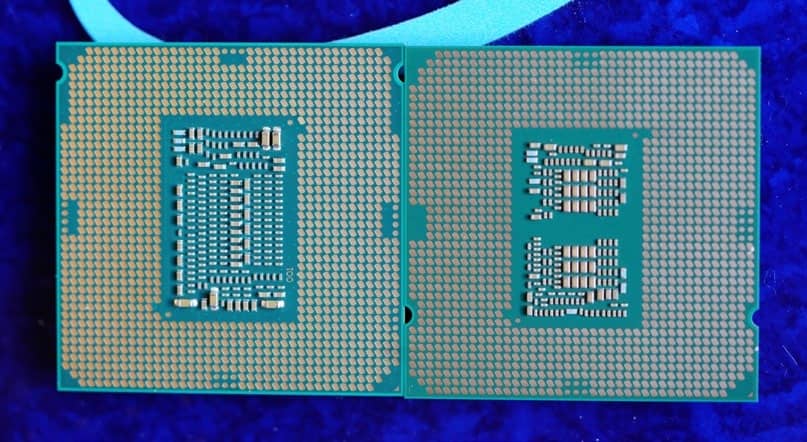 The backside of an LGA1151 8th-gen Core i7-8700K (left), and an LGA1200 10th-gen Core i7-10900K (right).
HOW WE TESTED
For this review, we stick with Intel's flagship, the $488 Core i9-10900K. Its natural competitor is AMD's Ryzen 9 3900X with 12 cores and 24 threads. Its list price is $499, but its street price as of this writing is actually more like $410 on Amazon (go.pcworld. com/r3am). The Ryzen 9 3900X comes with a decent air cooler, too.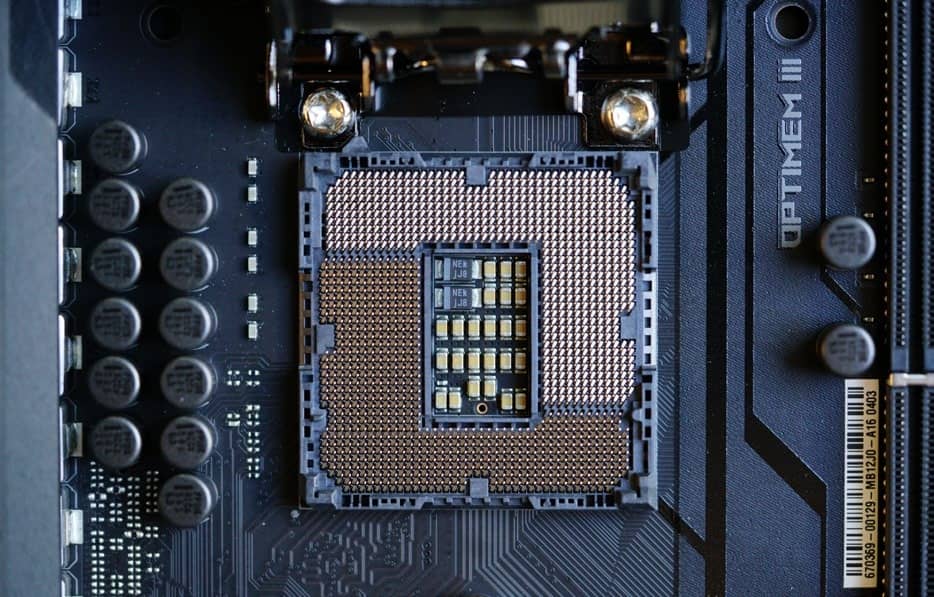 A new LGA1200 socket is required to run a 10th-gen Comet Lake S CPU.
The only other CPU we'd compare would be the Ryzen 9 3950X, but with a street price of $720 on Amazon (go. pcworld.com/395x; as of this writing) the math doesn't work. So we'll stick with the 12-core Ryzen 9 3900X. It was tested on an MSI X570 MEG Godlike with 16GB of DDR4/3600 in dual-channel mode. We typically use the same SSD on all platforms, but we feel that's unfair to AMD, which can run PCIe 4, so we used a Corsair MP600 PCIe 4.0 drive.
For the Core i9-10900K, we used an Asus ROG Maximus VII Extreme board with 16GB of DDR4/3200 in dual-channel mode and a Samsung 960P SSD.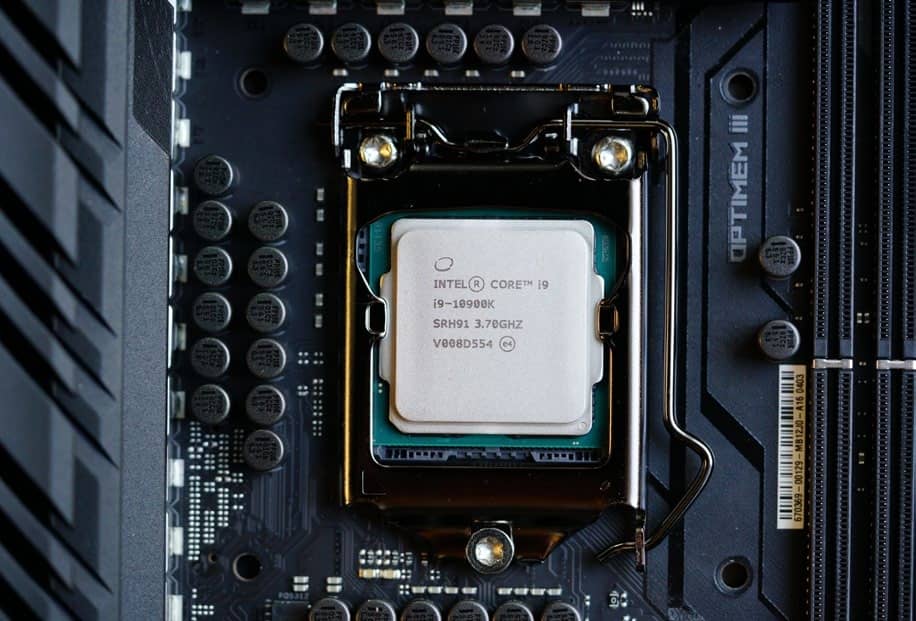 The 10th-gen Core i9-10900K sits in the LGA1200 socket of an Asus ROG Maximus Extreme VII.
Both systems used Windows 10 1909, identical GeForce RTX 2080 Ti Founders Edition cards, and NZXT Kraken X62 coolers with fans set to 100 percent. Both boards were run open-case, with matching desk fans blowing cool air directly onto the graphics cards and the boards' socket area. All systems used the same drivers, the latest UEFI's, and the latest Windows security updates.
Due to time and other constraints, we ran the boards with MCE and PBO set to Auto, and 2nd-level XMP and AMP profiles selected. While these factory settings are beyond what is stock, we think it's close to what a consumer will see out of the box.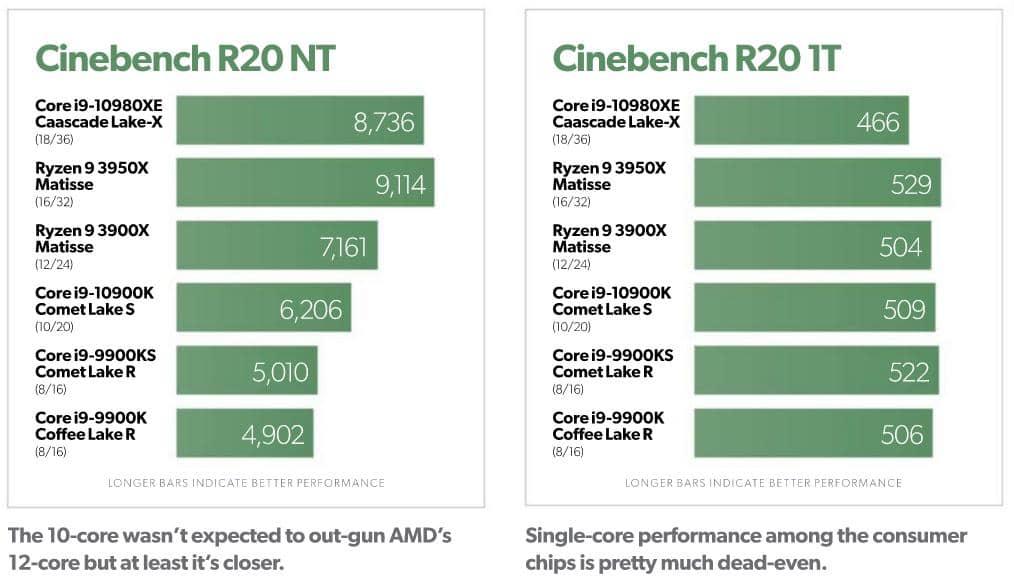 RENDERING PERFORMANCE
We'll kick this off where we normally do: Maxon's Cinebench R20. It's a 3D modelling test built on the company's Cinema4D engine, and it's integrated into such products as Adobe After Effects. Like most 3D modelling apps, more cores and more threads typically yield more performance.
Our results for the Core i9-10900K and Ryzen 9 3900X are fresh, but we decided to sprinkle in results from previous reviews for more context. Although those older results are not using the latest version of Windows, Cinebench is very reliable. The R20 version uses AVX2 and AVX512 and takes about three times as long to run as the older R15 version. That means any boost performance should matter less.
You can read up to 3 premium stories before you subscribe to Magzter GOLD
Log in, if you are already a subscriber
Get unlimited access to thousands of curated premium stories and 5,000+ magazines
READ THE ENTIRE ISSUE
July 2020