IS UPGRADING A LAPTOP'S SSD AND RAM WORTH IT? WE TRY IT IN THE DELL INSPIRON 15 7000
PCWorld|June 2020
GETTING INSIDE IS URPRISINGLY EASY.
Is it worth it to upgrade a laptop's RAM or storage? We had a chance to find out when Dell asked us to test the upgradability of its Inspiron 15 7000.
I admit that as I faced this challenge, I started sweating. Panic-sweating. In my experience, upgrading a laptop is never a fun time. Cracking the case open feels borderline illegal, and once you're inside you find a maze of tiny screws, tiny parts, tiny wires—like disarming a bomb built for ants. Many laptops don't want to be opened, hiding the screws or voiding the warranty if you dare.
Imagine my surprise when I found the Inspiron 15 7000 almost...friendly? Getting inside still feels a bit illicit, but it was pretty easy to do. Was it worth it? We ran benchmarks to find out.
BUILDING A BETTER LAPTOP
The Inspiron 15 7000 is a good candidate for upgrades, because no single configuration is perfect. The model Dell sent over is the top-of-the-line Inspiron 15 7000 Model 7591 (currently $1,050 on Dell.com (go.pcworld. com/md75)), a humble little machine that packs an Intel Core i7-9750H, an Nvidia GeForce GTX 1050, a 512GB M.2 SSD, and 8GB of DDR4 RAM.
It's a strange machine, for sure. At just over $1,000, the Inspiron 15 7000 still feels a bit overpriced—blame the Core i7 processor and that generous 512GB of storage. But only 8GB of RAM? Meanwhile, the cheaper $900 model (go.pcworld.com/i593) touts a Core i5-9300H and Intel UHD 630 graphics, but 16GB of RAM.
What's an enterprising buyer to do if they want a Core i7-9750H and 16GB of RAM to go with it? You do it yourself, of course.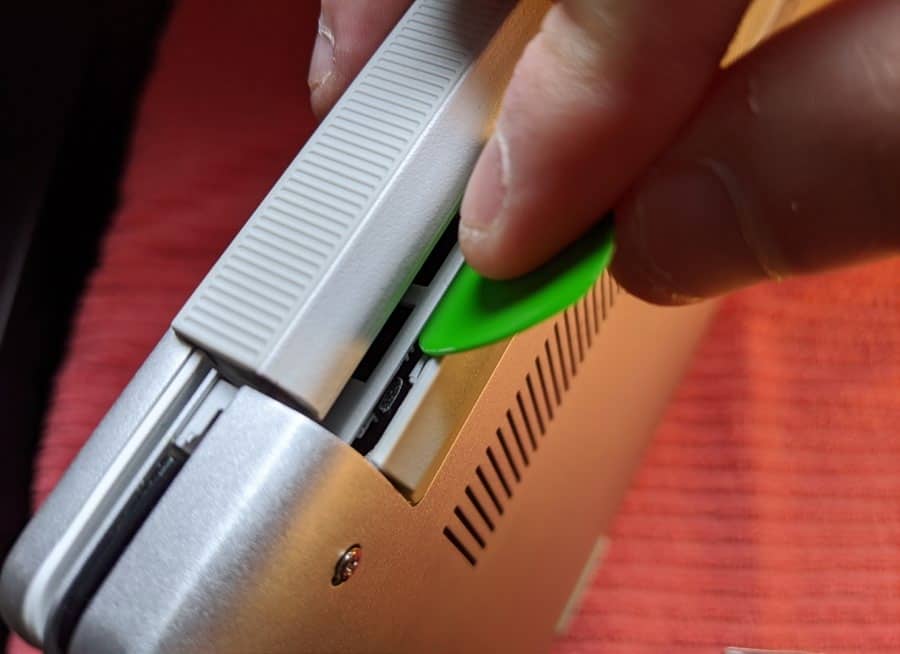 CRACKING THE CASE
The Inspiron 15 7000 is held together by eight screws, all very visible on the bottom of the machine. The three along the hinge side are "captive," meaning they're not meant to come out of the lid. After turning them a bit, you'll hear a pop as the threads snap back into place. Stop turning! They're "out," even if it's difficult to tell.
Captive screws help separate the bottom panel from the rest of the chassis. Once you've loosened all three, you should notice the side with the hinges has already begun separating. All that's left is to loosen the five remaining screws. Keep a coffee cup nearby to stash them so they don't get lost.
Then, get ready to rock—by which I mean, find a guitar pick if you have one. A "spudger" is the correct tool for the job, but anything will do so long as it's thin, durable, and plastic. Starting from the existing gaps on the hinge side, run your plastic doohickey under the edges to pop the clips holding the bottom panel in place. This is the part that always feels illegal. Even after you've freed the edges you might notice the panel's still holding on. Give the captive screws one more twist if this happens. That's usually the culprit.
And voila, we're inside. From here, the hardest part is just deciphering all the various components.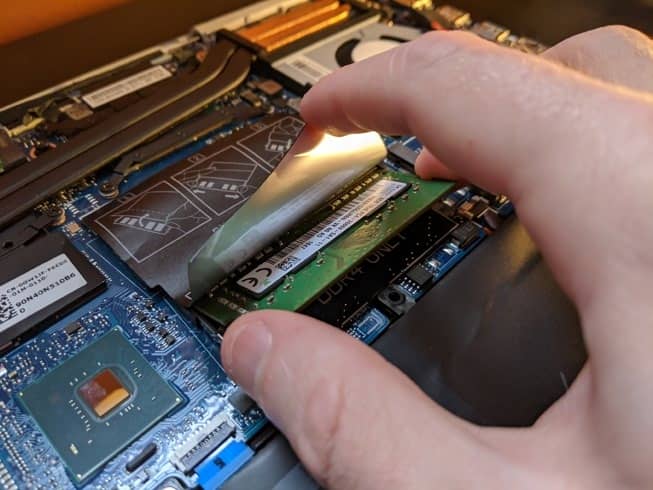 Luckily if you're here to swap RAM, Dell labeled everything for you. DIMM A and B are covered by a thin black sheet. Lift it up and you'll see the existing 8GB stick, which is easily freed by pressing down the little clips on either side. Line up your replacement RAM with the slot, press it in (firmly), then lower it until it clicks into place.
You can read up to 3 premium stories before you subscribe to Magzter GOLD
Log in, if you are already a subscriber
Get unlimited access to thousands of curated premium stories and 5,000+ magazines
READ THE ENTIRE ISSUE
June 2020