HP Pavilion x360 14m-dh0003dx: A sturdy 2-in-1 with dependable quad-core performance
PCWorldFebruary 2020
This sleek convertible laptop has what it takes in terms of day-to-day performance, although we wish it had a bigger battery.
The HP Pavilion x360 14 2-in-1 laptop comes in many flavors, and ours (14m-dh0003dx) should please productivity-minded professionals with its smooth quad-core performance and a keyboard that feels great. Given that it's $700 from Best Buy (go. pcworld.com/pvbb) before discounts (though we've recently spotted it for just $560), we would have liked a bit more battery life, though.
CONFIGURATION
HP offers a dizzying array of Pavilion x360 models in 11-, 14-, and 15-inch sizes, with the 14-inch configurations ranging from 8th-gen dual-core Intel Core i3 systems up to 10th-gen Core i7 quad-core Comet Lake CPUs. Here's what's under the hood of our middle-of-the-road 14-inch Pavilion x360 14m-dh0003dx):
CPU: Quad-core Intel Core i5-8265U
RAM: 8GB DDR4
GPU: Integrated Intel UHD Graphics 620
Display: 14-inch 1920 x 1080 IPS touchscreen
Storage: 128GB SSD
At first blush, we've got the makings of a solid productivity workhorse here, with a quad-core Core i5 Whiskey Lake CPU that should be able to breeze through most daily computing and Office tasks and tackle some CPU-intensive tasks, such as video processing and database work. The 8GB of RAM, typical for a laptop in this price range, should help smooth out multitasking kinks (although 16GB of RAM would be even better), and the full-HD IPS touchscreen should offer reasonably sharp resolution with solid viewing angles.
The 128GB solid-state drive is on the small side, however, leaving you with only about 90GB of storage once Windows, Office, and other miscellaneous apps and utilities are accounted for. Given the cramped SSD, you'd probably want to lean on cloud storage or an external drive.
A similar Pavilion x360 14 is officially $900 on HP.com (go.pcworld.com/14dh) with 12GB of RAM and a 256GB SSD, but only $590 with discounts as of press time.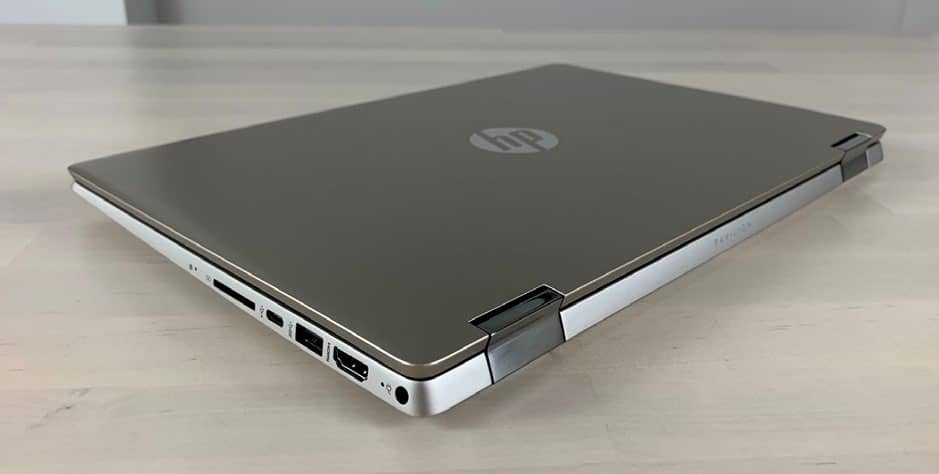 DESIGN
HP has been adding more and more snazzy design elements to its Pavilion x360 series. This particular 2-in-1 bears many of those hallmarks, particularly the "hourglass" edges that allow you to open the Pavilion from the front, left, or right sides, as well as the shiny aluminum trim and the matte lid stamped with the HP logo.
The 14-inch, 16:9 "micro-edge" display does indeed have reasonably thin bezels along the top and sides, although the bottom bezel is pretty chunky. Below the hinges sits an attractive, diamond-cut grille for the Bang & Olufsen speakers (more on them in a moment), along with the silver-colored palm rest and keyboard. An understated Pavilion logo sits near the bottom-left edge of the keyboard.
As a 2-in-1 system, the Pavilion x360's lid can swivel all the way around for tablet use. You can also tent the laptop on a desk, or place it keyboard-down with the display tilted back in kiosk mode. The Pavilion x360's reassuringly sturdy hinges did a solid job of keeping the lid in place, although the stiff motion of the lid means that opening the laptop requires a fair amount of effort.
One design element I didn't love on the Pavilion x360 was the power button on the left edge of the laptop, near the middle. More than once, I accidentally put the Pavilion to sleep by inadvertently pressing the button as I was moving the laptop on my desk. A smarter move would have been to position the button farther away from the middle—or, better yet, put it just above the keyboard on the inside, where you're much less likely to press it by accident.
Measuring 12.7 x 8.8 x 0.8 inches, the Pavilion x360 is reasonably thin for a convertible-style laptop. Weighing in at 3.62 pounds (or 4.19 if you include the power brick), the Pavilion feels a bit on the heavy side, and you'll definitely notice the weight when you're toting it around in a backpack.
DISPLAY
You can read up to 3 premium stories before you subscribe to Magzter GOLD
Log in, if you are already a subscriber
Get unlimited access to thousands of curated premium stories, newspapers and 5,000+ magazines
READ THE ENTIRE ISSUE
February 2020