Is the New Note Noteworthy? Not Quite
PC Magazine
|
September 2015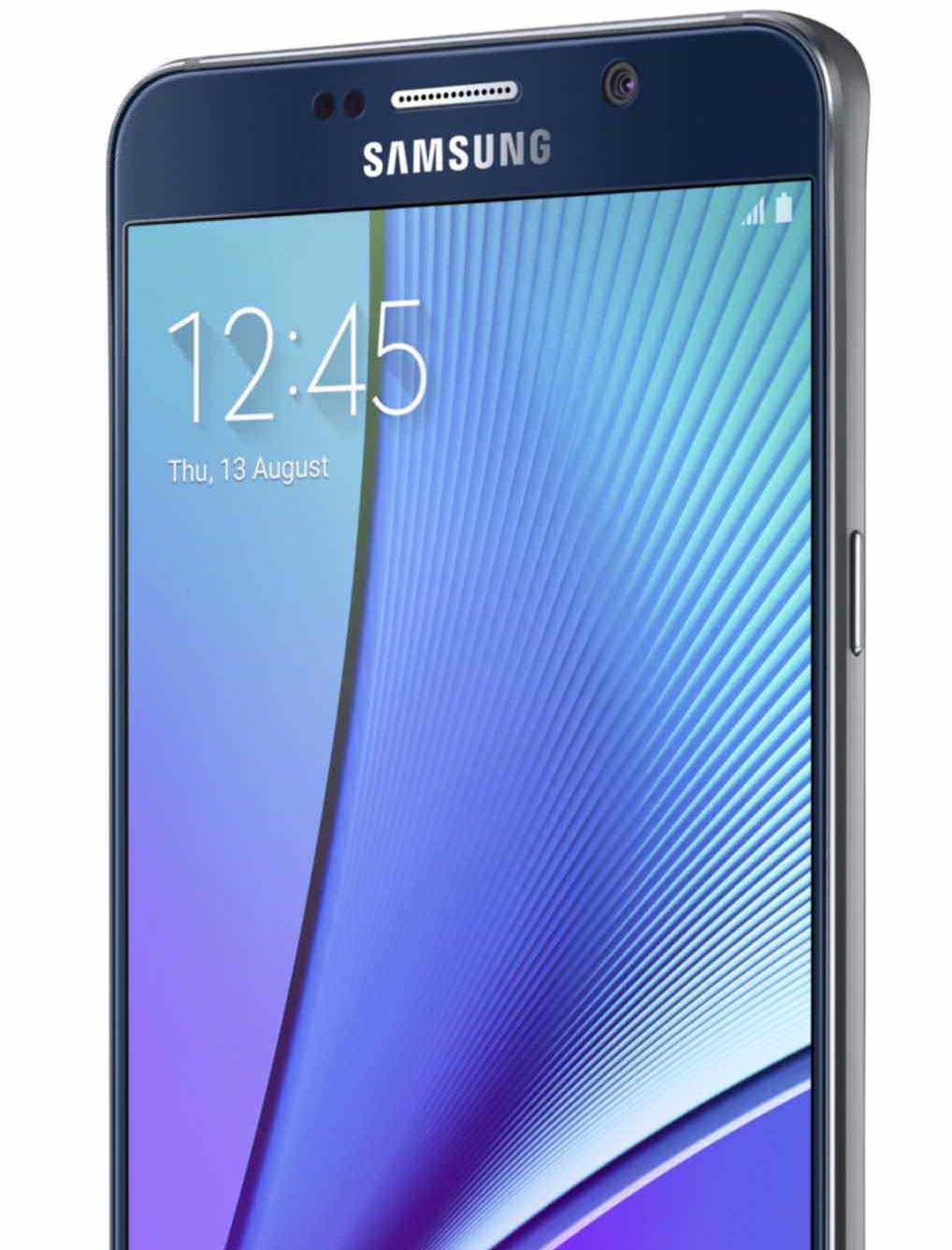 PREVIEW: Samsung Galaxy Note 5
Price: TBD
Not Yet Rated
One and a half steps forward, one step back. The Samsung Galaxy Note 5 gives you the best smartphone screen on the market, and it continues to be endlessly productive, thanks to its slick S Pen stylus. But intoxicated by the Galaxy S6's flashy design, Samsung chooses form over function in ways that aren't really necessary on a phablet, and some of the new Note's flagship features are incremental enough that I don't see a convincing reason for Galaxy Note 4 owners to upgrade.
DESIGN AND PHYSICAL FEATURES
Samsung goes for the full S6 treatment with the Galaxy Note 5, encasing it in a sealed glass-and-metal body with gently curved sides. At 6 by 3 by 0.3 inches (HWD) and 6 ounces, it's 0.1 inch narrower than the Note 4, but you lose the memory card slot, the removable battery, and the grippy texture of the Note 4's back. This phone is a lot more slippery; it's not an issue with the smaller Galaxy S6, which can be gripped easily in one hand, but here it's a problem.
The 5.7-inch, 2,560-by-1,440-pixel display is bright, rich, and beautiful. Ray Soneira at DisplayMate Labs analyzed it and found that it's noticeably brighter and more power-efficient than the screen on the Note 4, which is in turn far better than the display on the iPhone 6 Plus. It's also brighter and less reflective than the LG G4 screen. Samsung has always been a leader in displays, and the Note 5 takes things to the next level.
I am not one of those "removable battery or death" people. For instance, I really like the Galaxy S6 and the Motorola Droid Turbo, two phones with sealed batteries. Shrinking a single-handed phone to the smallest possible size by way of a sealed-in battery makes sense. And the 3,000mAh cell here has plenty of power: We achieved 8 hours, 30 minutes, of nonstop video streaming over LTE at maximum volume. That's longer than the Note 4, and pushes twice the battery life of the iPhone 6 Plus. Like the Note 4, the Note 5 uses Qualcomm Quick Charge, which charges the phone in less than 2 hours with a compatible adapter.
But although the Note 4 has a microSD card slot to add up to 200GB of storage, the Note 5 is stuck at 32GB or 64GB with no card slot. And there's not even a 128GB option as there is with the iPhone 6 Plus. This design choice is just unnecessary. With phablets, bigger actually can be better; you're not trying to save millimeters to slim the phone down.
Samsung also moves the single speaker to the bottom of the phone from the back, next to a USB 2.0 port; that's a missed opportunity as well in the new era of fast and reversible USB-C. The signature S Pen stylus now pops out so you don't have to pull it out, and it's flatter and thus easier to hold, with a more attractive twotone design.
Samsung Galaxy Note 5
PROS Best phone screen available. Excellent battery life, performance. S Pen is still unique among phablets.
You can read up to 3 premium stories before you subscribe to Magzter GOLD
Log in, if you are already a subscriber
Get unlimited access to thousands of curated premium stories, newspapers and 5,000+ magazines
READ THE ENTIRE ISSUE
September 2015