BUILDER'S MANUAL
Maximum PC|June 2020
Whether you're new to PC building or a veteran, we can all learn something
(00) If you're reading this magazine, you probably know a thing or two about computers, or at least want to learn something. When it comes to building your own PC, there are numerous pitfalls to avoid and tricks to bear in mind. You need the right tools, the right knowledge, and the right level of emotional resilience to keep on trying when something inevitably goes wrong.
Building your own computer won't necessarily be cheaper and will definitely be harder than buying a complete system, but it affords you more control over the capabilities of your hardware. There are numerous issues to contend with when setting out to build a PC, even if you're a seasoned hardware guru, so with that in mind, here's some of our best advice.
(01) Plan Your Build
The first thing you should think about is what you actually want your build to do. Is it a beefy 4K gaming machine? A video-editing platform? A plain old work PC? Whatever the reason, it's important to nail down the build's purpose first. This will determine just about every aspect of the finished build, from your choice of processor to what OS you're going to install. Consider where the PC will sit—on your desk at work, or underneath your TV in your living room? If there are any key components you want to include—such as a specific case, or a GPU that is ideal for your chosen purpose—work that out sooner rather than later. Be sure to do a little research on alternatives, though.
(02) Acquire Knowledge
Do your research! There is a wealth of information strewn across the Internet, from tutorials to reviews— and there's plenty of that in the magazine you're reading right now, too. Reviews are an extremely useful source of knowledge when it comes to choosing which parts you're going to use—flip forward a few pages, and you'll find some great ones. Manufacturers' websites are also worth a look; most have PDFs, manuals, and specification lists that can prove invaluable when it comes to actually building and setting up your new rig.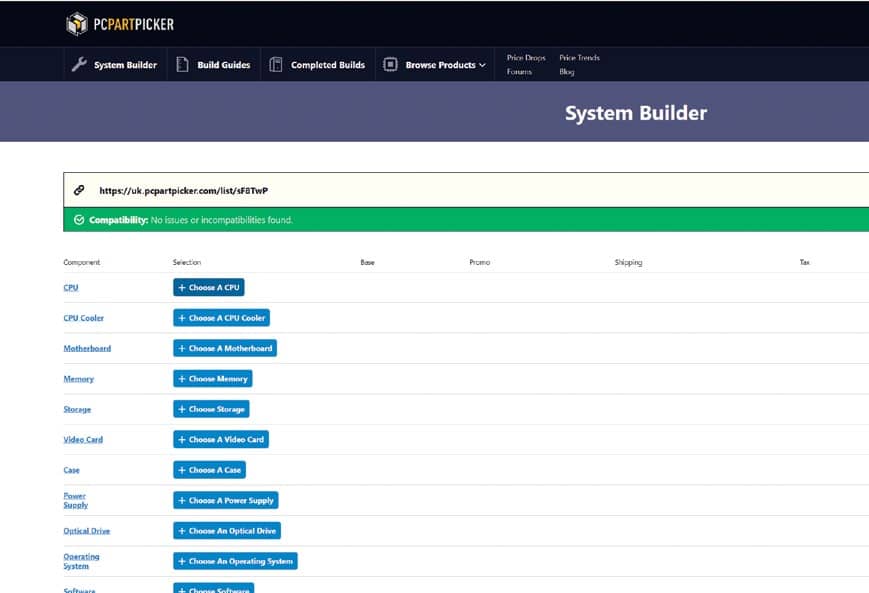 (03) Make a Part List
Once you've got some ideas about what you want your finished build to look like, it's time to get organized and list the components you want to use. A trip to http:// pcpartpicker.com (pictured above) will do you good here; not only can you easily tally up your budget and keep a running list of components you want to use, but the website flags up any compatibility issues that you might not otherwise notice. Consider your budget carefully at this stage—it's all too easy to drop too much on your GPU and not leave enough for a decent power supply. Unless you're in a major rush, it's usually worth waiting until components are on sale—you should be able to chop off a comfortable 10 or 20 percent from the final price with a little patience. And remember: RGB lighting might look nice, but put performance first.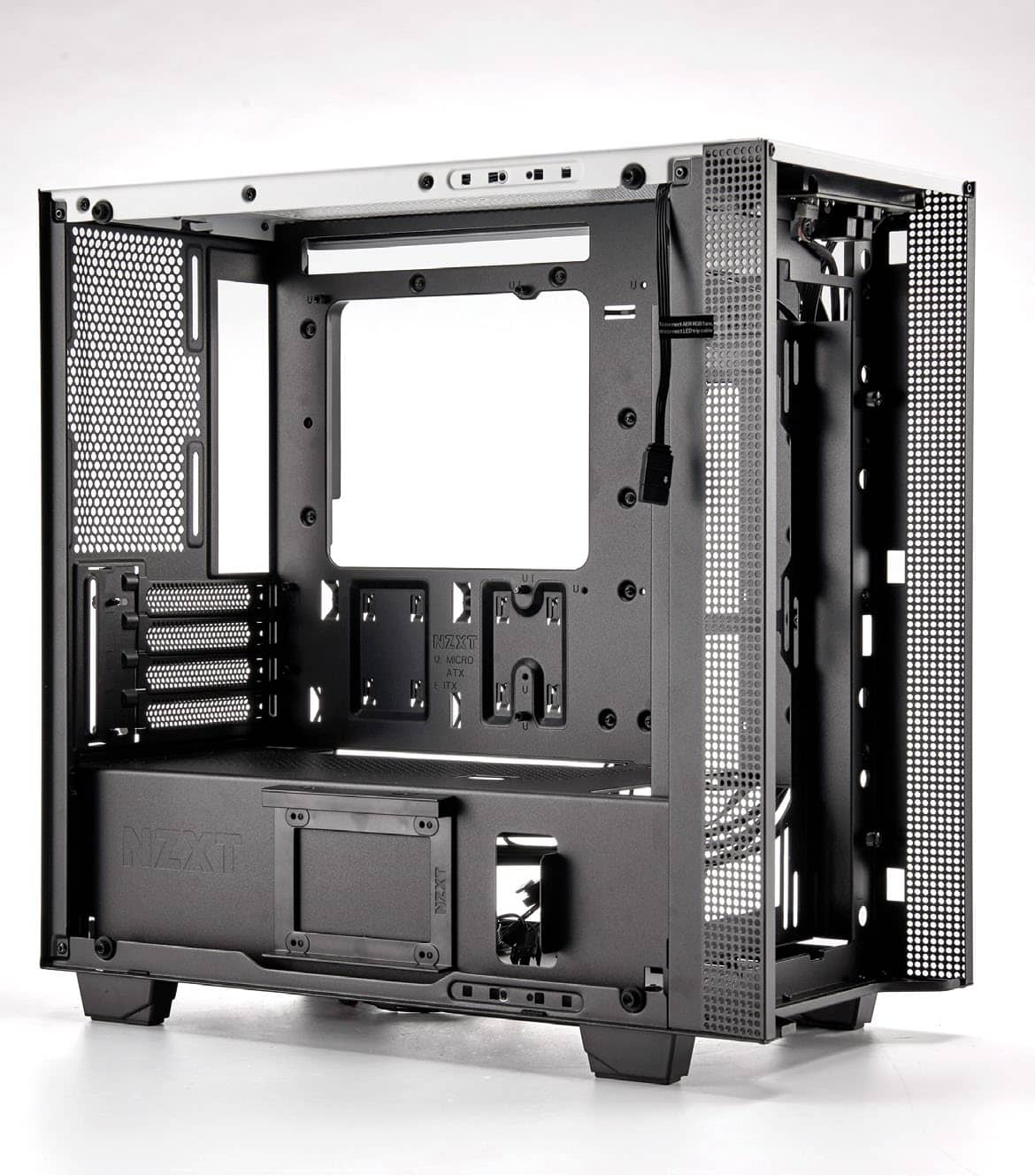 (04) Strip It Down
We always recommend starting any build by stripping your case down to the bare essentials: Remove any side panels, dust shields, and windows. If you're not using the hard drive cages or additional brackets, remove them and don't put them back in; this helps to improve airflow by maximizing negative space inside the case, and leaves more room for cable management. Be careful when removing thumbscrews, particularly on glass panels. It's all too easy to leave an unappealing smudged fingerprint on your otherwise unblemished case.
(05) Part Storage
Don't throw away your boxes. The box your case came in, in particular, is useful both for storing panels during the build process and for holding the boxes of whatever components you're putting inside. If, like us, you're building PCs on a regular basis, this can be very helpful when it comes to keeping track of which component is in which case. In addition to good organization, keeping the boxes comes in handy should you need to make use of a warranty and get a part replaced. Particularly when working with cases that have a lot of glass, storing window panels between the polystyrene that comes in the box can prevent them from being scratched or smashed.
(06) Choice of Fan
To keep your case cool, choice of fan is vital. In broad terms, fans fall into one of two categories: bulky static pressure fans, and thin many-bladed airflow fans. The former are designed for high-pressure environments, such as moving air through a thick heatsink, while the latter variety moves more air quickly through the case, but with reduced force. Mounting multiple airflow fans inside your case ensures—as their name implies—good airflow, but static pressure fans are vital for radiators if you're using an all-in-one cooler. Some fans utilize magnetic bearings to "levitate" the fan, which provides less noise and longer lifespans, but they typically come at a greater cost.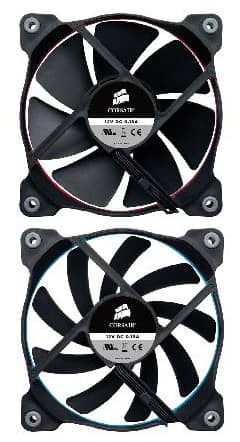 (07) Fan Management
Most cases come with one or more fans preinstalled. These are typically stock fans from the case manufacturer or one of its partners; when it comes to keeping your build cool, they do the job, but generally don't measure up to fans purchased from dedicated manufacturers. Whether you're looking for high-performance cooling or silent running, there are often better options available. If you're upgrading the case fans, do that before building. If there's still room, however, it's worth considering keeping the stock fans inside the case as well. Most stock fans can be installed in the front or back of the case they come in, so if you're replacing your rear fan with something flashier, it's a good option to push the stock fan to the front of the case to pump up the airflow.
(08) Cable Threading
With smaller or cheaper cases, which might not have as much space for tucking away your cables, installing your PSU early and threading through power and I/O cables before installing the motherboard can make your life a lot easier. Using cable ties is the way to go here, unless you've gone for a case that includes integrated cable management options, such as Velcro straps for securing cable bundles. Don't forget that you can feed smaller cables directly underneath the motherboard before installing it. Cheaper PSUs are likely to come with a bundle of cables you won't be using, so neatly pack these together with a cable tie, and store them out of sight—ideally underneath the PSU shroud, if your case has one.
(09) Right Direction
Fan orientation sounds simple, but it can be easy to get wrong. Most fans include small arrows on the plastic frame, indicating which direction the fan spins in, and which direction it pushes air in; alternatively, just check which side of the fan the power cable protrudes from. If you're mounting multiple fans on a single section—such as two fans either side of a heatsink tower, or stacked fans in the front of your case—make sure they're pumping air in the same direction for maximum efficiency.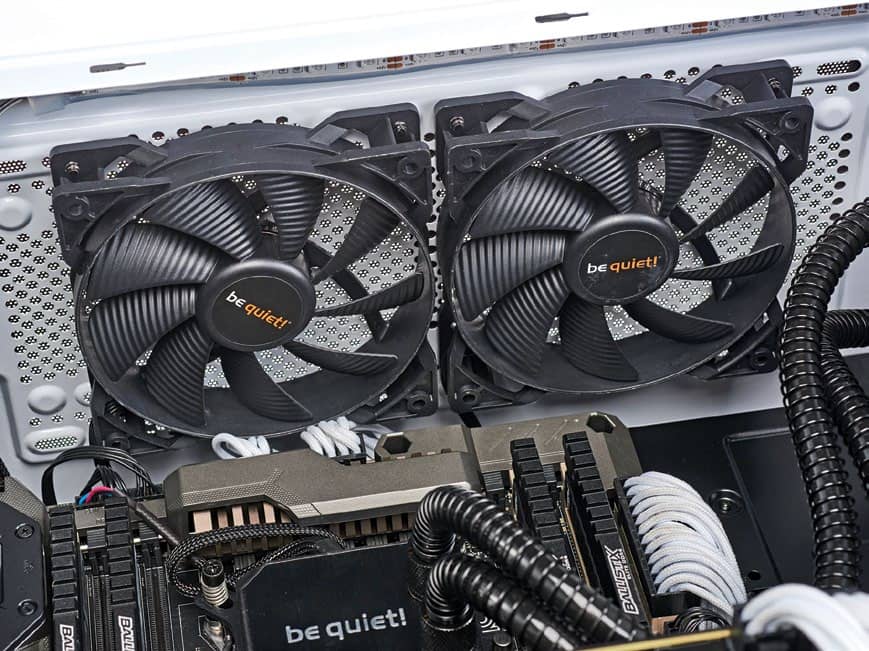 (10) Speed Control
Fan speed is an interesting topic; higher RPMs (revolutions per minute) are obviously going to increase airflow, but also produce more noise. Smaller fans demand a higher RPM to work effectively, so don't go with anything smaller than 120mm for your case unless the circumstances demand it. Some cases come with an integrated fan control unit, which enables you to adjust fan speeds on the fly—just make sure you're not leaving them on the lowest setting when gaming in 4K.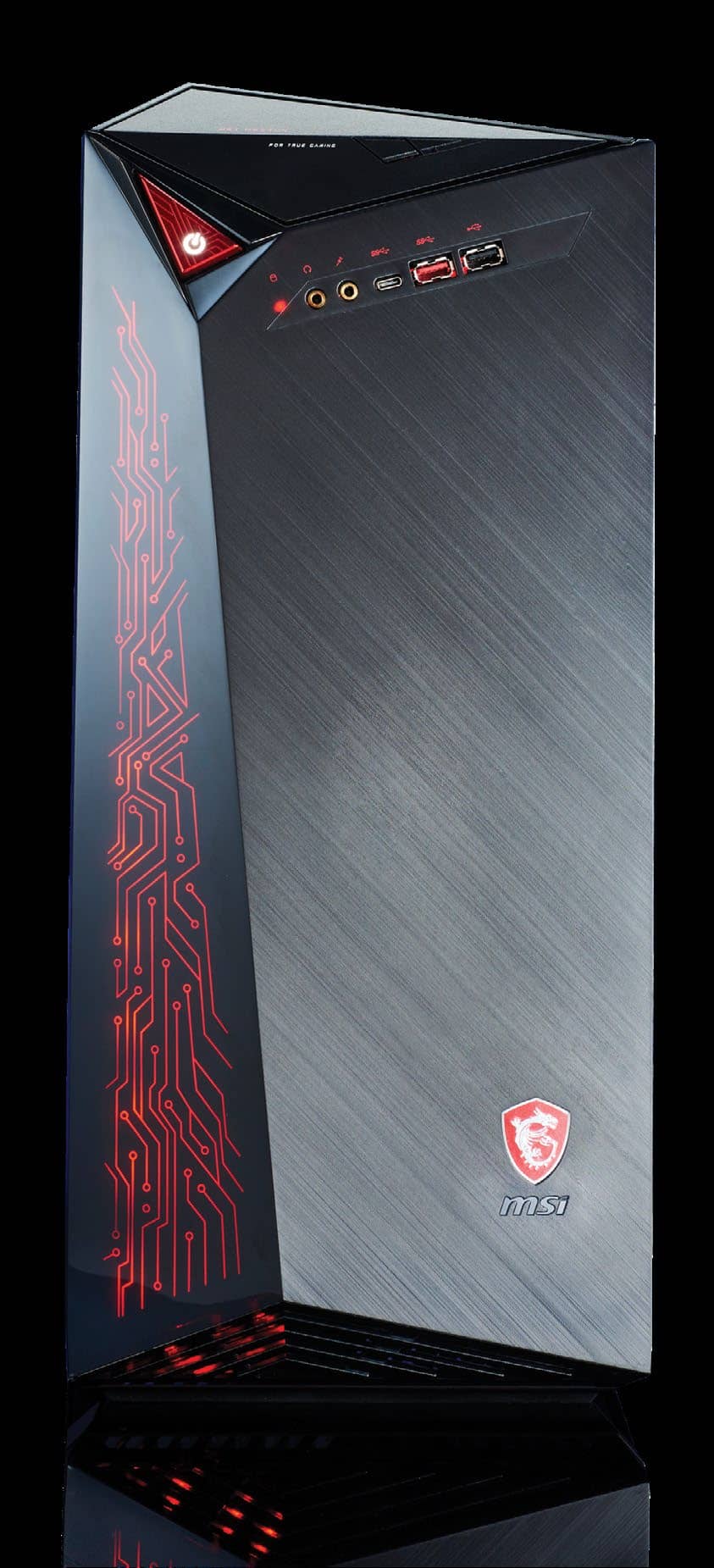 (11) BUILD IT YOURSELF?
In broad terms, building your own PC will bleed your wallet less than buying a pre-built system, but this isn't always the case. If you're patient, waiting to snap up decent parts on sale, you can always assemble a powerful computer on a sensible budget, but pre-built models do have their advantages: Tidy internals and manufacturer-assured assembly mean that issues such as overheating and component incompatibility are seldom a problem. It can also be a relief to have that manufacturer warranty to fall back on. Some even come with lifetime coverage.
A pre-built system lacks a few things against custom builds: They're not bespoke, and many are needlessly tricky or even impossible to upgrade. If you're looking for the ideal purpose-built PC, you're better off taking the leap and assembling it yourself. Bulk-purchasing components means that pre-built systems can contain high-end parts at a relatively low premium, and there's a certain degree of assurance that the chosen parts will function optimally together. Many come with unique cases that can't be purchased standalone. These are often extremely nice to look at, but a challenge to actually work in should you want to fiddle around with your rig's guts.
You can read up to 3 premium stories before you subscribe to Magzter GOLD
Log in, if you are already a subscriber
Get unlimited access to thousands of curated premium stories and 5,000+ magazines
READ THE ENTIRE ISSUE
June 2020