iPAD PRO (2020) REVIEW: A MODEST IMPROVEMENT ON A GREAT TABLET
APPLE AUGMENTED A FEW KEY SPECS FOR THIS MODEL, BUT ITS AUGMENTED REALITY-FOCUSED LIDAR SCANNER SEEMS LIKE A POOR FIT FOR THE iPAD.
In 2018 the new iPad Pro was bold and sleek, and just what Apple needed to shake up a product line that was starting to show its age. Unlike its predecessors, it featured Face ID, a new and improved Apple Pencil, a USB-C port, thin bezels, and a blazing fast processor.
The 2020 model looks and performs much the same, but now much of the initial excitement has settled. Instead of going for a new design, Apple used this updated model to test-drive some technology that may become more important to other Apple products down the line, although it's not particularly exciting or even well-suited for this particular device. This is unquestionably the best iPad ever made, but the real question is whether all of its flashy features make it the best iPad for you.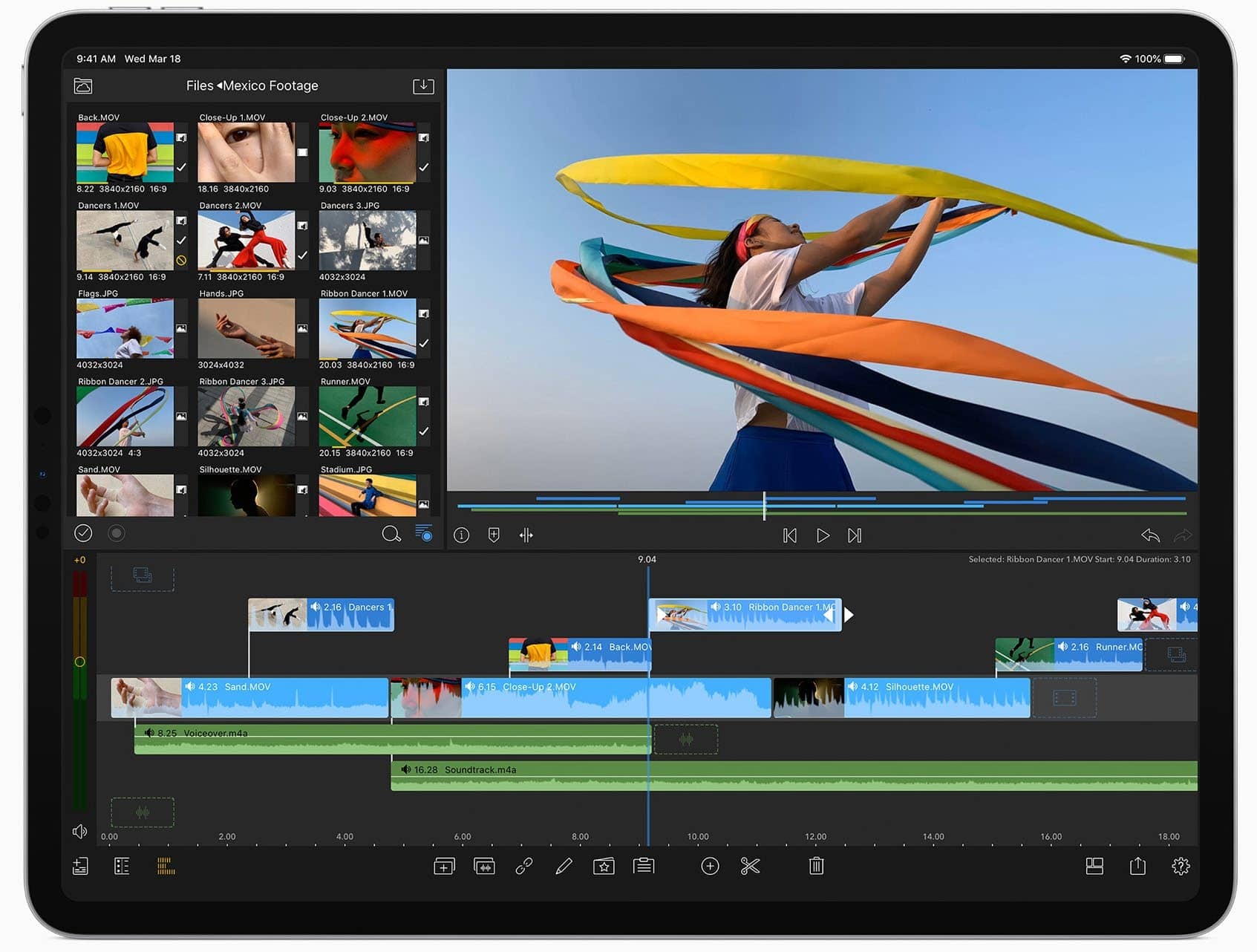 AUGMENTED SPECS
This review is based on the 12.9-inch model, which is identical to the 11-inch model in virtually every respect aside from screen size and weight. (The 12.9inch model with cellular weighs 1.42 pounds; its 11-inch counterpart weighs just over a pound.)
From the front, the 2020 iPad Pro could pass for a clone of the 2018 model. The 11.05-by-8.46-inch dimensions for the 12.9-inch model are the same, it still has a USB-C/Thunderbolt 3 port, and it still charges the second-generation Apple Pencil (go.macworld.com/apg2) through a magnetic strip on the side. Were it not for the new square camera bump accommodating the extra lenses in this model, even the backside would look identical. Unfortunately, because of that bump, you won't be able to reuse a 2018 Smart Keyboard Folio with this case, unless you don't mind the back cover awkwardly jutting out because of the poor fit.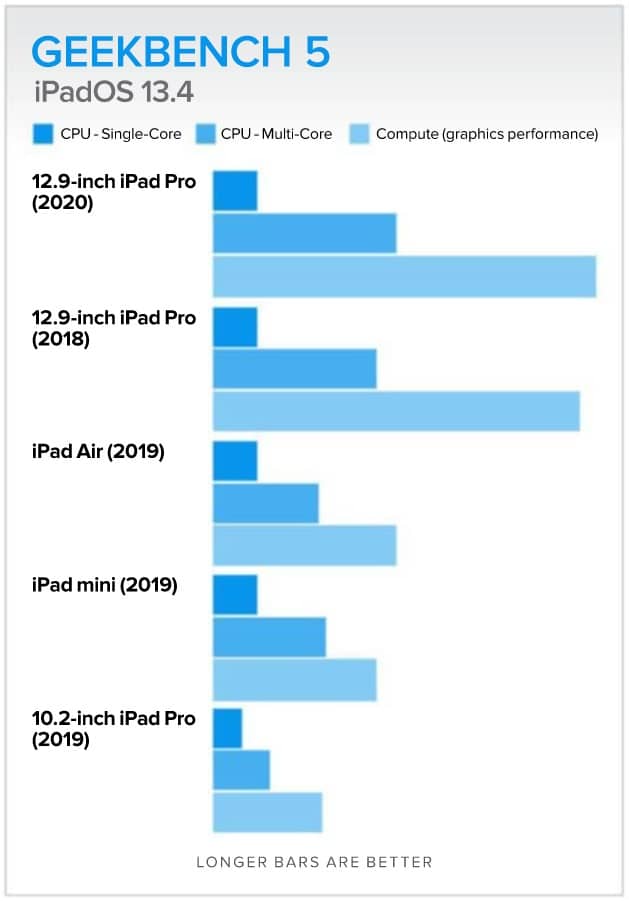 Things get a little more interesting on the inside. Some features remain the same, such as Apple's TrueTone display and the ProMotion 120Hz display refresh rate that makes actions such as scrolling noticeably smoother than they are on non-Pro iPads. The display still has an upper brightness limit of 600 nits, the resolution for the 12.9-inch model remains at 2732x2048 pixels at 264ppi, and the active battery life still clocks in at around 10 hours.
Elsewhere, you'll find the spec bumps you'd expect to see after more than a year without a new release. All configurations now have 6GB of RAM, for example—in 2018, only the 1TB model had that much. Storage got a welcome boost for such a pricey product, too, so the entry-level units start at a roomier 128GB rather than 64GB, with the next three options remaining the same at 256GB, 512GB, and 1TB. There's also a "new" chip called the A12Z which Apple likes to say makes the iPad Pro "faster and more powerful than most Windows PC laptops," much as it said in the context of the A12X chip that came before it. As you can see in the benchmarks, it's barely a boost at all in terms of CPU usage, but the A12Z chip pulls a bit ahead in graphical performance because its GPU has eight cores instead of seven. They're both powerful tablets. If you already have a 2018 iPad Pro, in other words, you're going to be fine.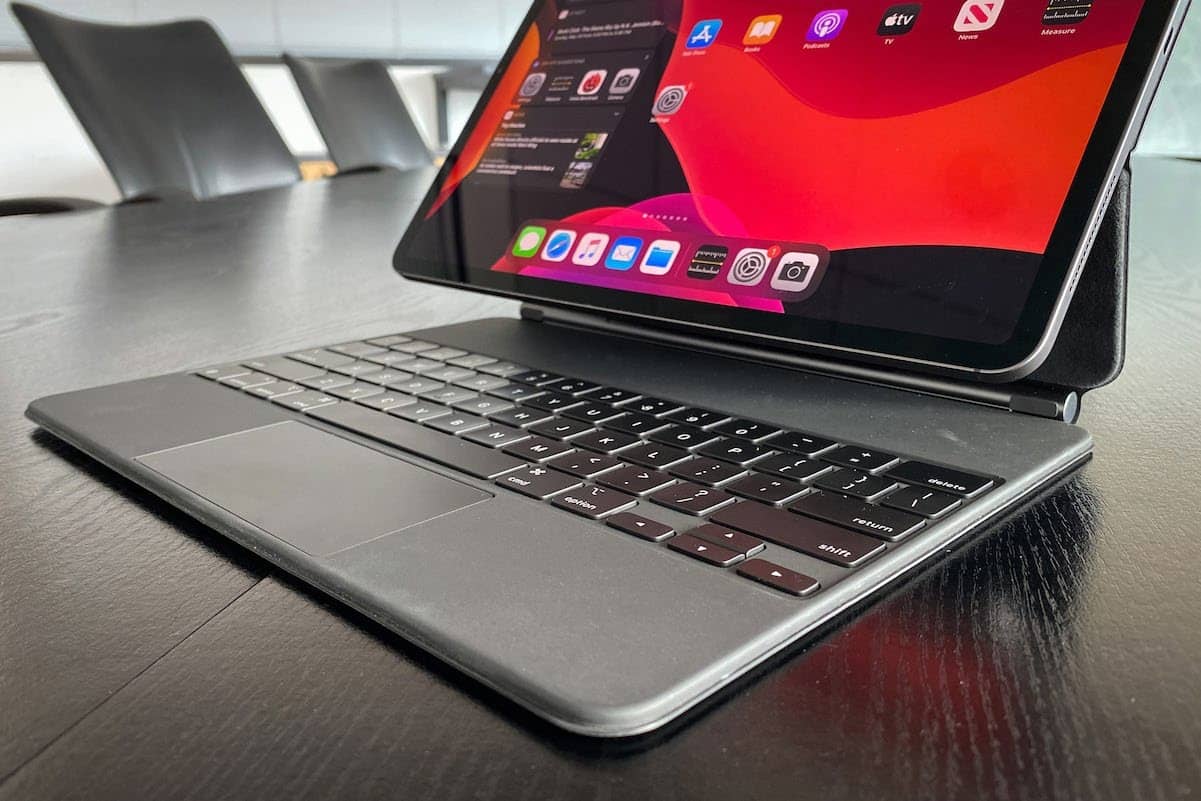 You can read up to 3 premium stories before you subscribe to Magzter GOLD
Log in, if you are already a subscriber
Get unlimited access to thousands of curated premium stories, newspapers and 5,000+ magazines
READ THE ENTIRE ISSUE
July 2020